Ye wildly theorized newly-minted Twitter CEO Elon Musk is "half Chinese" and is one of "10 to 30 Elon's" as part of some cloning program.
The rapper's claim was a response to being booted off Twitter a second time after Musk impulsively permitted him back onto the social media platform.
He was originally locked out of his account in October for posting a series of antisemitic tweets.

Musk–a self-described free speech absolutist–suspended Ye's account again after the rapper and designer posted an image of a swastika entwined with the Star of David.
Said Musk of his decision to ban Ye again in November:

"I tried my best. Despite that, he again violated our rule against incitement to violence."
"Account will be suspended."
Now, Ye has taken to Instagram to spread his latest conspiracy theory.
It left Minnesota Democratic Representative Ilhan Omar speechless.
Representative Omar posted a screenshot of Ye's IG post in which he asked:
"Am I the only one who thinks Elon could be half Chinese?"
"Have you ever seen his pics as a child?"
"Take a Chinese genius and mate them with a South African super model. And we have an Elon."
Ye then referenced an existing conspiracy theory about former Democratic President Barack Obama being a clone of an Egyptian pharaoh to support his claim about Musk being genetially engineered.
"I say an Elon because they probably made 10 to 30 Elon's and he's the first genetic hybrid that stuck..."
"Well let's not forget about Obama."
He added:
"I'm sorry for using curse words in church but I don't have another word for Obama yet."
"YE24 let's unify and find out LUAFO."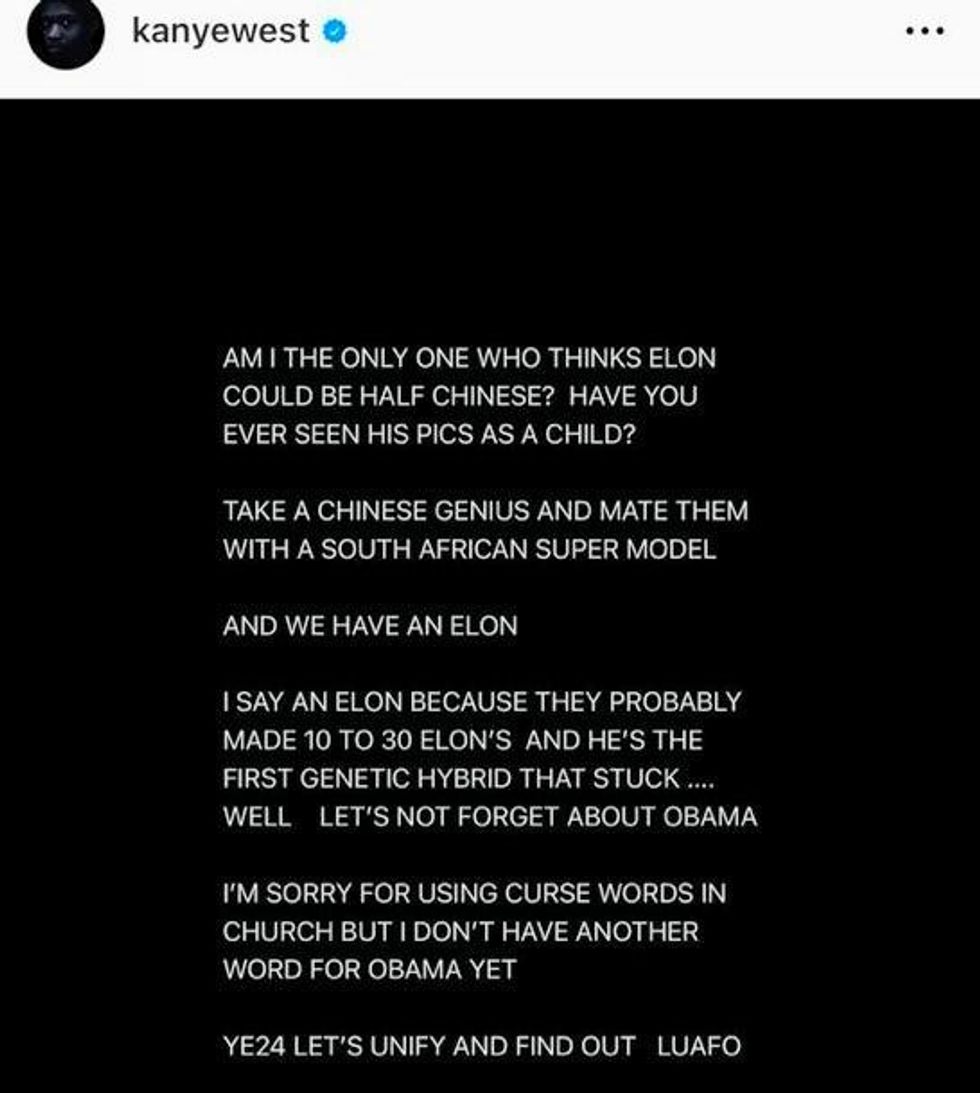 @kanyewest/Instagram
Twitter weighed in.
Musk, who can't resist responding to being referenced online, tweeted:

Ye reposted Musk's response to him in an Instagram post, writing:
"It was meant as a compliment my friend."
People are questioning Ye's mental health as his erratic behavior repeatedly confounds the internet.
After posting several antisemitic tweets–one in which he threatened to go "death con 3 on Jewish people"–major companies like Adidas, Balenciaga and Peloton severed ties with the rapper.
Days after Thanksgiving, the rapper created drama after he brought along known White nationalist and holocaust denier Nick Fuentes to a dinner with Trump at his Mar-a-Lago club in Florida.

Ye provided no evidence of his claim about Musk's background.
The Tesla CEO was born in South Africa's capital city of Pretoria.
His father Errol is a South African electromechanical engineer, pilot, sailor, consultant, and property developer, while his mother Maye is a model and dietitian born in Saskatchewan, Canada and raised in South Africa.