Despite his claim to be a "very stable genius," President Donald Trump's numerous spelling, grammatical, capitalization, and geographical gaffes on Twitter often betray this idea. The trend continued in a tweet defending recent comments about accepting help from foreign powers in order to win an election.
---
After widespread backlash against Trump saying he'd accept foreign help to win an election (thereby indebting him to a foreign country's interests), the president took to Twitter to tell us that he did nothing wrong.
In the now-deleted tweet, Trump touted that he often talks with foreign governments including the Queen of England and the "Prince of Whales."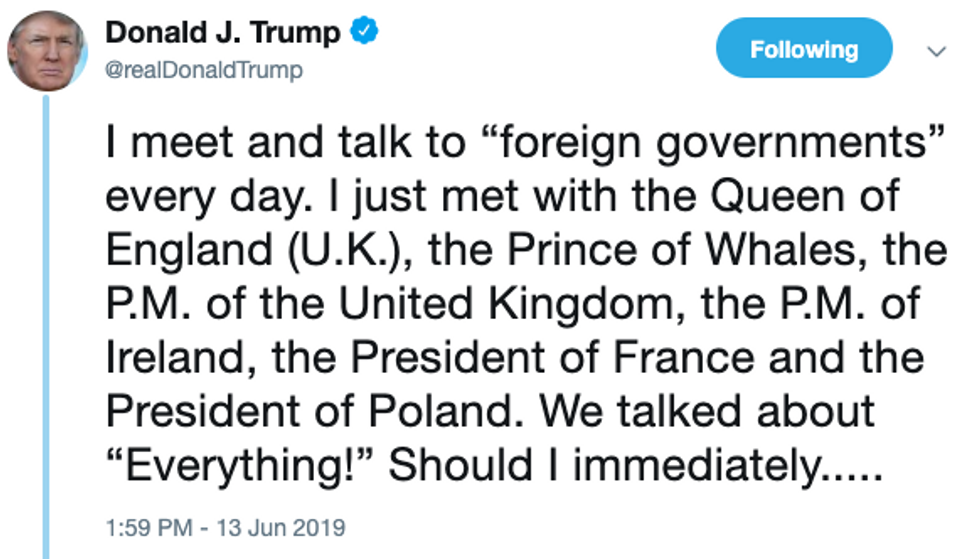 @realdonaldtrump/Twitter
While people caught on quickly that Donald Trump meant the country in southern Great Britain and not the giant aquatic mammal, people couldn't help but skewer Trump for the embarrassing typo.
Trump said he met with the "Prince Of Whales" and you know exactly where this is going https://t.co/1MB4z2ugCJ https://t.co/3MboN1uDk1

— BuzzFeed News (@BuzzFeed News)1560435380.0
DOES THE PRINCE OF WHALES KNOW ABOUT THE SAUDI PRINCE SALMON? THEY CAN'T BOTH CONTROL THE SEA! https://t.co/iWuZ5e3LN4

— The Volatile Mermaid (@The Volatile Mermaid)1560438479.0
@realDonaldTrump 😂 https://t.co/qGtuHxddSh

— Sven Henrich (@Sven Henrich)1560431374.0
THIS IS WHAT IT SOUNDS LIKE, WHEN KRILL CRIES - The Prince of Whales https://t.co/IczGdQmpF2

— Josh Hara (@Josh Hara)1560447276.0
Trump's met with the Prince of Whales and also with the Dolphin of France. https://t.co/Qft36rHrTn

— Bill Kristol (@Bill Kristol)1560446158.0
"And then he called me, the Prince of 'Whales'!" https://t.co/04X7I3wfhW

— Claudia (@Claudia)1560434010.0
Sadly, the "whales" gaffe wasn't the only bizarre feature of the tweet. From unnecessary quotation marks to redundancy to the illogical argument, this tweet was pure Trump.
Can we PLEASE stop mocking his illiteracy for writing Prince of Whales and THANK his thoughtful parentheses for tea… https://t.co/rGqLgUC5Yv

— John Fugelsang (@John Fugelsang)1560439873.0
Gee, we probably shouldn't propagate this one since @realDonaldTrump deleted it, eh? Could be embarrassing. (First… https://t.co/INFVJ6MbFp

— Meg Couch (@Meg Couch)1560444804.0
@NorthmanTrader I get that it's amusing but instead of focusing on bad spelling can we please direct attention to t… https://t.co/1C8vxqWKGB

— Jason Hutchinson 🖇 (@Jason Hutchinson 🖇)1560431982.0
Maybe he just hadn't had his covfefe yet.
You can commemorate your own "Prince of Whales" with an adorable phone accessory available here.