Former President Donald Trump was roasted by critics after he challenged President Joe Biden to a mental "acuity test" in a post on Truth Social, his personal social media platform.
Trump proposed the idea of a mental acuity test, claiming that no one would come close to his performance. This challenge was prompted by a recent Wall Street Journal poll in which 49 percent of respondents believed Trump was not mentally fit for the presidency, compared to 60 percent for Biden.
Oddly, Trump also challenged right-wing media mogul Rupert Murdoch and his children as well as the heads of the Wall Street Journal to do the same.
Trump wrote:
"In a phony and probably rigged Wall Street Journal poll, coming out of nowhere to soften[ed] the mental incompetence blow that is so obvious with Crooked Joe Biden, they ask about my age and mentality."
"Where did that come from? A few years ago I was the only one to agree to a mental acuity test, [and] ACED IT. Now that the Globalists at Fox [and] the WSJ have failed to push their 3rd tier candidate to success, they do this."
"Well, I hereby challenge Rupert Murdoch [and] Sons, Biden, WSJ heads, to acuity tests!"
You can see Trump's post below.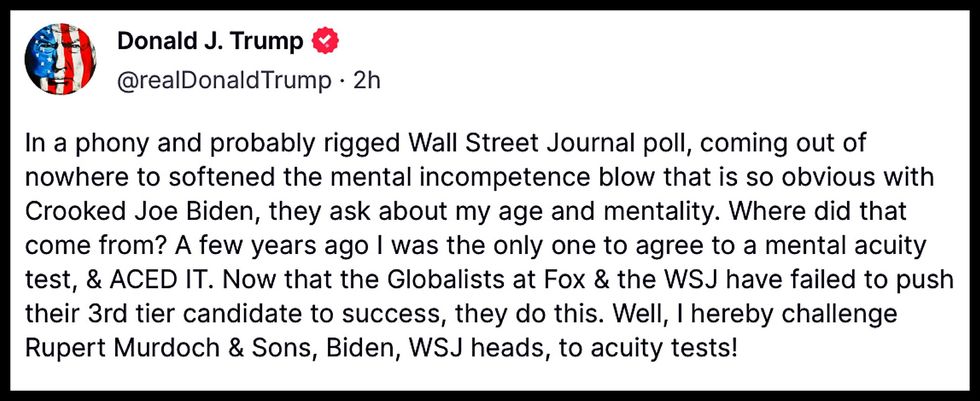 @realDonaldTrump/Truth Social
Trump was swiftly mocked.
Trump has previously been criticized for bragging about acing an intelligence test that was actually an assessment to check for cognitive impairment and at one point declared he'd taken the test to prove he is more intelligent than "radical left maniacs."

In fact, the "intelligence test" Trump bragged about was actually a Montreal Cognitive Assessment (MoCA), a widely used screening assessment for detecting cognitive impairment.

MoCA was designed to assess different cognitive domains, including attention and concentration, executive functions, memory, language, visuoconstructional skills, conceptual thinking, calculations, and orientation.
The assessment's questions are simple and ask test subjects to demonstrate if they can remember five words. Critics have stressed that it is unimpressive that Trump can remember five words—namely "person, woman, man, camera, TV"—as he demonstrated at one point on live television.