Travis Scott, Kylie Jenner's partner, has denied wrongdoing after becoming embroiled in a cheating scandal involving Instagram model, Rojean Kar.

The Astroworld rapper was seen in a video Rojean Kar shared on her private Instagram Stories late last week, sparking rumors that they had met. Rojean Kar had previously denied rumors of a relationship with him. After that, Travis published a statement to his account.
"It's a lot of weird s--t going on. An uninvited person was sneaking photos on, what was supposed to be, a closed set while I was directing a video. I'm saying this for the last time. I don't know this person. I've never been with this person. So please stop with the continuous cyber games and the fictional storytelling."
@travisscott/Instagram
The story gets murkier from there, as Kar responded to the assertion that he doesn't know her.
"Saying you don't know me and you've never once been with me when you've definitely been with me, when f--king everybody's seen you with me, when I have pictures and videos of you with me, come on," she said. "Come on, Sir."
She went on further to discuss plans they allegedly had for Valentine's Day.
"This Valentine's Day, I saw you. I ran out the door and you had every single girl I know blowing me up, like, 'Trav's asking for you, come back.' Are we pretending that didn't happen too? Like, come on. You cheat on that bitch every single f--king night. The whole f--king city sees it."
To this, Scott responded with a picture of a table laid out for Valentine's Day, dated February 14th, and remarked obliquely upon the situation.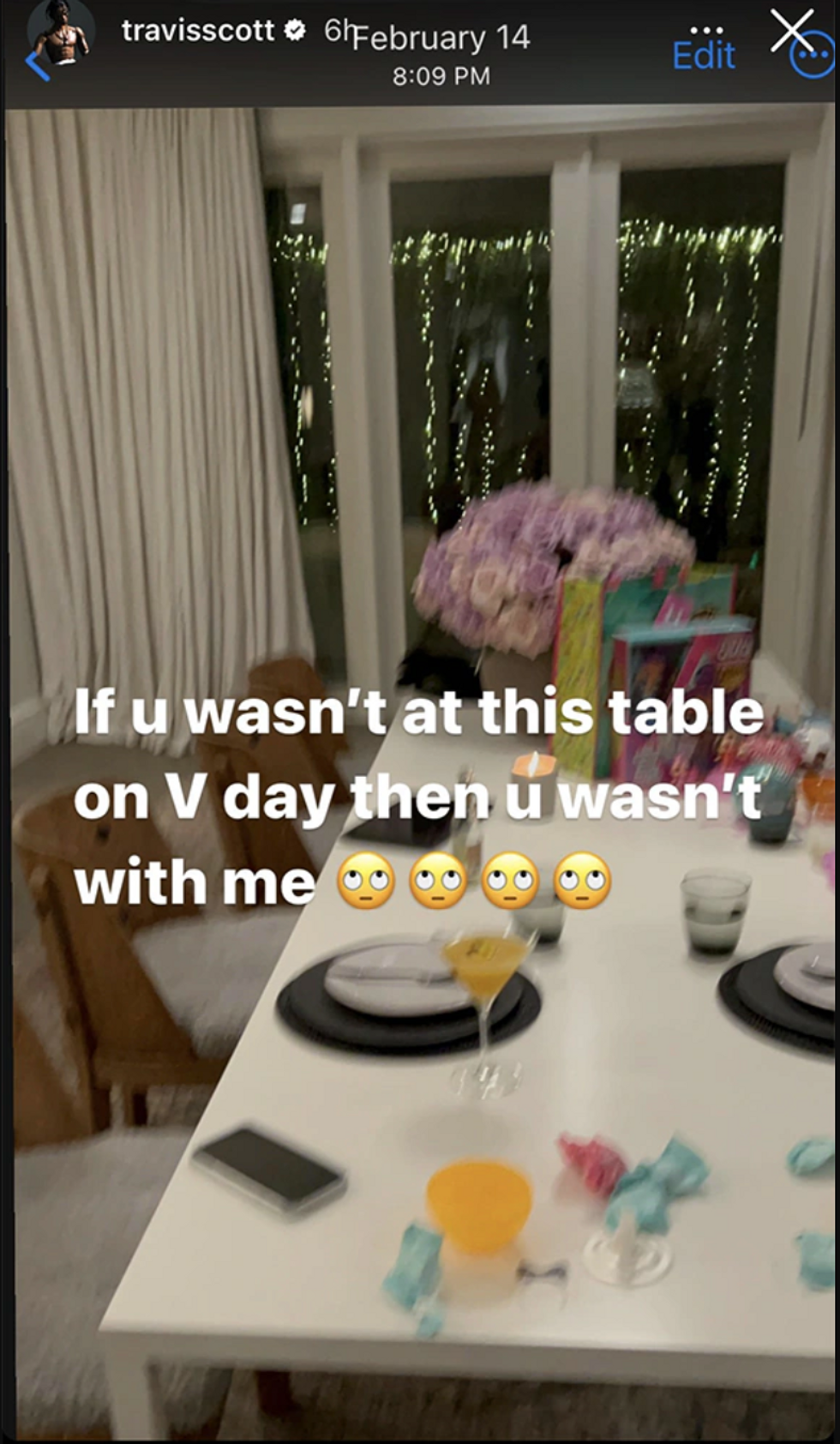 @travisscotta/Instagram
As this involves a cheating scandal involving both a Jenner sibling and an Instagram model, and a rapper, comments poured in.
First, people commented on the likelihood that Scott really is cheating.
Others were more convinced that the whole thing relationship is a PR move.
Many people commented that if Kylie Jenner can be cheated on, no one is safe.
Then people started looking around for the inevitable Kris Jenner, here to clean up her children's PR messes on behalf of the family brand.
Finally, someone asked a pointed question: why are we even talking about this?

As this scandal seems to be ongoing, there will surely be more to pay attention and comment upon in the future.