A video that reached 1.1 million views was just the tip of the iceberg for TikToker priscilluhhbaby who said she "randomly" googled her boyfriend only to find out he had been leading a double life with another woman.
The baby her boyfriend had with this other woman was already six months old.
After the video blew up, Pris shared more details about what she found out about the secret relationship and how she found out.
Pris had been dating this man for a year and a half. On a recent vacation, her boyfriend claimed he lost his phone, along with his wallet, just before the end of their trip. They were taking separate flights home, so while she waited for his return, she decided to Google him for the fun of it.
She said:
"I got the sudden urge to Google him. I had never Googled him before."
"He has no social media. He used to but he deleted it because he never used it."
"He and I were [such] complete opposites that I didn't think it was weird that he didn't have social media."
In her search, she found some typical things, like past football related things, but then she came across a baby registry at a target a few towns over from where they lived.
Pris said:
"I was like, 'Okay, that's weird,' because his name is not very common at all."
"What are the f'king odds for there to be another person with his exact name in Washington."

Pris decides to call her best friend and find the mother associated with the baby registry on Facebook.
Pris was shocked when she looked at her profile:
"Her Facebook picture is a picture of her holding a baby."
"So I click on her and the baby looks exactly like him. Like, 1000% like him."
With just a little more snooping, she found the woman's Instagram where the photos showed her boyfriend with this other woman and the new born baby.
It's possible that he had been going on vacation with Pris to then spend time with this second family:
"The whole family picture was there. He was there holding the baby."
"This maternity-type shoot had happened last year and then the new born shoot happened in f'king May."
"And we also went on vacation in May."

After finding all of this information, Pris tried to call him and text him but neither the phone calls or texts went through. Her cousin tried to make contact and the calls did go through, however he did not answer. Her cousin then sent him all the pictures they found but ended up getting blocked.
The reactions were all very supportive.
A surprising amount of people also had similar situations happen to them.

@saltyyssam/TikTok

@cind0_/TikTok

@iamalexiaah/TikTok

@shy_gurl_24/TikTok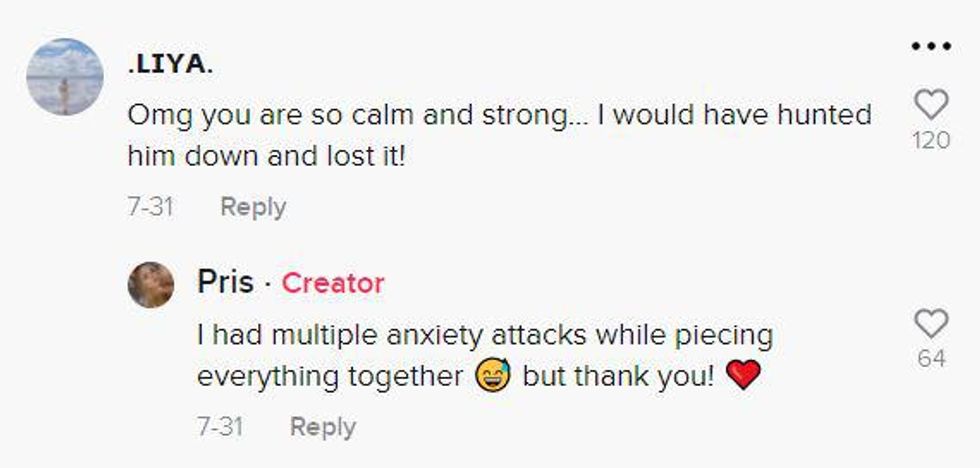 @liyaxkhan/TikTok; @priscilluhhbaby/TikTok

@tonijod3/TikTok

@haaaaylai/TikTok
Another update video came three days after the initial posts. Pris had been struggling mentally since the shock of her findings wore off and reality set in.
Pris shared that she had talked with the other woman about their relationships with the same man. She summarized what their conversation was like while trying to respect this woman's privacy.
She said:
"I asked her if she wanted to get together to talk because I needed to know and she wanted to know as well."
"So we got together and we really just started from the beginning."
"And we both met him at the exact same time. We both started hanging out with him and dating him at the exact same time."
"She ended up getting pregnant a few months later."
Pris also explained that their relationships were very different between the two of them. Pris had been hoping for more commitment from him and the other woman was looking for more intimate and emotional connection. The irony is that they both wanted what the other had.
She continued:
"I had no doubt in my mind that he was the one. He made me extremely happy and everybody around me told me that I was so happy."
"So my whole relationship was a lie. Really what it came down to was that he lied so much that it makes me sick."
"Like, I was literally sick, like throwing up, after we had these conversations because it just blew my mind and I'm very sad."
"He took me out of the darkest place in my life just to put me back in there."
"He just f'king shatter my heart."
This final post had many sympathetic and supportive comments.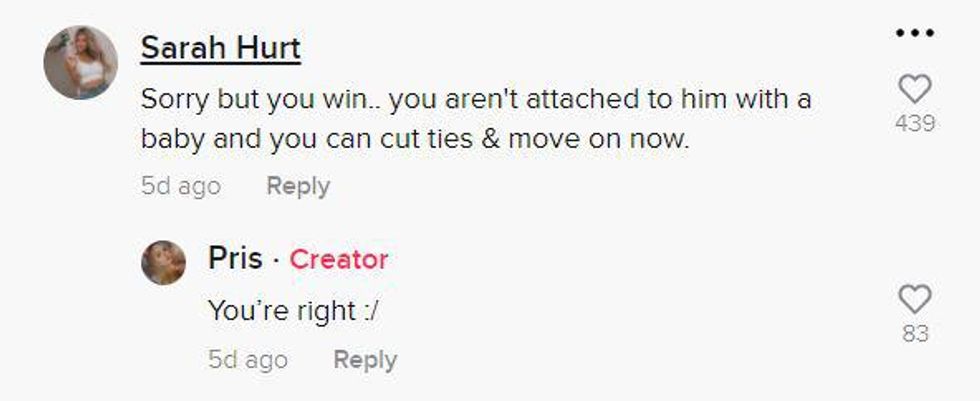 @sarahhurt77/TikTok; @priscilluhhbaby/TikTok

@ryane97/TikTok

@brittney_c3/TikTok

@_graycee/TikTok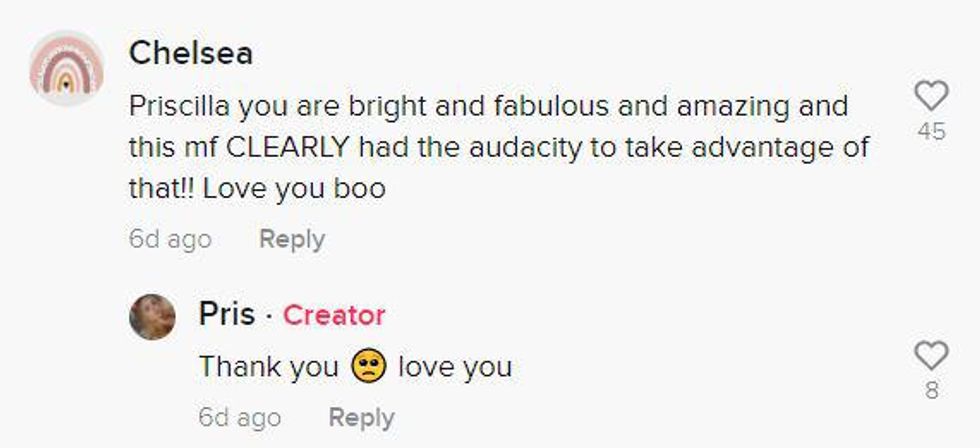 @boowhale27/TikTok; @priscilluhhbaby/TikTok
The Daily Dot caught up with Pris about how she's feeling since sharing her story with everyone.
She said she still hasn't made contact with her ex:
"Not getting any closure over the whole situation has definitely taken a toll on me but I'm trying my best to keep my head up & move on."
"Everything happens for a reason. Better I found out now rather than however long he was going to keep this going on for."
The only closure she's been able to get was through her conversation with the other girlfriend, which she said went well.
She told Daily Dot:
"We handled it very mature & were able to answer any questions either one of us had."
"In a way I felt like talking to her gave me a bit of closure."
"Of course it wasn't anything I wanted to hear, no one want to hear about their boyfriends secret life haha. But just to be able to talk about it & get how I feeling out did help in a way."
We too hope that Pris will be able to get some closure from this heartbreaking moment.