Ever since the police killing of George Floyd last May launched the U.S. into a summer of widespread protests across the country against racial bias in law enforcement, countless social media users have wielded a wide range of online platforms to raise consciousness, share anti-racism resources and express their pointed rage.
But with so many people sharing content all the time, you're bound to run into some attempts that flat out miss the mark, or even demonstrate insensitivity.
A recent TikTok video, which went viral for all the wrong reasons, was a fine example of one of those attempts.
Posted by the account @cookingbymeg, the TikTok was a recent entry in the account's long line of "cupcake shoutouts," all of which involve a cupcake being frosted, sprinkled, and spun around to reveal a message written on a colorful card stuck in the top of the treat.
And while most of those shoutouts have featured the names of couples—usually requested by followers—@cookingbymeg recently decided to join the movement to curb racial bias.
But no matter how bad police violence in the U.S. is, she was not about to give up the cupcake shoutout format.
Her message was simple, straightforward, and undeniably tone deaf.

"If you're a police officer, this cupcake is for you."
"Please stop killing Black people."
It reminded some people of this...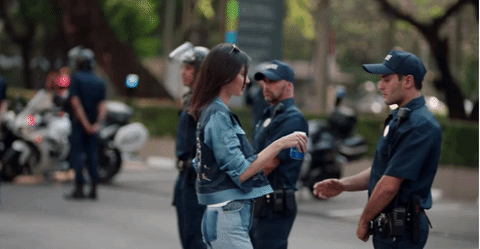 Giphy
Of course, the clip ignited a barrage of criticism from the many people who came across it.
mrs. bluemarine/TikTok

kas/TikTok
HATER OF THINGS/TikTok
joe see/TikTok
Rynn/TikTok

Tik Toker/TikTok
Ari ari ari ari- she/her/TikTok

buggz/TikTok
Others posted about that now-infamous and similarly tone deaf Pepsi commercial which featured Kendall Jenner using a can of Pepsi to instantly end a protest.

Giphy
aj/TikTok
christine/TikTok

Queen of the Cows/TikTok
user7566071647494/TikTok
In case you forgot about that cringe fest, here's a full refresher.

So to be clear, no, cupcakes have done nothing to inch the needle toward an end to consistent racial bias in law enforcement and the justice system in the United States.