Austin Scott, owner of The Neighborhood Trading Company in Galena, Illinois, had a TikTok go viral where he ranted about a one star google review over a $126 sticker purchase.
With an incredibly low amount of patience left, @austinscotttt of TikTok explains that two young girls came to the counter with 40 stickers, each at the price of $4.00.
As shocking as that was, it wasn't the first time Scott has seen a purchase this large.
@austinscotttt

Someone come help me #fyp #foryou #retail #shopsmall #smallbusiness #business #online #shopping
Scott told his viewers if someone were to buy a large amount of stickers, he would throw in a "secret discount" of buy three get one free. For these two girls, he also threw in a 10% discount because he was grateful for the large order.
Scott said:
"I can't take all their money, from these two girls."
The total came to $126.
Scott continued:
"And then I go to my employee and I say, 'Oh my God, I just made a $120 sale of just stickers.'"
"And I quote, I said, 'My mom would kill me if I spent $120 on stickers.'"
The next morning, the mother of the two girls, Kitten Gordon, left a Google review:
"nice store but very disappointed..sale there for stickers..20 for 5$..NOWHERE does it say per customer..per order..NOTHING.."
"my daughters were super excited as they both collect them..I told them both to grab themselves each 20.."
"then left my daughters there to finish as I went next door..120$ later..I pd 20/5$..then 4$ pc for every after that!"
Scott shared that there were no signs in the story that said stickers were 20 for $5.00, but there was a sign that said "incense sticks 20 for $5.00," which is quite different than stickers.
Scott explained in a reply:
"What is says on your bill is that you got 11 free stickers, and you got 10% off."
"It says nowhere that we have a sale on stickers."
"The only 20 for $5 thing we have in the store … is on the incense sticks."
"I'm just going to assume she saw this 20 for $5 and thought, 'Everything is 20 for $5!"
Gordon then reached out in a message via her recipt on Square in her email.
She claimed:
"I'm sorry, my husband and I seen the same sign. It said 'stickers 20 for $5, but that's fine."
"If it weren't there you wouldn't have gave them the first 20 for that price."
The comments were equally as confused and upset with the situation as Scott.

@lissomex/TikTok

@jess_leee.x/TikTok

@shelbysquish/TikTok

@shad0w_muffin/TikTok

@seraphinaofthebay/TikTok

@geminigotham/TikTok

@amandawallage/TikTok

@bxttersctch/TikTok

@e.lxabeth/TikTok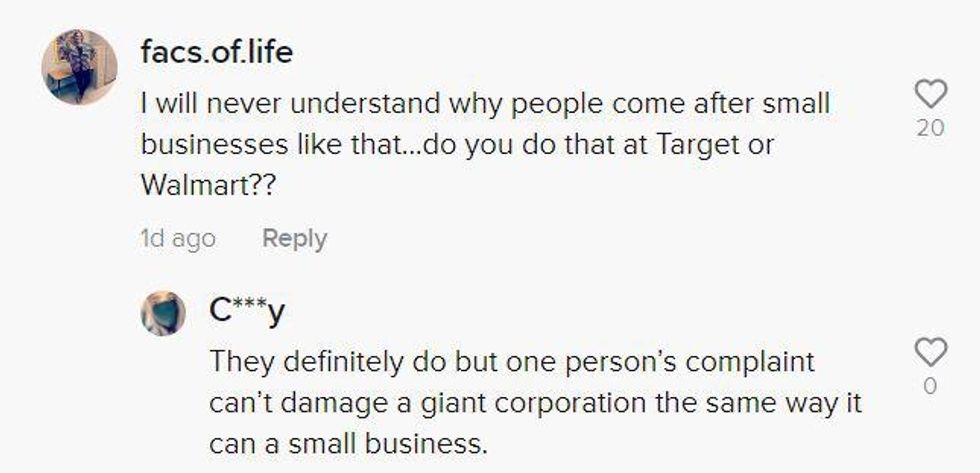 @facs.of.life/TikTok; @loathed_/TikTok
It is strange Gordon didn't try to reach out personally.
But let buyers beware, if you leave a public comment, expect a public response.