A police department in Texas sparked outrage after posting a selfie one of its officers took with Kyle Rittenhouse, the vigilante gunman acquitted of 1st degree murder last year after shooting and killing two men and wounding a third at a 2020 protest against police violence in Kenosha, Wisconsin.
The Thrall Police Department posted its officer's selfie along with a message welcoming Rittenhouse to the town after the vehicle he was in was pulled over for a traffic stop.
The post immediately drew criticism and condemnation for the way it celebrated Rittenhouse, who has become lionized as a hero by the right-wing for his killing two men in Kenosha.

The post has since been deleted, but a screenshot can be seen below.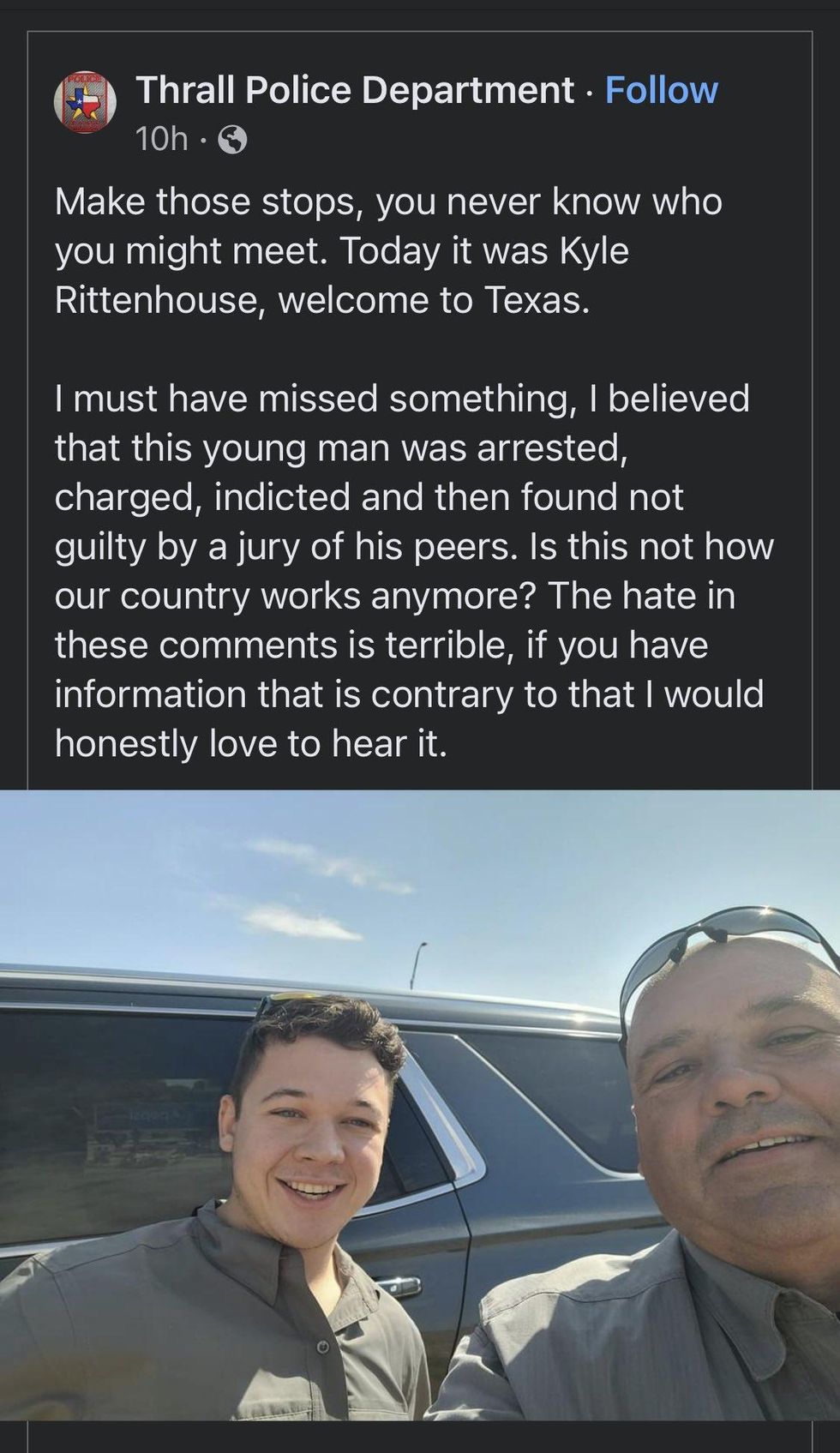 @BLKCultureProf/Facebook
The officer snapped the selfie with Rittenhouse after pulling him over on U.S. Highway 79 near Thrall last week. The Police Department included a caption with the photo that spoke of Rittenhouse as if he were a celebrity.
"Make those stops, you never know who you might meet. Today it was Kyle Rittenhouse, welcome to Texas."
After immediate backlash ensued, the Department first limited comments on the post, then added a paragraph to the caption, which read:
"I must have missed something, I believed that this young man was arrested, charged, indicted and then found not guilty by a jury of his peers."
"Is this not how our country works anymore?"
"The hate in these comments is terrible, if you have information that is contrary to that I would honestly love to hear it."
This defense of Rittenhouse has become a popular refrain on the right.
Rittenhouse was deemed to have acted in self-defense in all three shootings following video evidence and testimony from his surviving third victim, Gaige Grosskreutz, who admitted he pulled his gun on Rittenhouse first.
Other charges against Rittenhouse pertaining to violating a citywide curfew and having an assault weapon while underage were dropped due to lack of sufficient evidence and intricacies in Wisconsin's gun laws, respectively.

But the lionizing of Rittenhouse as a hero wrongfully accused elides the fact that he did kill two people while acting as an armed vigilante at a Constitutionally protected act of protest, and was seen flashing "white power" symbols with white nationalists after the shooting occurred.

Many feel his actions were anything but heroic, and the Thrall Police Department's seeming adulation of Rittenhouse enraged many on social media.

Rittenhouse's photo with the Thrall Police Department stands in stark contrast to comments made in a post-trial interview with NewsNation's Ashleigh Banfield, whom he told he prefers not to be recognized and live a "normal" life.