You hear that sound?
---
That's the sound of Jonas Brothers fans losing their minds over the band's first single in nearly six years.
The song, titled "Sucker," dropped at midnight on Friday.
Midnight ET #Sucker https://t.co/moYY0DnYK4 https://t.co/qwEfNs40Di

— J O E J O N A S (@J O E J O N A S) 1551365477.0
It turns out the song, which includes the lyrics "I'm a sucker for you/Say the word and I'd go anywhere blindly," is aptly titled; Ii features appearances from three familiar faces––Kevin, Joe and Nick's respective love interests: Danielle Jonas, Sophie Turner, and Priyanka Chopra.
The music video showcases all six of them exploring a castle well suited for a dreamscape in the style of Alice in Wonderland.
Jonas Brothers - Suckerwww.youtube.com
And they all look fabulous, don't they?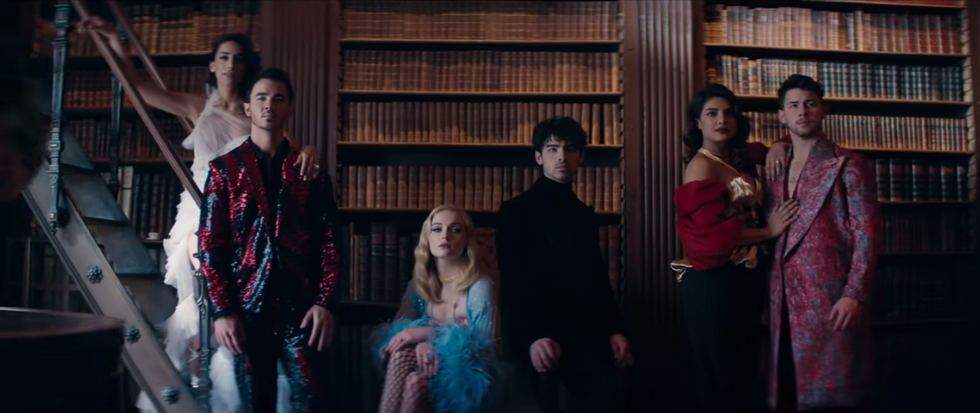 Jonas Brothers/YouTube
Fans are PSYCHED.
the jonas brothers using their wives in the Sucker music video is the content i'm here for https://t.co/SmQdxXkqqf

— 🌸 (@🌸) 1551441042.0
Nobody: Me: jamming to "Sucker" by the Jonas Brothers at 2 AM #JonasBrothers https://t.co/sl9mWLhrmf

— ElektraDeus (@ElektraDeus) 1551447091.0
I'm a #Sucker for the @jonasbrothers new music! It's positive, refreshingly different, and something I didn't even… https://t.co/Qvdmfa7MNx

— Dr. Phil (@Dr. Phil) 1551458885.0
SUCKER IS NUMBER ONE ON ITUNES OVERALL! you did it again, boys, i'm so proud, I LOVE YOU @jonasbrothers https://t.co/6IvF99jAWS

— maría isabel 🇻🇪STREAM SUCKER (@maría isabel 🇻🇪STREAM SUCKER) 1551448975.0
The brothers appeared earlier this morning on The Elvis Duran Show––and Joe Jonas told fans to prepare for more music on the way:

"When we started to figure out what the sound was going to be like — balancing Nick's sound, DNCE's sound and, to be truthful, Kevin bringing so much heart into this. It's been incredible — his stories, his family and everything that he has going on now, it was really important to be able to blend the three and so, we have probably 30, 40 songs recorded that we can't wait to release."

#JonasOnElvis: Here. For. This. 🙌 @joejonas says @jonasbrothers have 30 to 40 new songs recorded and a full album i… https://t.co/kEc4A7cyq2

— Elvis Duran Show (@Elvis Duran Show) 1551444327.0
The brothers also have a week-long engagement with The Late Late Show host James Corden from March 4 to March 7 where they'll perform and discuss their reasons for releasing new music now after such a long hiatus.
We've been burning up trying to keep this secret… The @JonasBrothers are BACK and to celebrate @nickjonas… https://t.co/2kOoqIt5cE

— Jonas Brothers on The Late Late Show Starts Monday (@Jonas Brothers on The Late Late Show Starts Monday) 1551366001.0
The boys are back, everyone. Expect them to take over the airwaves this summer.