"It will come back and haunt you" has never been more true than in the age of digital media.
Just two weeks after accepting the role as the latest Teen Vogue Editor-in-Chief, Alexi McCammond stepped down from her new role, because of the backlash she received for tweets she wrote ten years ago. When she was 17 years old, McCammond used Twitter to air out some of her student frustrations, including inflammatory, racist language against Asians and Asian Americans.
She was also held accountable for a series of homophobic comments against the LGBTQ+ community, as well as a lengthier series of "ranting' tweets against the Black community. Finally, McCammond was accused of cultural appropriation after photos of her dressed as a Native American were uncovered.
Early in March, Teen Vogue and Condé Nast shared McCammond would be joining their team as the Editor-in-Chief of Teen Vogue.
Given her publishing history, this news created some waves.
One of the earliest comments came from Diana Tsui, a well-known writer from The Infatuation and The Cut, on her Instagram, stating Teen Vogue's hiring of McCammond was problematic.
Tsui wrote:
"Let's talk about Condé Nast HR (human Resources) and this questionable hire for Teen Vogue EIC (Editor-in-Chief)."
"[McCammond] had a series of racist tweets in 2011."
"Maybe we can give her some benefit of the doubt as these were done when she was still a student."
"But her 'apology,' which was only after people caught them in 2019, referred to them as 'deeply insensitive.'"
"They were not insensitive, they are racist."
Tsui also called into question digital integrity and gate-keeping.
"When we talk about accountability versus cancel culture, we need to talk about how this should have been addressed, not just by her but also Teen Vogue and Condé Nast as a whole, especially in light of the current national discourse about Asian racism."
"Teen Vogue has positioned itself as a champion of inclusiveness and empowerment. Is this truly a leader who also embodies these beliefs?"
"Would a leader preemptively acknowledge the hurt caused by past actions with a future plan of action, or would a leader just ignore it and hope no one does a Google search?"
"Time and time again, this shows that gatekeepers pay lip service to diversity."
"They don't believe that anti-racism policies can and should include Asian Americans."
Tsui also included screenshots of McCammond's deleted tweets, which you can see here: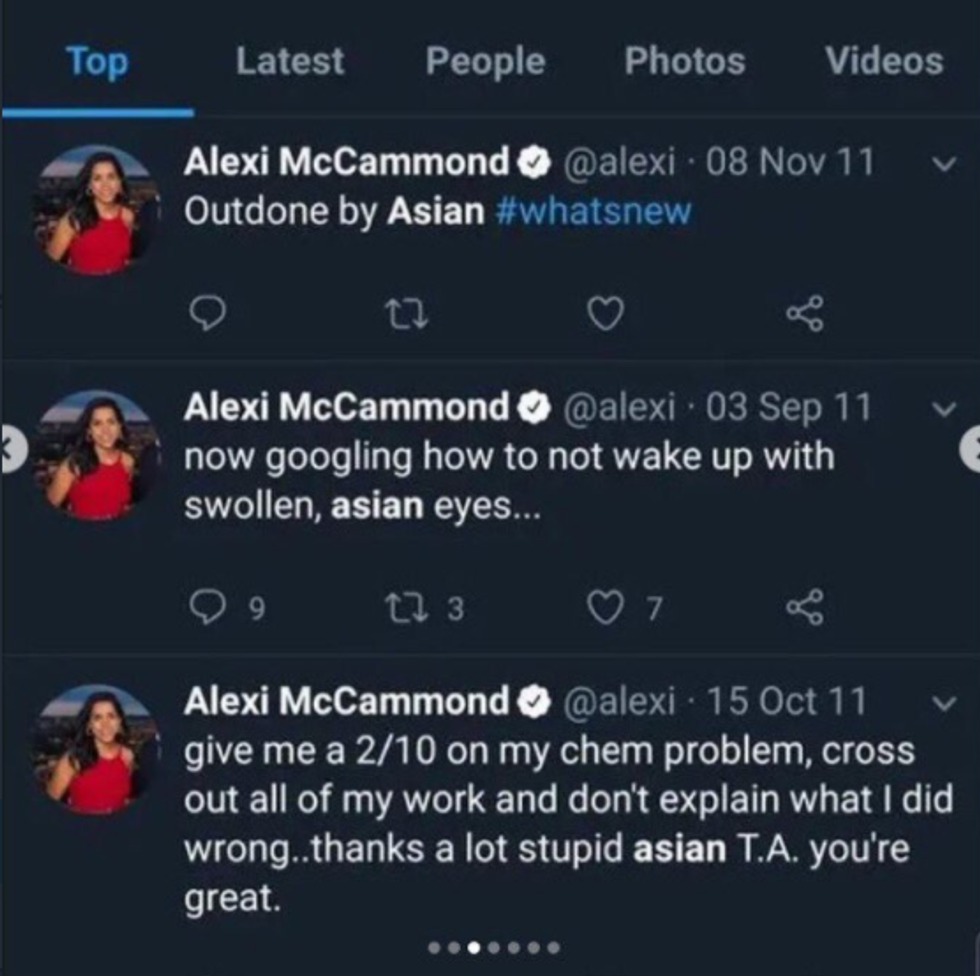 @alexi/Twitter
Among these deleted tweets, McCammond wrote:

"Outdone by Asian #whatsnew."
"Give me a 2/10 on my chem (chemistry) problem, cross out all of my work, and don't explain what I did wrong... Thanks a lot stupid Asian T.A. (teaching assistant), you're great."
After Tsui posted on Instagram, the concerns continued to pour in across social media.

@chupsterette/Instagram

@chupsterette/Instagram

@chupsterette/Instagram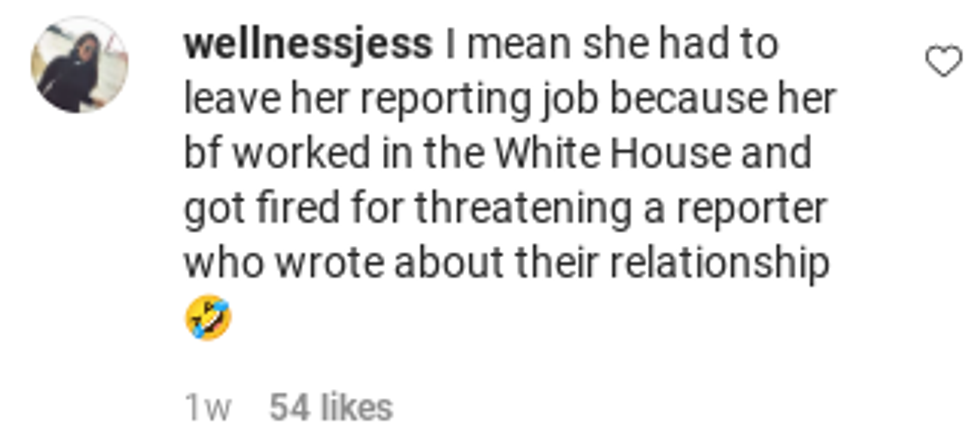 @chupsterette/Instagram

@chupsterette/Instagram
Among those concerned was Ulta Beauty, who recently partnered with Teen Vogue.

They elected to "pause" their "worth seven-figure" advertising partnership with the publication indefinitely, as a statement against the hiring of McCammond.
McCammond tried to set the record straight with a lengthy statement, made available on Twitter.
In the statement, McCammond wrote:
"What an awful introduction we've had to each other this week. I'm Alexi McCammond, the incoming EIC of Teen Vogue, and this is only the beginning of our journey together."
"Thank you all for trusting Teen Vogue and helping build our brand to be a leader in this space."
"I hope to earn that same trust from me, but I know I don't yet have it, and have a lot of work to do to get it."
"This has been one of the hardest weeks of my life, in large part because of the intense pain I know my words and my announcement have caused so many of you."
"As I've been having a number of conversations internally with the staff and others outside of Condé Nast, I've also been watching, reading, and listening to so many of your concerns that you've raised."
"I've apologized for my past racist and homophobic tweets and will reiterate that there's no excuse for perpetuating those awful stereotypes in any way."
But viewers remained unconvinced.
McCammond and Teen Vogue ultimately decided to part ways, due to the level of discomfort among the literary community and the readership of Condé Nast.
The Staff at Teen Vogue wrote:

"We've heard the concerns of our readers, and we stand with you."
"In a moment of historically high anti-Asian violence and amid the on-going struggles of the LGBTQ community, we as the staff of Teen Vogue fully reject those sentiments."
"We are hopeful that an internal conversation will prove fruitful in maintaining the integrity granted to us by our audience."
McCammond reflected:
"I became a journalist to help lift up the stories and voices of our most vulnerable communities. As a young woman of color, that's part of the reason I was so excited to lead the Teen Vogue team in its next chapter."
"My past tweets have overshadowed the work I've done to highlight the people and issues that I care about, issues that Teen Vogue has worked tirelessly to share with the world, and so Conde Nast and I have decided to part ways."
This decision received mixed reactions.

Some stood behind McCammond.
But the majority embraced the change.

Alexi McCammond is surely going through a difficult time right now with the extensive hiring and departing process she's been through, as well as the critical conversations and emotional labor.

That said, the digital community sees her prior thoughts and actions leading to her current discomfort.
Sounding off on social media has consequences.