In addition to a gender pay gap, some industries also have a historical gender representation gap.
One such industry where women are still trying to make a foothold is the tech industry.
---
The disparity became evident when GQ decided to run a story about a gathering of Silicon Valley Tech Titans. But rather than address the lack of women in prominent roles—or at all—in tech, someone associated with GQ's article came up with a slightly different solution.
Buzzfeed News tech reporter Ryan Mac and the Twitter netizens cracked the case. Mac thought something looked a bit off in a photo GQ shared of a group of tech titans.
The image was used in connection with the GQ article "Why Jeff Bezos and a Dozen Tech Titans Made a Pilgrimage to Brunello Cucinelli's Italian Village." Mac asked Twitter if they thought something looked "off" about GQ's photo.
I got some questions about this story on "tech titans" in Italy, and uhhh I think this photo is photoshopped?… https://t.co/zSGrcZp472

— Ryan Mac (@Ryan Mac) 1560192039.0
Mac made his case for the image being manipulated.
Look at the woman, supposedly SunRun CEO Lynn Jurich, in the background. Some weird stuff is going on with her leg,… https://t.co/cozFwYJN02

— Ryan Mac (@Ryan Mac) 1560192181.0
She's also not tagged or photographed in a more candid group photo posted by designer Brunello Cucinelli https://t.co/5sYfLCeqfP

— Ryan Mac (@Ryan Mac) 1560192255.0
And then...

LMAO THEY PHOTOSHOPPED THE WOMEN IN. (credit to @benjymous for the incredible find via reverse image search and L… https://t.co/7WURfnk7wj

— Ryan Mac (@Ryan Mac) 1560341044.0
Oops.
GQ subsequently deleted the image from their website and Twitter share of the article with the note:
"UPDATE (6/12/19): An image provided by a Brunello Cucinelli representative that did not meet GQ's editorial standards was removed from this story."
The image had remained on Brunello Cucinelli's Instagram, but was subsequently deleted from there as well.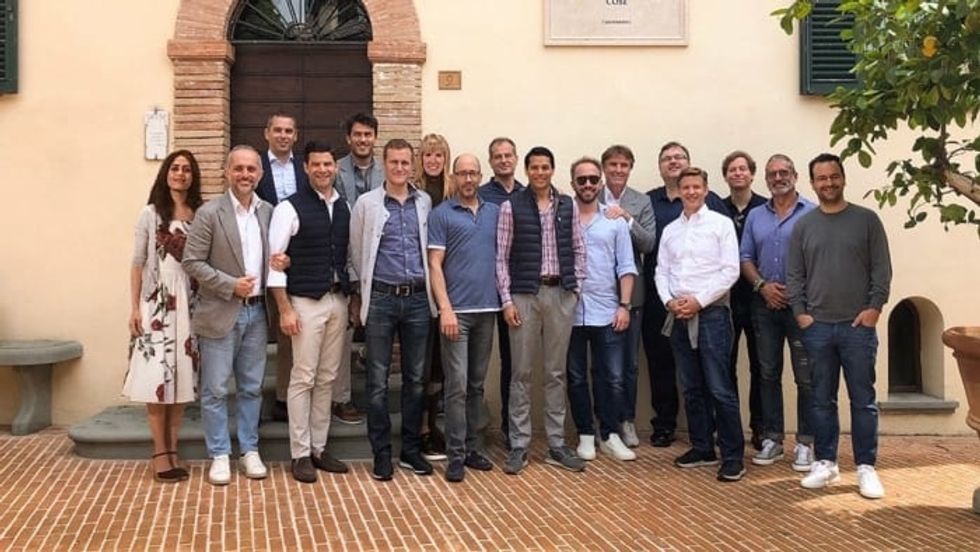 altered image used for GQ article, since deleted@brunellocucinelli/Instagram
However the original unaltered image remained on the LinkedIn account of Ferdinando de Bellis.
It was captioned:
"Alcune delle più grandi personalità della Silicon Valley ospiti di Brunello Cucinelli a Solomeo. Tra loro Ruzwana Bashir (Peek.com), Jeff Bezos (Amazon), Dick Costolo (Twitter), Reid Hoffman (LinkedIn), Drew Houston (Dropbox), Lynn Jurich (Sunrun), Nirav Tolia (Nextdoor), in quello che Cucinelli ha chiamato 'Simposio dell'Anima e dell'Economia'."
...or...
"Some of the biggest personalities of Silicon Valley guests of Brunello Cucinelli in Solomeo. Among them Ruzwana Bashir (Peek.com), Jeff Bezos (Amazon), Dick Costolo (Twitter), Reid Hoffman (LinkedIn), Drew Houston (Dropbox), Lynn Jurich (Sunrun), Nirav Tolia (Nextdoor), in what Cucinelli called 'Symposium of the Soul and the economy'."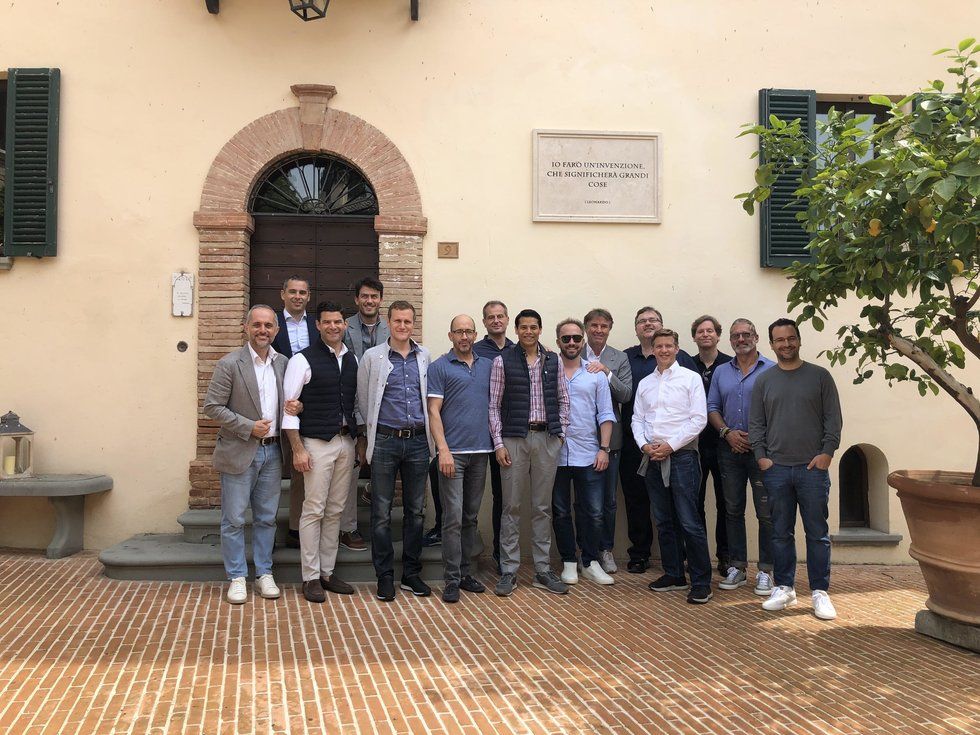 https://lnkd.in/d64q7pUwww.linkedin.com
It was on LinkedIn that Mac finally put all the pieces together.
Here is the LinkedIn post where it came from that went up a week ago. The person is Ferdinando de Bellis, a corpora… https://t.co/eNgHucJ9g7

— Ryan Mac (@Ryan Mac) 1560341227.0
It wasn't long before one of the female CEOs digitally added to the picture, Lynn Jurich, clarified the photo's context in an article on LinkedIn.
"Ruzwana and I happened to be away when this picture was taken and agreed to be added," Jurich wrote. "There was no 'official picture' for the event, the purpose was about a discussion and an exchange of ideas."
She continued:
"About the bigger issue of diversity in Silicon Valley, I don't believe in getting angry about this. That only creates more suffering. Let's take the emotion out of it and be the change we want."
People still had feelings about the changes.
@RMac18 @benjymous Also kind of amazing that they thought, "two women, fifteen men. yeah, that'll check the diversity box!"

— Elizabeth Spiers (@Elizabeth Spiers) 1560342648.0
@espiers @RMac18 @benjymous I honestly thought the same! "Two's good."

— Frances Nguyen (@Frances Nguyen) 1560437848.0
@RMac18 Photoshop the change you want to see in the world

— Matt Brown (@Matt Brown) 1560342514.0
While it would be nice for women to break into some industries and then be included in the big meetings with the "tech titans," it's more meaningful when it isn't done through Photoshop.

Seriously, folks. Do better.
To learn about women who made the leap into tech, the book Geek Girl Rising: Inside the Sisterhood Shaking Up Tech is available here.