Georgia Republican Representative Marjorie Taylor Greene was widely mocked online after her attempt to celebrate the Confederacy by visiting a purported Confederate monument backfired because she didn't seem to realize she was actually at a memorial honoring Union soldiers.
Writing on Truth Social—which you might know as former Republican President Donald Trump's failing social media platform—Greene announced that she had visited the Wilder Monument in Chickamunga, Georgia.
Greene said that she "will always defend our nation's history" despite being very wrong about the history behind the monument she was visiting.
You can see her post below.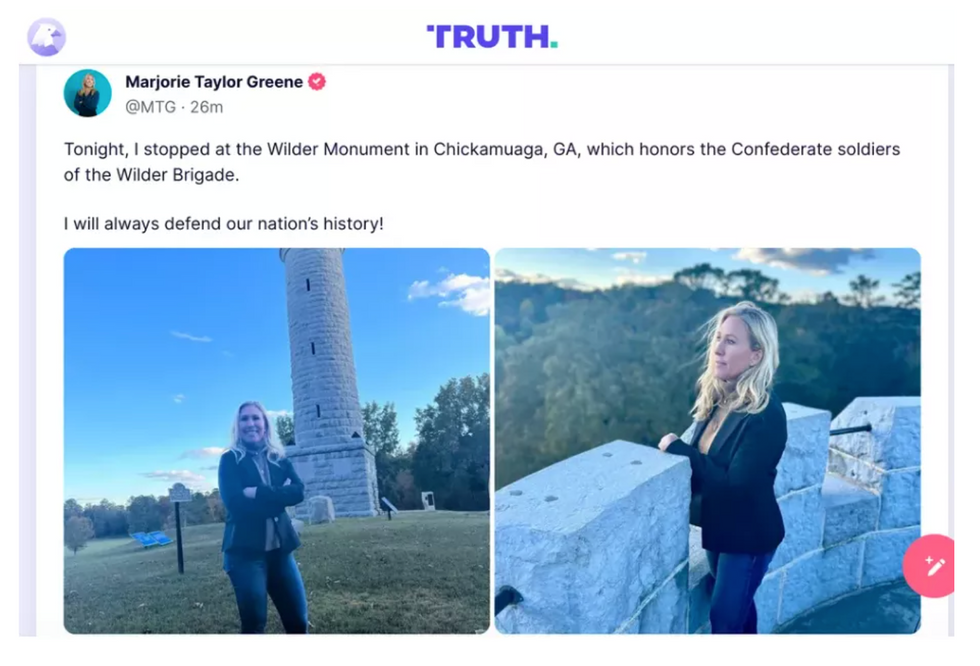 @MTG/Truth Social
The Wilder Monument, which was completed in 1903, was erected to honor the Lightning Brigade (led by John T. Wilder) of the Union Army's Army of the Cumberland. The brigade participated in the Battle of Chickamauga during the American Civil War, with the monument located on the battlefield where the brigade fought.
The monument consists of a watch tower made from limestone quarried from near the battlefield. The height of the tower is 85 feet, while the total height including a flagpole at the top of the tower is 105 feet.
Greene ultimately deleted her post, but not before screenshots were taken and circulated elsewhere on the internet.
She was swiftly mocked for her error and many criticized her for glorifying the Confederacy, which sought to preserve human chattel slavery as a viable economic system.
Greene isn't exactly known or celebrated for her knowledge of American history.

Earlier this year, she made headlines after she absurdly claimed the Declaration of Independence offers a justification for the January 6 insurrection.
Her remarks were yet another attempt to rewrite the narrative of the attack, which took place when a mob of the former President's supporters stormed the United States Capitol on the false premise that the 2020 election had been stolen.
Greene claimed that independent voters "need to look harder at the lies of 'BlueAnon'," a derogatory nickname for critics who have criticized her own affinity for QAnon conspiracy theories. She then pivoted, asserting that the Declaration of Independence offers clear justifications for the attack, which she claimed was designed to quell what she referred to as a "Communist revolution."