Actress Keeley Hazell—the ex-girlfriend of Ted Lasso star Jason Sudeikis—just shaded Sudeikis' former fiancée Olivia Wilde and her "special salad dressing" recipe adding to the slew of messy Hollywood drama around the former couple.
Last week, The Daily Mail published an article containing allegations from Sudeikis and Wilde's former nanny, including one claim Sudeikis became "infuriated" after Wilde shared the family's "special salad dressing" recipe with singer Harry Styles, who she began dating after meeting on the set of her film Don't Worry, Darling.
Wilde later shared the recipe with her Instagram followers, revealing it came from a page from the late Nora Ephron's bestselling book Heartburn.
The recipe apparently calls for a mixture of Grey Poupon mustard, red wine vinegar, and olive oil that is "perfect for salad greens like arugula and watercress and endive."
You can see Wilde's post below.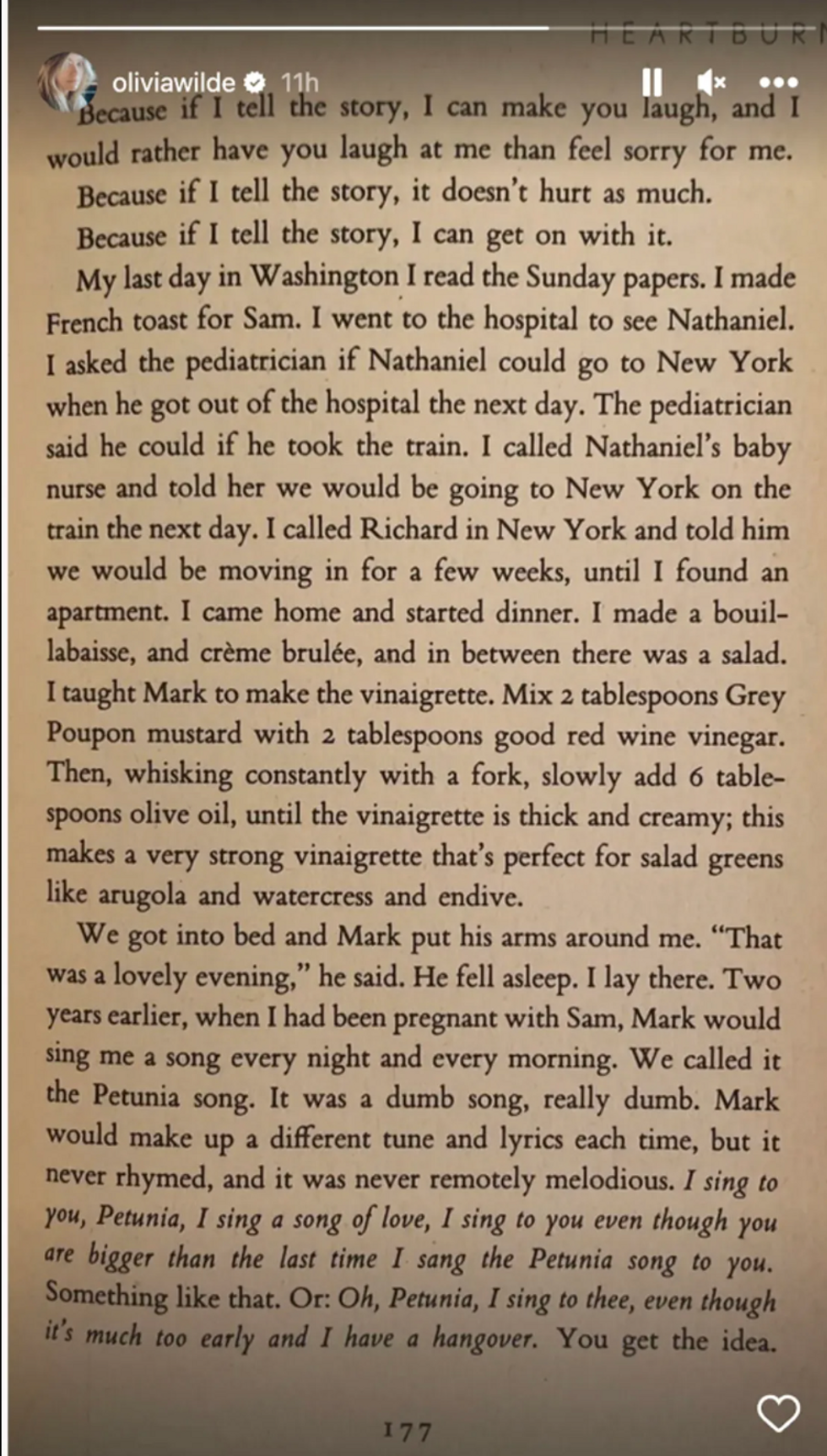 @oliviawilde/Instagram
Shortly afterward, Hazell shared an underlined excerpt from the same book only paragraphs away from the recipe Wilde shared to her own Instagram.
The excerpt reads:

"'Why do you feel you have to turn everything into a story?' So I told her why: Because if I tell the story, I control the version."
"Because if I tell the story, I can make you laugh, and I would rather have you laugh at me than feel sorry for me."
"Because if I tell the story, it doesn't hurt as much. Because if I tell the story, I can get on with it."
You can see Hazell's posts below.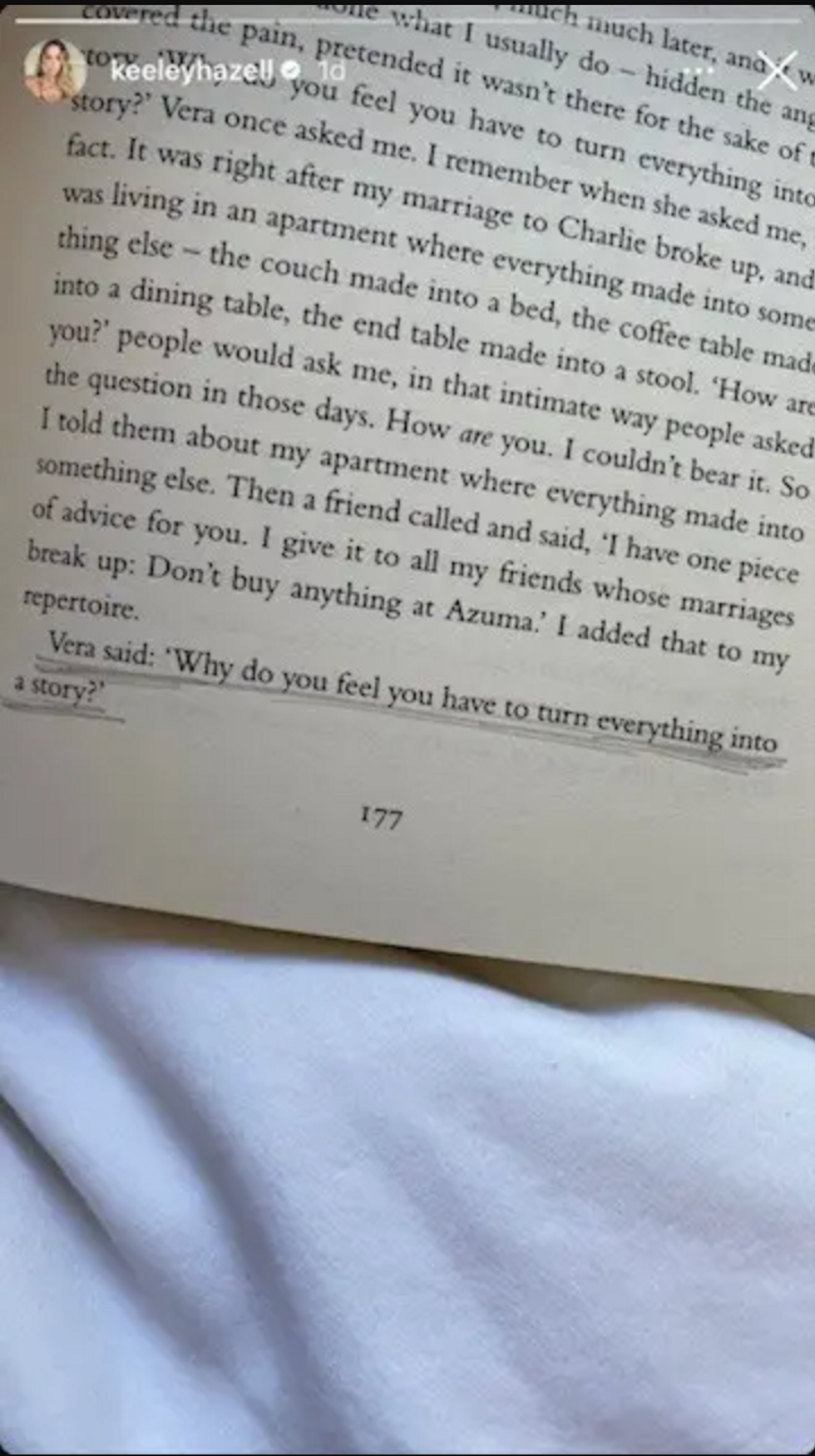 @keeleyhazell/Instagram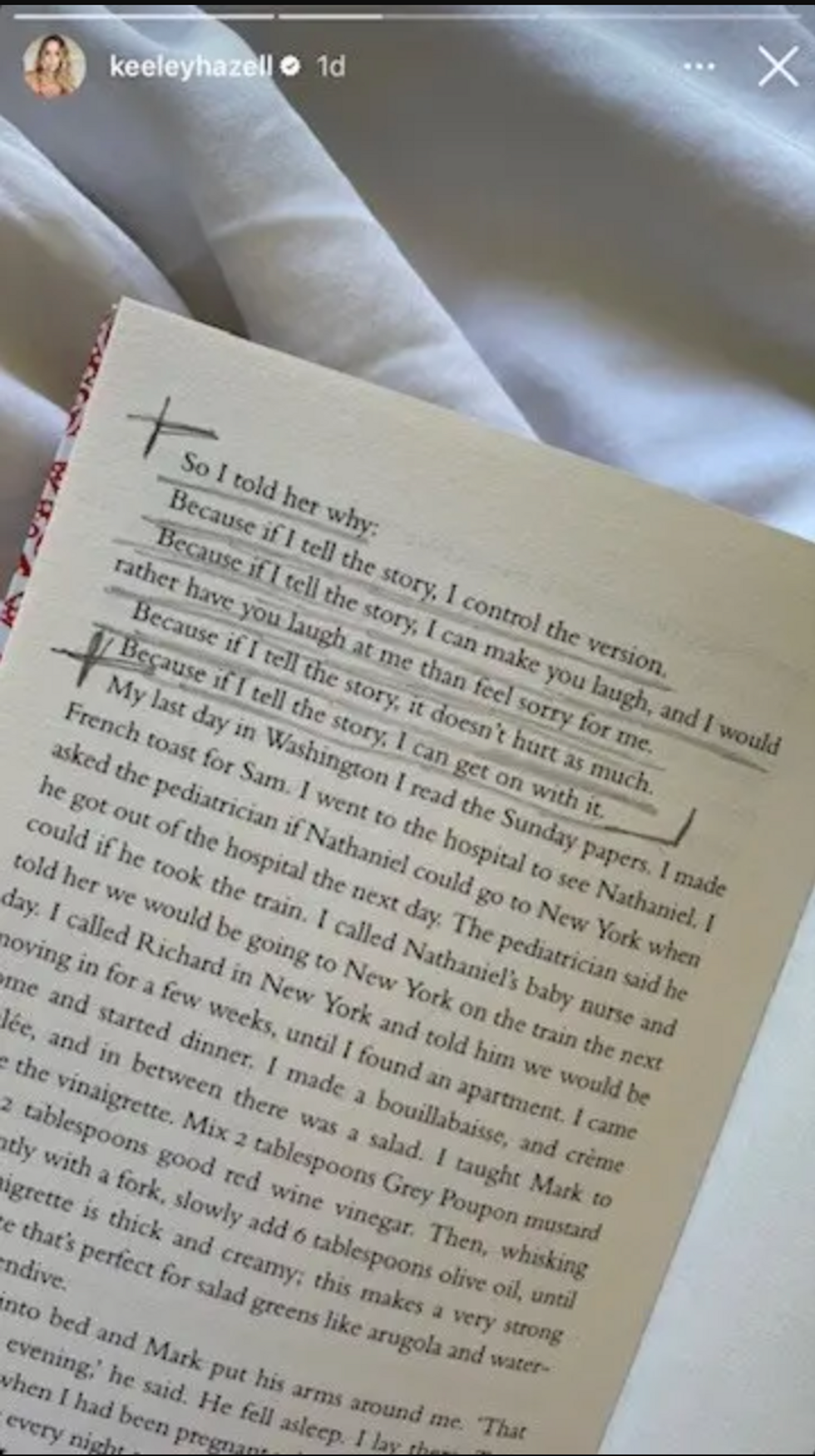 @keeleyhazell/Instagram
Fans quickly ate the drama up and wholeheartedly agreed it is messy beyond belief.
The drama between Wilde and Sudeikis largely came to define press for Wilde's film Don't Worry, Darling, which came and went at the box office after months of speculation about conditions on the set once Wilde became involved with Harry Styles.
Earlier this year, Sudeikis had a process server serve Wilde with custody papers while she was onstage at CinemaCon, the film industry's annual meeting for movie-theater owners and executives.
In a court filing over the summer, Wilde said Sudekis—who she dated for nearly a decade and with whom she has two children—hoped to "embarrass" and "threaten" her by serving her legal papers in such a public setting.