Ever have a brain fart over something that now seems so obvious that you can't help but facepalm?
It's okay, because we've all been there. No judgment!
---
You don't know what you don't know, as we were so deftly reminded once Redditor Guilhermedidi asked the online community, "What was your "ahhhh so THAT'S how it works" moment?"
"The first time..."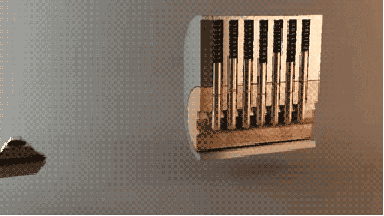 Giphy
The first time I saw a lock-picking video on the internet, where they use one of those clear locks so you can see what's going on.
"It's supposed to wobble."
For years I wondered why that bit on the end of tape measures was always wobbly. Like why couldn't any manufacturers just use decent rivets? It pissed me off so I smacked mine with a hammer to stop it wobbling.
It's supposed to wobble.
It's to allow for the thickness of that end hook depending on whether you are measuring an inside or outside edge. I face-palmed so hard when I overheard that in the office years later.
"So many people..."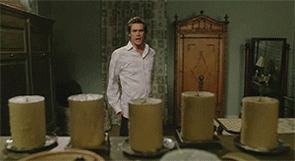 Giphy
Not my "aha!" moment, but I recently explained in another Reddit thread how candles work. Basically, the flame melts the wax, which is then drawn up the wick through a form of capillary action. As the liquid wax gets closer and closer to the flame, it eventually gets hot enough that it vaporizes. Being a hydrocarbon, the wax itself is flammable, and so the wax vapor combusts.
So many people, when I explained that, had this moment where they suddenly realized how the wick doesn't just burn away to nothing, and where the magically disappearing wax goes. I thought it was common knowledge that the wax acts to fuel the flame, but apparently not.
"I always wondered..."
I always wondered why McDonald's McFlurries came with those thick, hollow spoons. Turns out the spoon clips into the mixing machine and acts as the mixing paddle to blend the ice cream and candy together.
"Was taking a product design class..."
Was taking a product design class with a bunch of engineering students. We had a group assignment to redesign that little staple remover thing (the thing that clamps down and you used to play with it as a kid like it was a mouth). Anyway, in my early twenties I realized that my proposed redesign was to remove the staple by first bending the staple corners up before pulling out the staple so it wouldn't destroy the paper.
I realized, in my mid twenties, that I had been using that thing entirely wrong for years and had been destroying paper by ripping the staple out from the front first instead of using the tool properly and starting from the back side. I felt good though because the other 4 people in my team also had been using it wrong for years.
"And it's been great..."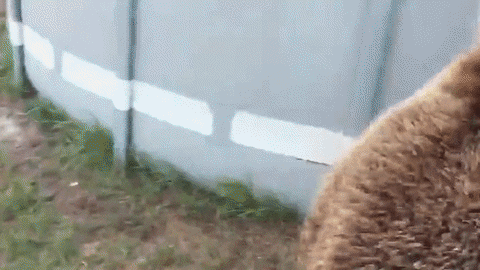 Giphy
I'm gonna feel stupid I'm sure, but the first time I jumped into a pool and had let most of the air out of my lungs (at like age 17) and sunk to the bottom I had that moment. And it's been great understanding basic physics that I SHOULD have picked up on FOREVER ago, and it's super helpful when I'm in water now.
"When programming..."
When programming I copy code all the time without knowing 100% how it works. Everyone does it. It started with teachers code, slightly modified, for homeworks, then moved on to the real world where I do it for a living. StackOverflow is a goldmine for some stuff. Often it's just some code from another part of the same codebase I'm working on.
Every now and then it breaks or doesn't work out of the box, and I have to take a serious look at it "ahhhh so THAT'S how it works."
"My boss told me..."
My boss told me he couldn't match a competitors offer, as it would put me out of parity to my coworkers, so it wouldn't be "fair." He asked me to think about it for 24 hrs, and to consider all the benefits I would lose when leaving the company. The next day, I explained that this wasn't a problem my new company faced, so I would be leaving in 2 weeks. He quickly matched the other company's offer to the letter. All that b.s. about fairness and parity was b.s., and I was actually disappointed to learn, " ahh, Capitalism, so that's how that works."
"My mom told me..."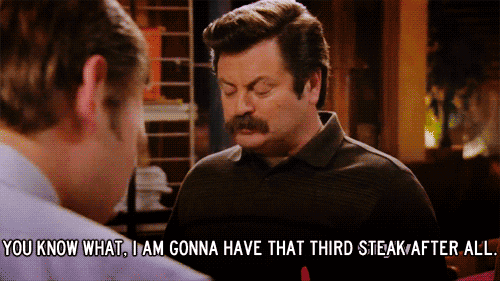 Giphy
Cutting a bite of steak against the grain before eating it.
My mom told me years ago that if meat was too hard to cut (...using a butter knife) that I should cut the meat with the grain. I never understood why you got the horking big knife with the big wooden handle at restaurants when you ordered steak.
Then, someone told me to cut against the grain so that I would be chewing with the grain. Total game-changer.
"I think I already knew it..."
How most jobs are just a chain of simple steps. I had been working at my job for a few years. I slowly became the guy who knew everything and trained everyone. Eventually we had to do a redesign to handle more volume and higher out put. So I redesign our processes and work station layouts. This leads to me having to write up SOP's on everything I've updated. I'm in the middle of writing them up and it clicks. Even for the harder processes. It's just a longer amount of basic steps.
I think I already knew it I just never thought about it. Now whenever something new or challenging comes up. I'll just break it down into easier to manage steps. Made my work way easier thinking of it that way.