Shark Tank star Daymond John is facing significant backlash after he reportedly attempted to arrange a sale of N95 face masks to a desperate Florida for over three times the usual price.
The deal would have gotten Florida 1 million masks, but at a rate of $7 each rather than the usual price of less than $2.
---
Acquiring the essential PPE that front-line medical staff need to safely treat patients during the pandemic has been nigh impossible for many states.
Some have resorted to buying N95 masks from any seller willing to supply them, but not all suppliers are equal.
The Wall Street Journal recently reported on widespread supply chain issues and rampant fraud among less legitimate suppliers, who promise masks that they cannot deliver or deliver sub-par products. It makes sense, in such a situation, to work with someone familiar to acquire the necessary supplies.
When Daymond John offered assistance, Florida Department of Emergency Management's Jared Moskowitz said yes.
"This was not somebody off the street, this was Daymond John. He came to me and said, 'I've been in the clothing business. I have connections with factories in China'."
Instead of setting up a deal directly with a supplier, however, Florida issued a purchase order for an escrow agreement brokered by the law firm Foley & Lardner.
The highly irregular agreement would see the state pay $7 million to the Shark Group via the escrow agreement managed by Foley & Lardner. The funds would be held in escrow until the state received the promised masks and inspected them.
Jim Clark, general counsel for Foley & Lardner, said that the firm provided the escrow account:
"with an agreement between the seller and the buyer that we would hold these items in escrow until such time as the masks were delivered by the seller."
He also stated that this kind of deal is unusual for the firm.
"The escrow agreement was designed to protect the state from getting ripped off by an unscrupulous seller. Our firm has never been in the business of buying and selling face masks. We had no relationship to the seller."
Moskowitz said that the purpose of the escrow agreement was protecting the state from possible fraud.
"The reason we decided to go through an escrow agent is more and more vendors wanted money up front because we were identifying potential fraud in the marketplace."
"We used the legal escrow process to protect the state. It has worked in every case. If the vendor didn't deliver the product, the money was returned through the escrow agent."
The deal fell through on April 13, before any product could be delivered, however.
3M, the company that manufactures N95 masks, is examining cases of possible price gouging for its products and filing lawsuits when it determines price gouging has occurred. A company spokesperson, Jennifer Ehrlich, said that 3M's prices are significantly lower than the $7 per mask that was offered to Florida.
According to The Miami Herald:
"3M is not aware of how the Shark Group would gain access to our respirators as it is not an authorized distributor of 3M products or one of our channel partners. 3M list prices, which are published on our website, are far lower than what appears to have been offered to the State of Florida."
She said 3M didn't have any information on this specific agreement, but that 3M is happy to assist in any investigation into the deal.
"3M is filing lawsuits in cases where third parties use the company's name, brand or trademark to engage in price gouging of N95 respirators and other illegal and unethical behavior. We have no knowledge of whether that occurred in this situation. We are happy, though, to assist law enforcement authorities if they wish to look into this matter."
John has since released a statement on Twitter claiming no wrongdoing in the attempted sale.
An important message to read in full. https://t.co/qnUiJbgivz

— Daymond John (@Daymond John) 1587581609.0
Jared Moskowitz retweeted John's press release, adding his support.
Thank you @TheSharkDaymond for trying to help me save lives. I support the statement below. We will continue to do… https://t.co/8p7BPl1Q6R

— Jared Moskowitz (@Jared Moskowitz) 1587582963.0
Not everyone took the explanation at face value, however.

@TheSharkDaymond Looks like some some walking back on potentially selling masks from 2.00 to an inflated 7.00 a mas… https://t.co/9155YYWRH3

— 🧩🇺🇸John Mury🇺🇸🧩 (@🧩🇺🇸John Mury🇺🇸🧩) 1587586385.0
It remains to be seen whether Daymond John or the Shark Group played a part in any wrongdoing in this situation.
Individuals who want to make their own small craft items, including masks, at home, this Mini Electric Sewing Machine is available here for under $40.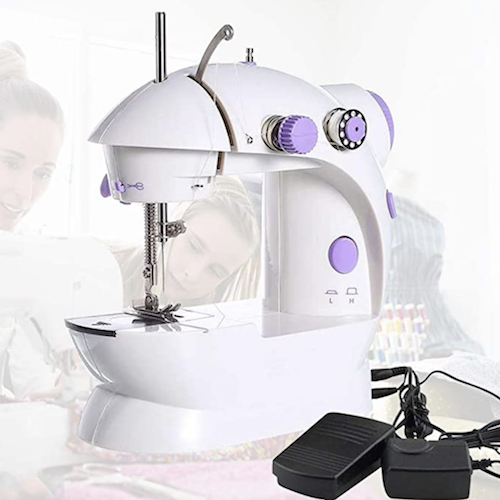 Amazon