JK Rowling—author of the popular Harry Potter series of books—is being slammed after once again giving her support to those bent on eradicating people of color and transgender people.
Rowling threw a retweet toward an "activist" named "Rudy"—@theneonrequiem on Twitter—from the right-wing organization Gays Against Groomers, a group of allegedly gay people paid to help smear transgender, other queer people and their allies as child molesters and pedophiles.
The tweet refers to queer, trans, Black and brown people as "sh*t" and demands the pink, light blue and brown stripes that represent them on the progressive LGBTQ+ pride flag be removed.
You can see the tweet Rowling endorsed and amplified here: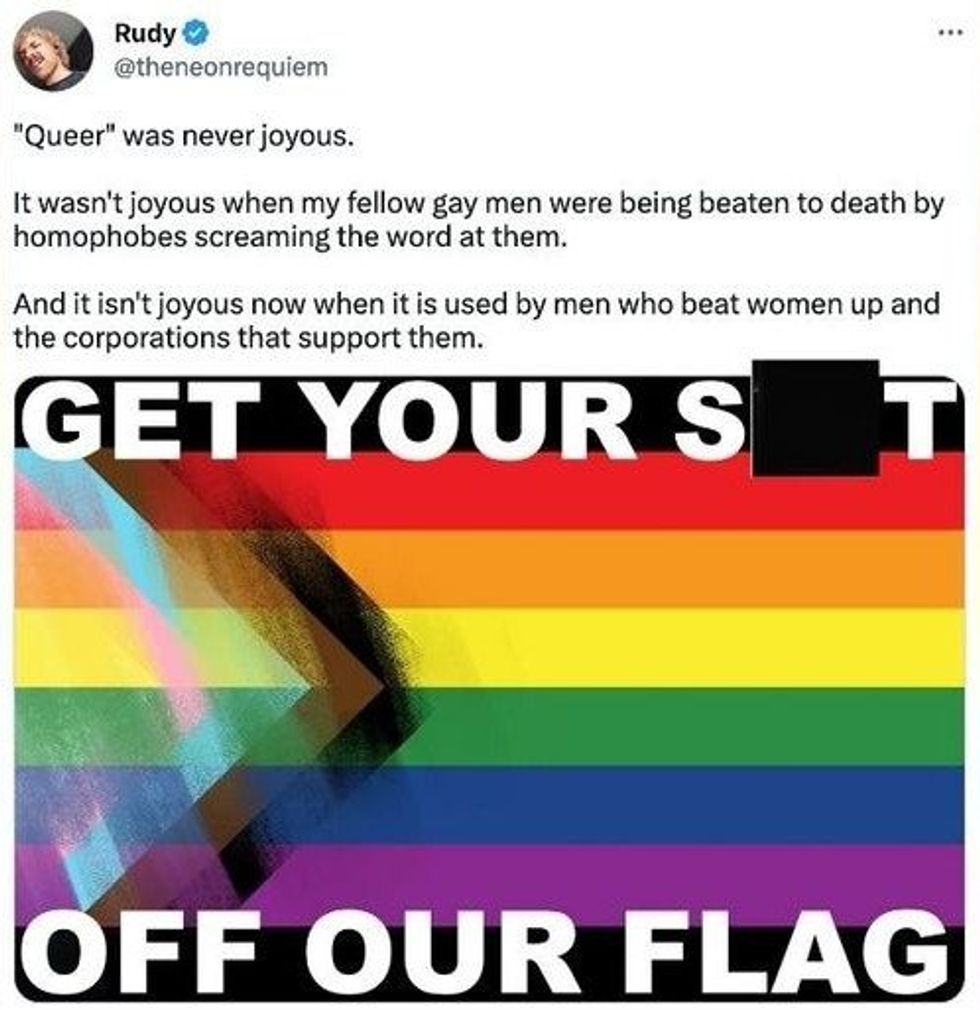 @theneonrequiem/Twitter
Along with the image, Rudy tweeted:
"'Queer' was never joyous."

"It wasn't joyous when my fellow gay men were being beaten to death by homophobes screaming the word at them."

"And it isn't joyous now when it is used by men who beat women up and the corporations that support them."
Tweeting about gay men "being beaten to death by homophobes" while advocating for rhetoric that routinely gets trans people beaten to death is an interesting choice.
This is apparently the sort of rhetoric—people of color and trans people being referred to as "sh*t"—that appeals to JK Rowling. And yet it's still a mystery to Rowling why the people she targets—and anyone paying attention to what she says and does—call her a bigot.
While Rowling was retweeting Gays Against Groomers—an organization that bills itself as "a 501(c)4 organization of gays against the sexualization, indoctrination and medicalization of children under the guise of 'LGBTQIA+" based on no supporting evidence,—she was also joining a large rally of anti-trans "feminists" or TERFs in New Zealand.
On Twitter, many were disgusted by Rowling's latest round of racism and transphobia.

Don't worry though, it wasn't just rhetoric against Black, brown, trans and queer people JK Rowling has been on a tear about on Twitter.
She's also been tweeting out conspiracy theories about how blood transfusions from someone of a different gender will kill you.
And tweeting out her support for an anti-trans activist beloved by literal Nazis.
Rowling will likely cry victim again soon once the backlash leads to consequences like exclusion from projects.

Whether anyone who isn't also a vocal racist, homophobe and transphobe rushes to defend her again remains to be seen.