News infamous former African-American studies academic and local chapter NAACP president Rachel Dolezal has an account on OnlyFans broke when Dolezal announced it in August of this year.
And not in the sense celebs like Beyoncé once had OnlyFans presences, where they'd share exclusive behind-the-scenes glimpses into their lives and whatnot.
Dolezal's planned to have the more common type of OnlyFans. The X-rated type.
Hey, more power to her. But now someone on Twitter posted screenshots of her nude content.
People on social media are not coping well with this nudes--er, news.
TMZ spoke with Dolezal's representative, who confirmed the OnlyFans account and its leaked content are Dolezal's.

She bills the account as giving people a glimpse into how her "sensual side pairs with my creative spirit through intimate images inspired by color, light, and lingerie on the weekends."

That lingerie is mostly the point, according to Dolezal's rep and for the weirdest reason possible. She's doing it to honor singer Rihanna because she loves RiRi's iconic Savage x Fenty lingerie line.
Presumably, shots like those below are part of this "lingerie on the weekends" content.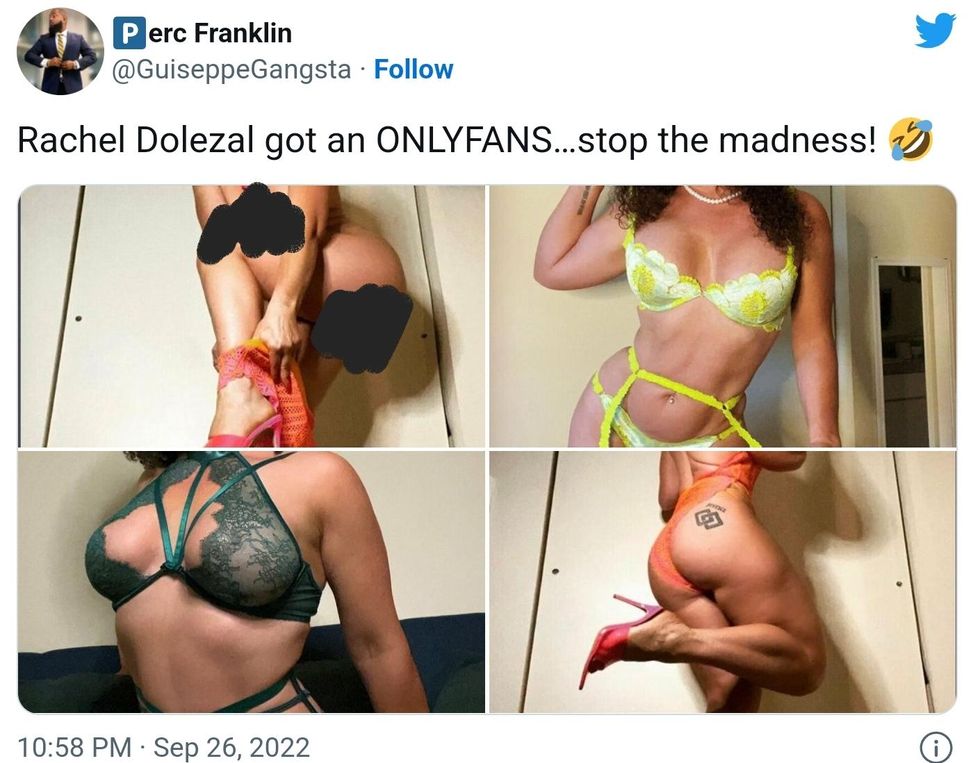 @GiuseppeGangsta/Twitter
That doesn't account for the explicit nudes also on her account, however.
Throughout the images, Dolezal seems to definitely still be maintaining her so-called "trans-racial" identity. She appears to still be darkening her skin and styling her hair in ways that suggest a Black identity, which is of course what made her notorious in the first place back in 2015.
That's when she was discovered to be posing as a Black woman while working for the Spokane, Washington chapter of the NAACP. Dolezal was born to parents who are both White who exposed Dolezal's deception.
But that hasn't stopped her from allegedly filing her OnlyFans content under the site's "Ebony" category—a section that highlights Black creators.
The internet has lost its collective mind over these discoveries.
All sorts of memes and jokes were born.

OnlyFans is only Dolezal's latest move into online media since the public implosion of her activism and academic career.
She has also published a memoir and sells her visual art online.