As a bride, having your photographer cancel on you the night before your wedding when they're not sick and don't have a family emergency sounds ... pretty crappy.
It's the sort of thing that means missed memories, so you could understand a bride who calls a photographer unprofessional for that.
But what if there's way more to the story?
Photographer and TikTok user Shayla Herrington is a photographer. She's a photographer who canceled on a couple the night before the wedding, resulting in the bride calling her unprofessional.
But people absolutely think she was right to cancel.
Her video.
So here's that "more to the story."

Firstly, the couple only reached out to Shayla a few weeks before the wedding date. We don't know if this was a last-minute wedding of if Shayla was a last-minute vendor added to the wedding, but normally photographers are locked into contract months, sometimes years, ahead of time.
Although it was short notice, Shayla had availability and was willing to shoot for the wedding.
The couple didn't have their venue nailed down yet, but said they would update Shayla and paid their deposit. Shayla sent her required forms and waited for an update.
She didn't get her forms back or get an event location, so she reached out again.
And again.
She called, she emailed, she even sent along a Starbucks gift card to encourage the couple to fill out the intake forms or at least tell her where she would be going the day of the shoot.
Shayla got back exactly nothing, right up until the night before the wedding.
She kept trying and kept waiting right up until the end of the business day the night before the wedding.
And then a few hours longer.
Until finally, between 8-9 pm the night before the wedding and having been completely ghosted by the couple and their wedding planner, Shayla sent a final message officially releasing the couple as a client since she had gotten no communication and was literally unable to do the job because of it.
Amazingly, the bride didn't bother responding until the morning of the wedding, at which point she told Shayla her behavior was "the most unprofessional thing I've ever seen."
The woman then left a negative review on Shayla's business! Shayla gave back the deposit, even though her contract clearly stated it was non-refundable and the couple were the ones who broke the terms of it anyway.
In fact, she ended up losing money here because the bride had actually used the Starbucks gift card (so she absolutely got the email) and all processing fees came out of her pocket.
Still, she gave it back.
Even with all of that, the bride was furious and Shayla ended up having to block her.

A few years have passed since then, so Shayla finally felt comfortable taking the case to a jury of her peers.
TikTok had a whole lot to say here.

@shaylamherrington/TikTok

@shaylamherrington/TikTok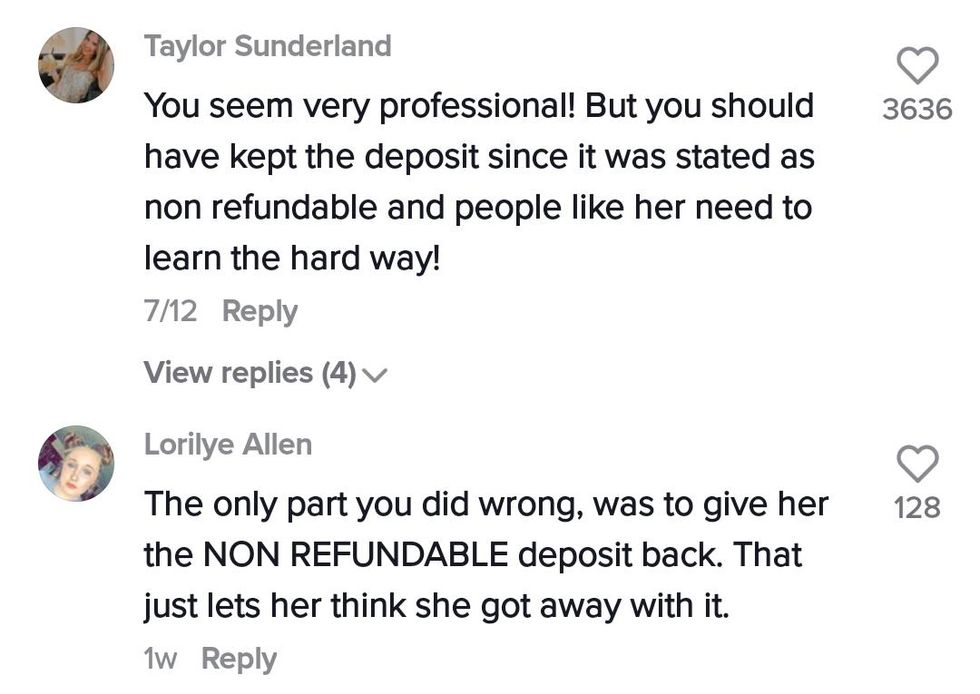 @shaylamherrington/TikTok

@shaylamherrington/TikTok

@shaylamherrington/TikTok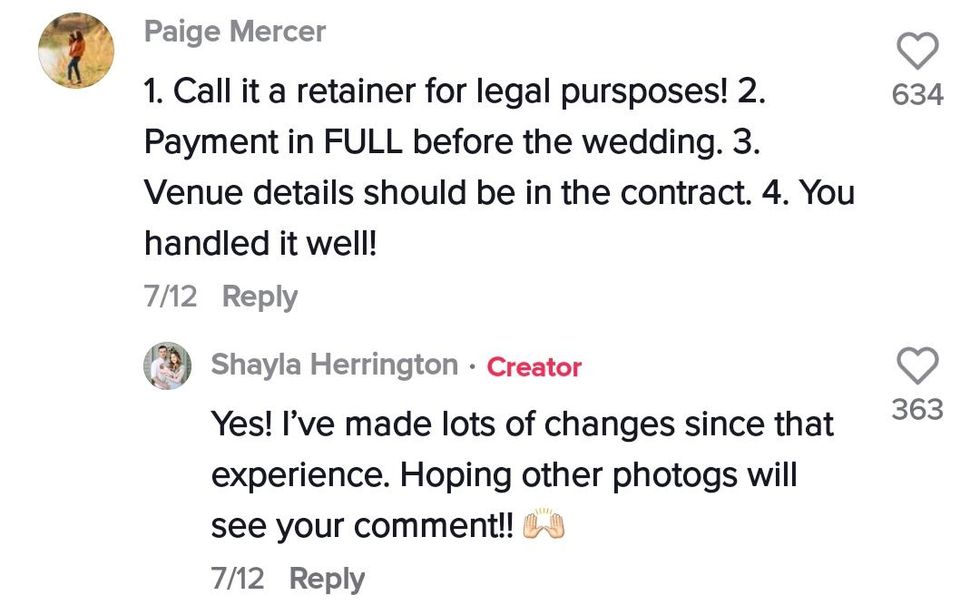 @shaylamherrington/TikTok

@shaylamherrington/TikTok
People wanted to read that negative review themselves, so they went looking on Shayla's Favebook page.

It was still there and people thought it was hilarious.
We don't know if folks started commenting, but the review disappeared after TikTok got a hold of it.

Oh, well...