If you're excited about seeing Kim Kardashian's acting chops in the upcoming season of Ryan Murphy's American Horror Story, you're surely not alone. But legendary Broadway diva Patti LuPone will not be among those joining you.
LuPone—a decorated star of theater, TV and film who's been nominated (and often won) just about every award there is besides the Oscar—is not keen on Kardashian joining people famous for their talents and bodies of work and all that.
Kardashian—along with returning actor Emma Roberts—was among the first stars announced in the new cast of American Horror Story. LuPone has appeared on the show herself, along with other Murphy creations like Pose.
In an appearance on Bravo's Watch What Happens Live, she had little good to say about Kardashian becoming her colleague.
Asked about it by host Andy Cohen, LuPone dragged Kardashian as only LuPone could.
Cohen asked LuPone about Kardashian's casting as part of a segment called "Do You Give A D*mn?" to which LuPone responded through gritted teeth:
"Yes. I. Do."
Cohen asked if it was because she feels Kardashian is taking roles away from legitimate actors.
After agreeing, LuPone went on to say:
"Excuse me, excuse me, Kim. What are you doing with your life? Don't get on the stage, Mrs. Worthington."
"Mrs. Worthington" is a song by Noël Coward in which Coward urges a stage mom to not allow her over-eager and talentless daughter to go into show business.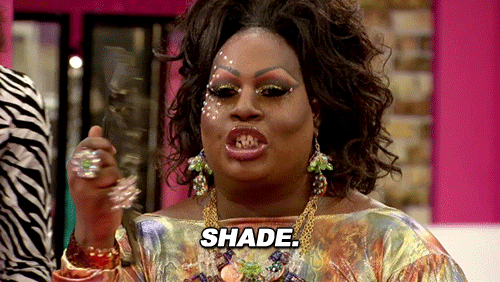 Rupauls Drag Race Shade GIFGiphy
On Twitter, people loved LuPone's drag of Kardashian.

But not everyone was in agreement with LuPone's take.

American Horror Story isn't Kim K's first foray into acting, but it is her highest-profile role.
It's quite a step up from voicing a poodle named Delores in the 2021 film adaptation of Paw Patrol, her last big role.

In announcing her casting, Murphy said the role she has was written "especially for" her and says the upcoming season will be "unlike anything we have ever done."
He praised Kardashian, saying:

"Kim is among the biggest and brightest television stars in the world and we are thrilled to welcome her to the 'AHS' family. Emma and I are excited about collaborating with this true force in the culture."
Sounds like LuPone better get used to seeing Kim on the TV screen.