New Jersey Republican millionaire and Pennsylvania Senate candidate Mehmet Oz is being mocked online after it emerged a woman he "comforted" at a "community discussion" in September was actually Sheila Armstrong, his campaign's Philadelphia County coordinator.
A picture of the two of them at the event, which was held on September 19, can be seen below.
News outlets reported Oz "comforted" Armstrong as she described the shooting deaths of her brother and nephew. The Associated Press and The Philadelphia Inquirer reported the event was "arranged a bit like [Dr. Oz's] former daytime TV show set" though both failed to note Armstrong was a paid campaign aide.
Federal Election Commission (FEC) records show Oz's campaign paid Armstrong nearly $3,000 during the month of June, a fact not overlooked by Brendan McPhillips, the campaign manager of Oz's Democratic opponent John Fetterman.
After McPhillips pointed out Armstrong is a "paid staffer," Barney Keller, a senior advisor to the Oz campaign, accused him of leveling "racist attacks," capitalizing on the fact Armstrong is Black and the event in which she and Oz actively misled their audience was designed to court Black voters in the final weeks before the midterm elections.

The Associated Press and The Philadelphia Inquirer later updated their stories about the event to address Armstrong's involvement in Oz's campaign.
A quick look at Armstrong's social media pages shows she used Instagram to organize the event and confirm RSVPs.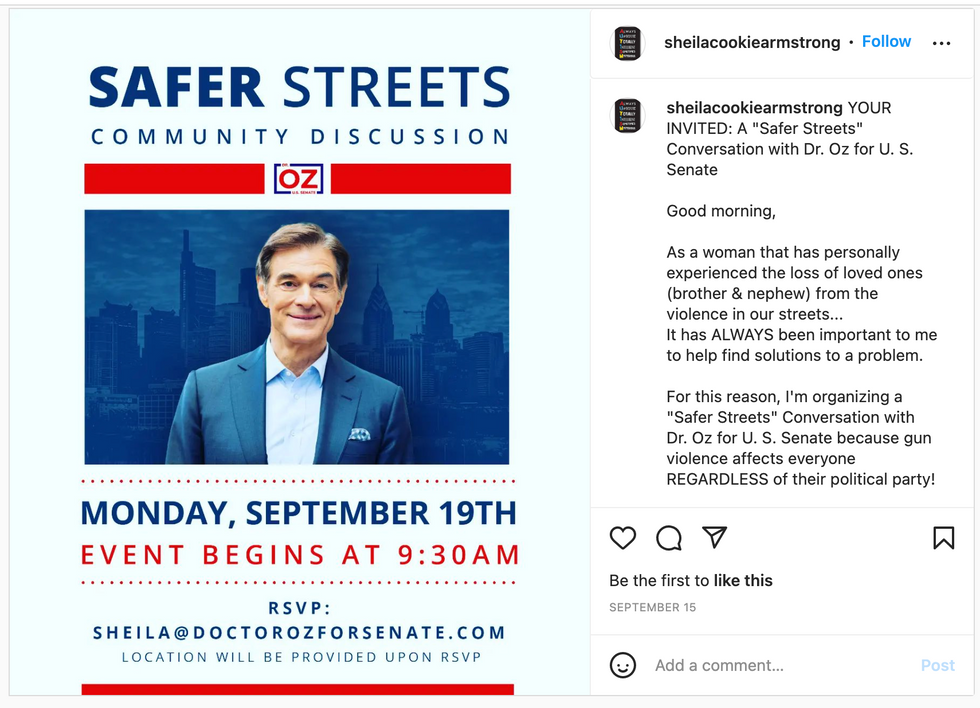 @sheilacookiearmstrong/Instagram
Armstrong did not invent the story she told at the event—her nephew Duval DeShields was killed in a 2015 shooting at the age of 14—but she nonetheless helped mislead reporters and the general public.
Oz has been harshly criticized in the wake of the scandal.
The race between Oz and Fetterman has tightened in recent weeks, worrying Democrats as they vy for Senate control. Fetterman currently leads Oz by six points, according to the FiveThirtyEight polling roundup.

In recent weeks, Oz has accused Fetterman of not being tough on crime and claimed that Black voters do not want to be part of Fetterman's "woke social experiment."