We've all heard our fair share of work "call out" policies, especially around the holidays. The closer we get to the new year the stricter our bosses become about taking time off.
However, in most cases, there is usually some understanding when it comes down to it.
Life happens.... unless you're the Kansas Olive Garden manager whose note to their staff went viral on TikTok. According to a certain someone, if you are living a life outside of work, you'd better bring in proof or have a signed note excusing you.
A screenshot of the lovely little monologue racked up more than 35,900 likes on Twitter since the tweet was shared by the account "F*ck You I Quit" on Wednesday.
The message started off so well with an "attention all team members," but it quickly went downhill from there.
In the email the anonymous author wrote:
"From now on, if you call off, you might as well go out and look for another job."
"We are no longer taking ANY excuse for calling off."

You can see management's eloquent email here: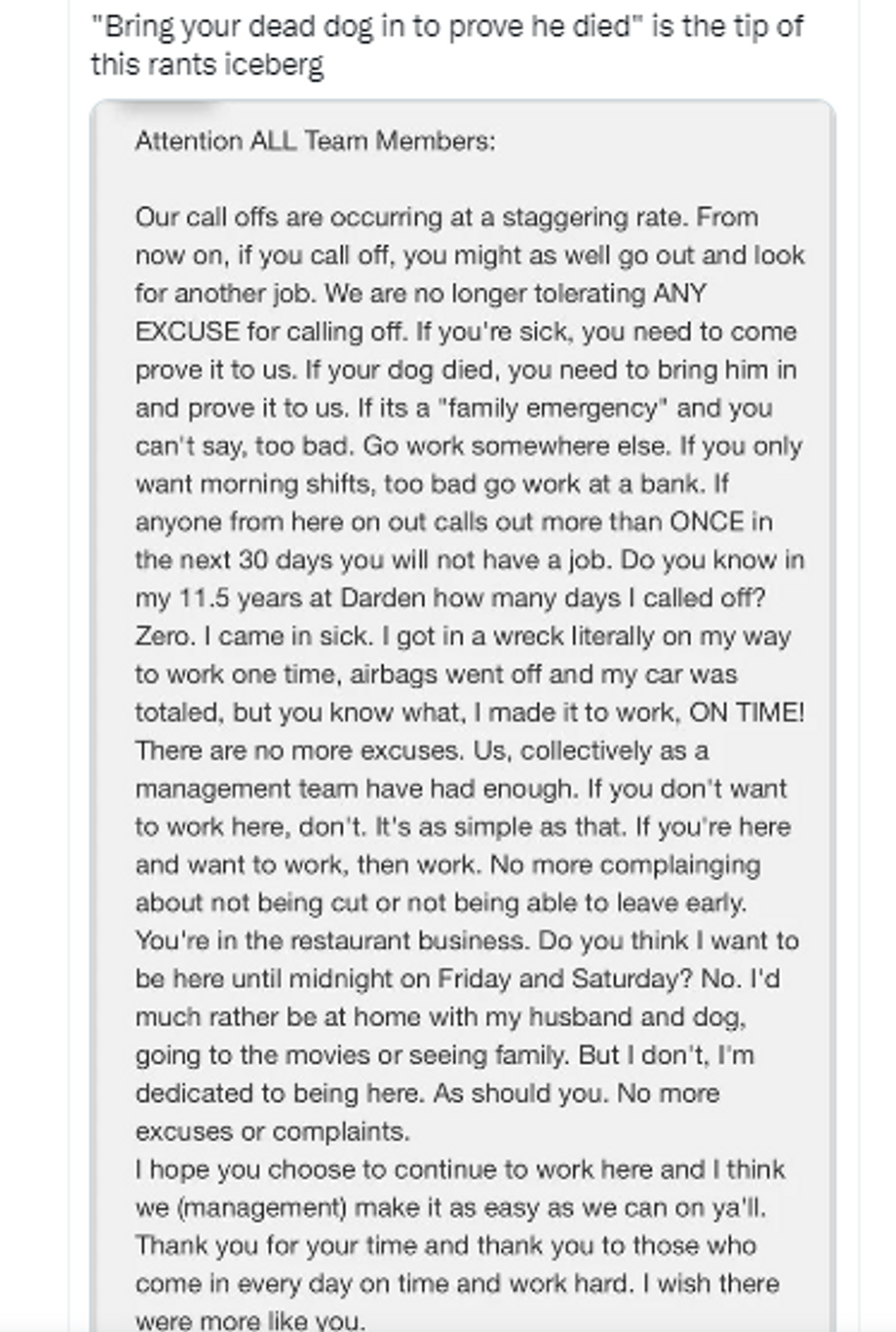 @f*ckyouiquit/Twitter
And unfortunately, the manager continued with more utter absurdity.
"If you're sick, you need to come prove it to us."
"If your dog died, you need to bring him in and prove it to us."
"If it's a 'family emergency' and you can't say, too bad. Go work somewhere else."
As if the first part wasn't bad enough, they then went on to warn employees "from here on out" anyone taking time off more than once in the next 30 days would find themselves without a job.
Because it was oh so crucial to mention during the rant, the manager was sure to include that in their 11.5 years of working at Darden they never called out.
Furthermore if members of the team didn't want to come to work, they did not have to work there.
"Do you know in my 11.5 years at Darden how many days I called off? Zero."
"I came in sick. I got in a wreck literally on my way to work one time, airbags went off and my car was totaled, but you know what, I made it to work, ON TIME!"
"If you don't want to work here, don't. It's as simple as that."
"If you're here and want to work, then work. No more [complaining] about not being cut or not being able to leave early."
They then attempted to empathize with workers.
"You're in the restaurant business. Do you think I want to be here until midnight on a Friday and Saturday?"
"No. I'd much rather be at home with my husband and dog, going to the movies or seeing family. But I don't, I'm dedicated to being here."
"As should you. No more excuses or complaints."
Finally, the manager's rant came to an end with a sentiment from the heart.
"I hope you choose to continue to work here, and I think we make it as easy as we can on ya'll. Thank you for your time and thank you to those who come in every day on time and work hard. I wish there were more like you."
Olive Garden made a statement, telling local news outlet KCTV the message from that store's management did not reflect the company's values and that they have taken actions to make the situation better.
"We strive to provide a caring and respectful work environment for our team members."
"This message is not aligned with our company's values."
"We can confirm we have parted ways with this manager."
As you could imagine, the supervisor was fired after that lengthy message which left staff and outsiders alike shocked, and not at the fact the supervisor was let go, but instead at the fact someone in a management position would even think this behavior was acceptable.
Tweets poured in from many who couldn't believe this manager's behavior.
From some saying this was a "hierarchical cesspool" to many who spoke from experience, either as a manager or employee. One thing for certain no one deserves to be spoken to this way.
Now that the manager has been fired, she can finally have that day off.

@f*ckyouiquit/Twitter

@f*ckyouiquit/Twitter

@f*ckyouiquit/Twitter

@f*ckyouiquit/Twitter

@f*ckyouiquit/Twitter

@f*ckyouiquit/Twitter

@f*ckyouiquit/Twitter

@f*ckyouiquit/Twitter

@f*ckyouiquit/Twitter

@f*ckyouiquit/Twitter

@f*ckyouiquit/Twitter
While plenty of people could relate to the message, no one was saying the email was appropriate.
Common takeaway?
Don't email employees when you're angry.