A Republican Ohio lawmaker is catching heat after her Facebook post was spread on social media.
In it, GOP state representative, Candice Keller, looks to take aim at the cause of the recent rise in mass shootings.
She's a little less than helpful.
---
In her now hidden Facebook post, Keller wrote a long list of people and ideologies she blames for the mass shootings. Before you ask, no, the list does not include white supremacy, the wide proliferation of guns or the current administration.
The post is no longer public, but it was screenshot before it was hidden, and can be found all over the internet.
This is Ohio State Representative Candice Keller, a shining example of today's @ohiogop. She has a few opinions ab… https://t.co/DV1aHl8UCf

— Brett Pransky (@Brett Pransky)1564977035.0
Gee, I wonder why she would hide this.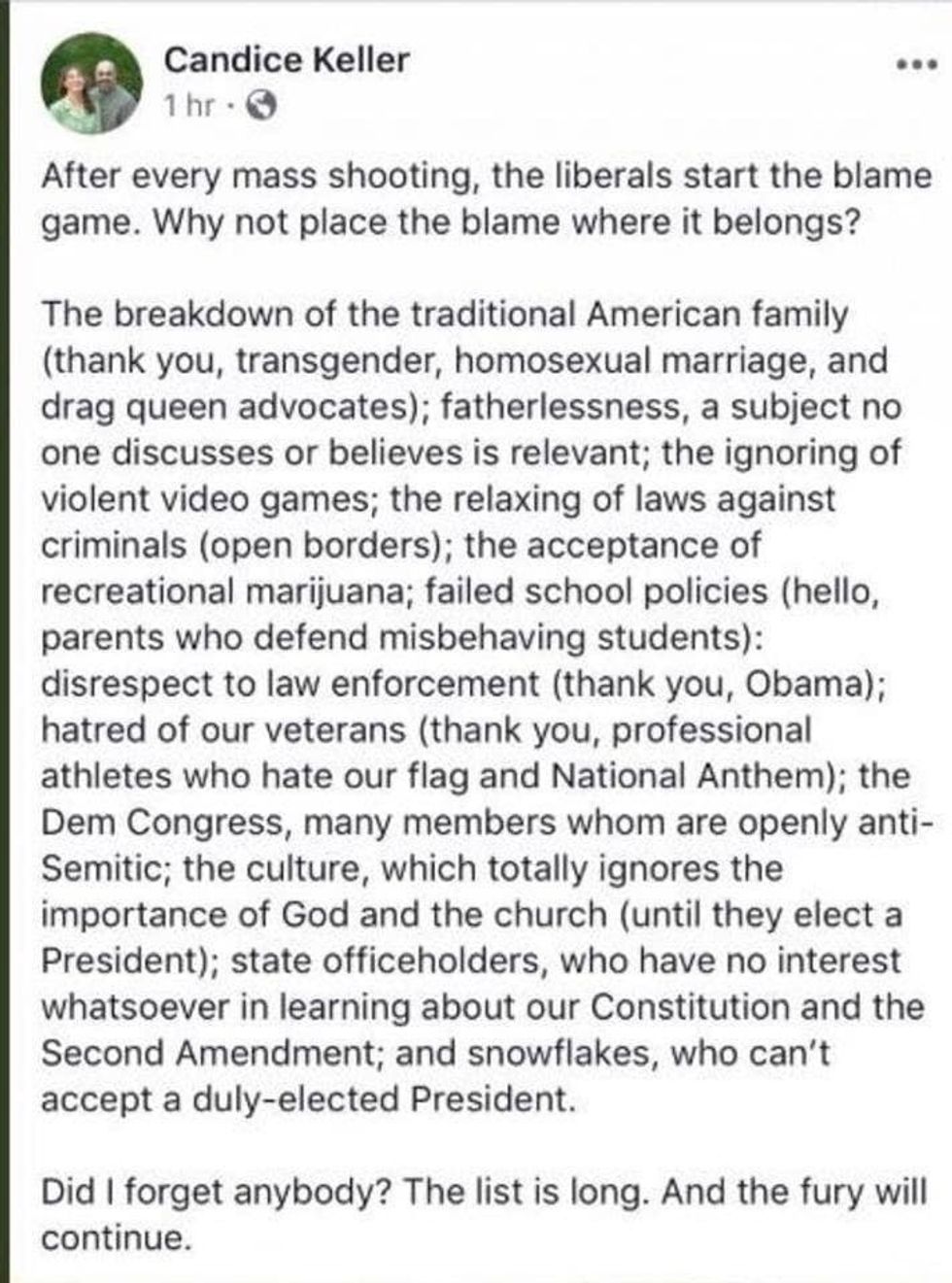 Candice Keller/Facebook
It begins with Keller lamenting the 'blame game' that liberals supposedly start after a mass shooting. This is before she literally goes into a long list of topics unrelated to mass shootings that she blames. Almost like a blame game...

Among the list, she points her finger at:
The breakdown of the traditional American family because of transgender, homosexual marriage, and drag queen advocates.
Violent video games
Disrespect to law enforcement by Barack Obama
Hatred of our veterans by athletes who kneel to the flag for completely unrelated reasons
'Snowflakes' who want to investigate the legitimate evidence of Russian interference in the 2016 election.
This is almost a list of every right-wing talking point, condensed into one manifesto as the cause behind the recent mass shootings.
It would be funny if it weren't being used by a politician to ignore the real-world tragedies we have to deal with.
#CandiceKeller we fixed it. Maybe you should stop skirting the issue and face your bed Head on. https://t.co/y7fGTvhZ5K

— Andromedia (@Andromedia)1565040126.0
@MartiGCummings this one is specifically for candice keller #CandiceKellerResign https://t.co/iW8ZAySB6c

— ♡ K ♡ (@♡ K ♡)1565045385.0
Mass shooter: "I'm doing this because I'm a white supremacist" Republicans: "it's the gays" https://t.co/UWyyACjNs5

— count fagula (@count fagula)1565023871.0
Notice how Candice Keller blamed these recent mass shootings on everything EXCEPT white supremacist terrorism https://t.co/alL14XIKEX

— QP (@QP)1565020047.0
While the post is hidden, possibly deleted by now, Keller did confirm to the Cincinnati Enquirer that she wrote it.

With how far the post has been shared, Keller has been under fire from both the right and the left. Across the aisle, people have been calling for Keller to resign.
The state GOP chairwoman, Jane Timken called for the resignation in a statement, saying:
"While our nation was in utter shock over the acts of violence in El Paso and Dayton, Republican State Representative Candice Keller took to social media to state why she thought these acts were happening."
"Candice Keller's Facebook post was shocking and utterly unjustifiable. Our nation is reeling from these senseless acts of violence and public servants should be working to bring our communities together, not promoting divisiveness."
The mayor of Dayton, Nan Whaley agreed with the chairwoman. Even the Sheriff of Butler County, Richard K. Jones called on Keller to resign.
Keller has so far refused, saying:
"establishment moderates have never been fans of mine because I ran against their endorsement and won. As the only conservative in this race, I will be taking my Senate campaign to the voters to decide."
A reminder that this woman is an elected representative.
An elected Republican representative who blames innocent people for mass shootings.
Ummmm....wow. Just wow. My ❤️ goes out to all the people living in Ohio that have to live with this lawmaker. https://t.co/JKKxEKpRMl

— Carrie 🏳️‍🌈 (@Carrie 🏳️‍🌈)1565019430.0
Candice Keller just responded to a mass shooting in her state by literally writing a manifesto a mass shooter would… https://t.co/LXO5bU89La

— Todd ShamTodd (@Todd ShamTodd)1565013708.0
Shame shame shame Candice Keller.

— Richard K. Jones (@Richard K. Jones)1564973104.0
I seriously had to wake up this morning to Candice Keller blaming drag queen advocates and gay marriage for a horri… https://t.co/lCJR4Q7GnI

— David C. DeWitt (@David C. DeWitt)1565011280.0
Candice Keller is no stranger to controversy.
Back in 2017, she compared Planned Parenthood to literal Nazis. This was particularly egregious, because she also runs a crisis pregnancy center, a competing business where women are shamed from getting abortions.
Earlier this year, the Butler Democratic Party called for an ethics investigation into Keller sponsoring an anti-abortion bill that would have benefited her center and profited her.

And then there was the time she spoke on a White supremacist radio show to promote her bill banning sanctuary cities. She has claimed she didn't know host Brian "Sonny" Thomas was a White supremacist, despite him making headlines for bringing a Confederate flag to a school board meeting and pushing White nationalist talking points like 'Diversity' is a code word for White genocide.'
Candice Keller won her 2016 seat with a comfortable 65% of the vote. In 2018, after these controversies, she successfully defended her seat with 64% of the vote.
It sounds like a bad joke.
How is Candice Keller gonna blame drag queens when they are the ones that could help her with that sad eye makeup? https://t.co/1FzvVjf6sJ

— Dino-Ray Ramos (@Dino-Ray Ramos)1565024261.0
#CandiceKeller I'm a homosexual sitting here smoking marijuana while I watch old Obama videos with some drag quee… https://t.co/L9ViprD59S

— Pink Jimmie (@Pink Jimmie)1565005993.0
#CandiceKeller is a danger to society and should resign

— Ross (@Ross)1564967722.0
Whoops. That last one wasn't a joke.

Keller has given no indication of resigning, nor apologizing for her accusations. If her statement to Chairwoman Timken is to be believed, she plans to finish out her term and let the voters decide.
In completely unrelated news, if you're an Ohio voter, particularly in Ohio's 53rd district, you can register to vote at this website. I have a feeling the 2020 election will be very important for your district.
You can't fix stupid, but you an vote it out of office.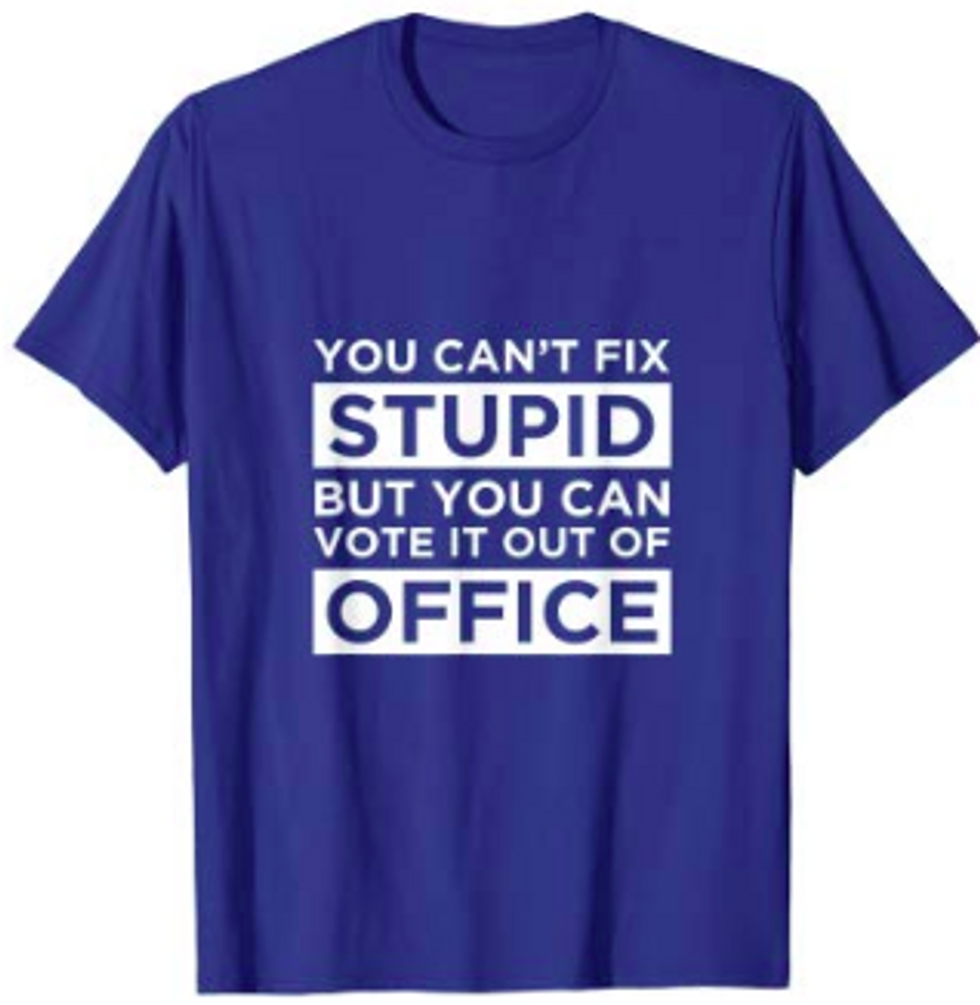 Amazon