A FedEx driver's viral video about a racist encounter he endured while working is a sobering reminder that even as the waves of anti-racist protests throughout the United States begin to inspire much-needed progress, racists are still shameless and undeterred.
The man's video comes in the wake of being called the n-word and spat on while simply doing his job in Ohio. The incident occurred on June 10 in the small town of Lisbon, about 25 miles south of Youngstown.
Twenty-three-year-old FedEx driver Brandon Brackins was removing packages from his delivery truck when a man sped past him, nearly hitting him with his car, before spitting on him and calling him the n-word.
Shaken by the incident, Brackins took to his Facebook to tearfully describe the experience.
Brackins' incident, of course, comes during a time of massive protests across the world against racism, White supremacy and police brutality. But the intensity of the hatred Brackins received left him wondering if those protests are accomplishing anything.
Brackins begins his video by saying:
"What the f*ck is the point of all this protest sh*t if it don't work?

Brackins then recounts his experience, at times so overcome he has to stop speaking to compose himself and find his words before he can continue.
"Why? Why so much hate? Why so much hate?... I think it's a lot worse than a lot of people think. Racism is live... If any of you ever had to fuc*in' experience racism firsthand..."
Brackins then becomes overwhelmed with emotion again before continuing.
"I'm usually really good with words. I really don't let that shit get to me, but when you almost hit me and spit on me and call me an N-word... What?"
The incident inspired an outpouring of support for Brackins on Facebook.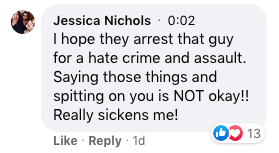 Jessica Nichols/Facebook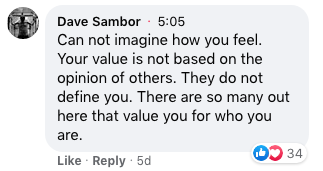 Dave Sambor/Facebook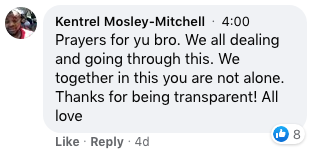 Kentrel Mosley-Mitchell/Facebook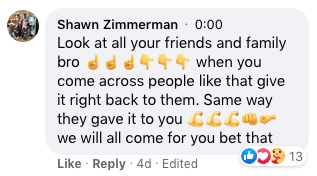 Shawn Zimmerman/Facebook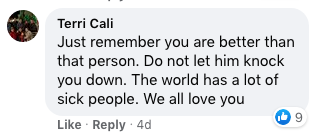 Terri Cali/Facebook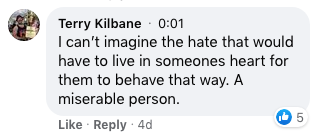 Terry Kilbane/Facebook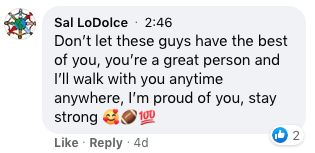 Sal LoDolce/Facebook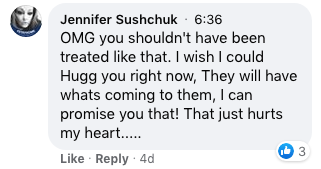 Jennifer Sushchuk/Facebook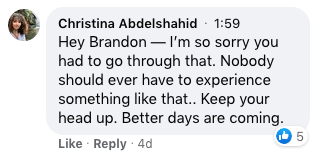 Christina Abdelshahid/Facebook

Charrissa Rissa/Facebook
Brackins added he involved local police in an attempt to locate his attacker.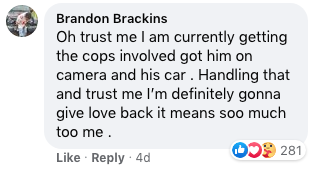 Brandon Brackins/Facebook
Lisbon Mayor Peter Wilson confirmed to local media that police are investigating.