In a viral video, @lukefosburg documents a feud between neighbors setting off fireworks at night and a neighbor setting their alarm at 5:55am over the loud speaker.
The war between neighboring houses started earlier in the week when one house decided to set off fireworks late into the night.
Fosburg writes:
"The neighbor a few houses down made his alarm go off through a PA ststem to wake up the whole neighborhood this morning at 5:55 AM to get back at every one for shooting fireworks all night... every night."
This short clip gained a lot of attraction with 3.7 million views and over 8 thousand comments.
The gentle alarm and this mans pettiness really garnered a lot of attention.

@lyndze_g/TikTok

@onxyvibes/TikTok

@marylewd/TikTok

@daiiisycastillo/TikTok

@danterossini/TikTok; @lukefosburg/TikTok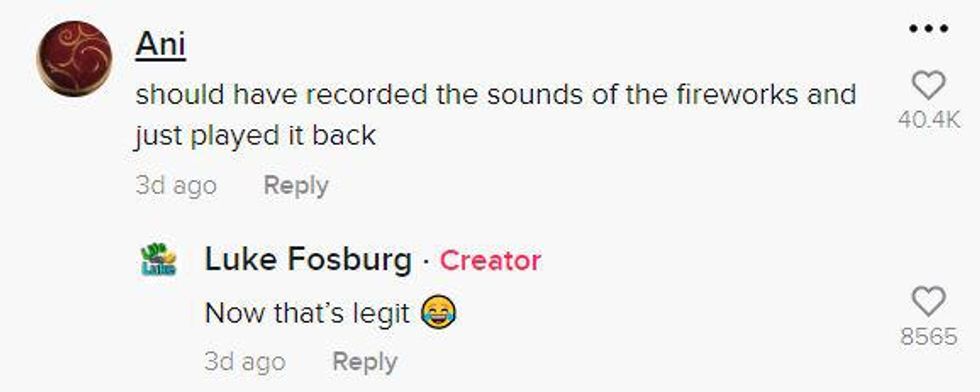 @ani.creates/TikTok; @lukefosburg/TikTok

@goodtimesmn/TikTok
The follow up video showed more fireworks going of the again.
The update video said:
"Well the neighborhood has waged war this evening against the PA system alarm clock guy... might be in for a long night."
Fosburg captioned the video:
"These mortars out here like heavy artillery."
Another update came in later that night:
"I fell asleep for about a half hour."
"It's about 1:00 though. I mean, it's just still going strong."
The comments took quite the turn at this point.

@gimme_you_moniii/TikTok

@im_a_royce/TikTok

@gummiebear0101/TikTok

@messiejessie1990/TikTok

@aguils14/TikTok

@biancafox/TikTok

@michiganstateismyheart/TikTok
His final update explained most of the neighborhood was gone by the morning:
"Fireworks update... no neighborhood alarm this morning but it appears that several people left late last night to stay with friends or at a hotel..."
Fosburg speculated that the fireworks lasting consistently until 3:00AM might have been their breaking points.
Some people in the comments of the last update were rooting for the PA alarm guy to get the final act of revenge.

@sherrimohn/TikTok

@shirleytemple.xlsx/TikTok

@karlacollado7/TikTok

@misssmilestravel/TikTok

@atour.90/TikTok

@bosco4932/TikTok
And some commenters felt differently about the situation.

@yellowumbrella82/TikTok

@swillywilly66/TikTok

@beth_marie20/TikTok

@sangwoos_ashess_/TikTok
Some people suggested other music options like Christmas music, the song "It's a Small World After All," or the song "Baby Shark" on repeat for hours.
No further updates have been given, we will just have to wait and see what comes next.