Billionaire Elon Musk's personal Twitter traffic jumped 737% after he ordered the algorithm tweaked to boost impressions of his own tweets after a Super Bowl message by President Joe Biden was seen by more people than his.
Earlier this week, Biden shared a tweet in which he joked he would not "pick favorites" but would support his wife, First Lady Dr. Jill Biden, who is a fan of the Philadelphia Eagles.
Biden's tweet received more than 29 million views.
As it turns out, Musk also supported the Eagles but deleted a tweet he made which received only 91 views.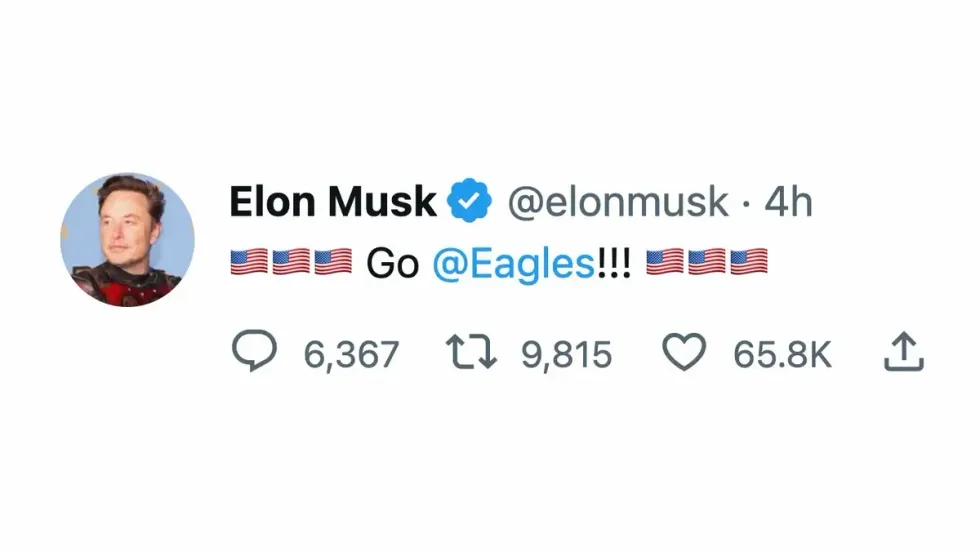 @elonmusk/Twitter
Not to be outdone by the President, the thin-skinned Musk took matters into his own hands.
Last week, news broke that Musk had fired one of Twitter's "two remaining principal engineers" for explaining why Musk's reach on the platform had dropped significantly since last April, when he first announced his intention to purchase Twitter.

According to a story published on Platformer—a website that specializes in tech industry news—the employee was fired after Musk asked Twitter's remaining top engineers why his own engagement appeared to have declined since he became owner despite having a follower count of 128 million.
Platformer cited multiple sources with direct knowledge of the meeting who said Musk called it "ridiculous" that he has "more than 100 million followers, and [he's] only getting tens of thousands of impressions."
The engineer and others in attendance showed Musk a Google trends chart showing how interest in Musk's posts had declined from last April, when his bid to acquire Twitter reached peak "interest."

A furious Musk told the engineer "You're fired, you're fired" at a time when the number of people using Twitter has declined by nine percent, as users retreat from a platform that has lost much of its appeal since Musk's takeover.
The result?
Musk's traffic jumped 737 percent per data collected by Timothy Graham, a senior lecturer in digital media at the Queensland University of Technology who collected Twitter data charting the sudden change.
Graham reported that the morning after Musk ordered the algorithm change, there was "this massive increase in his impressions — and then that's sustained ever since" and noted that the timeline of these events "match up perfectly with reports."
It appears Musk retaliated against Graham too because Graham later said his Twitter account was briefly locked and his graph tweets were removed shortly after he posted them, though they later popped up again online.
Graham was likely unsurprised by this development given he tweeted, upon reporting his findings, "if this is the last data I ever collect it'll totally be worth it."
Musk's behavior has been harshly criticized.
Twitter has not responded to reporters' questions about Musk's actions because he has fired so many people that the social media company no longer has a media or communications department.
Criticisms about Musk's leadership style have been magnified in light of his decision to layoff roughly half the workforce, including employees who were on work visas.
There was no advance warning for who would or would not be subject to the cuts, and at least one Twitter employee told reporters that they were booted from company systems in the middle of a meeting.