Famous lingerie, clothing and beauty retailer Victoria's Secret is going through one of the largest, if not the largest, rebrandings the company has seen in recent history.
As The New York Times reported:
"They will be spearheading what may be the most extreme and unabashed attempt at a brand turnaround in recent memory: an effort to redefine the version of "sexy" that Victoria's Secret represents (and sells) to the masses."
As apart of the campaign, Victoria's Secret has hired seven new women who are not as known for their looks as they are for their achievements.
Activist and Soccer Professional Megan Rapinoe is one of the talented women who's been brought on to spearhead the new campaign.
Unsurprisingly, straight men felt the need to chime in on the change in marketing for clothing and accessories they generally don't wear or even buy.
Twitter had plenty of comebacks for the straight men who are getting their tighty-whities in a knot over lingerie.

@melizzle71/Twitter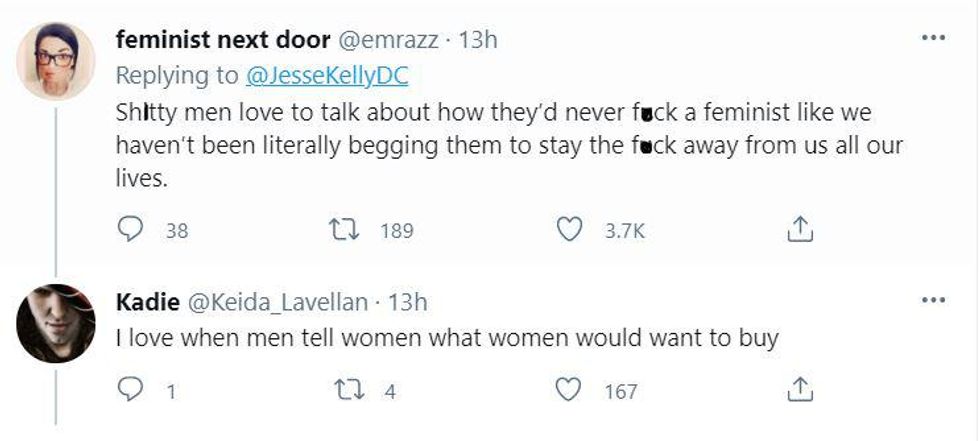 @emrazz/Twitter; @Keida_Lavellan/Twitter
Megan Rapinoe addressed her new role with Victoria's Secret.

"As a gay woman, I think a lot about what we think is sexy, and we are afforded the ability to do that, because I don't have to wear the traditional sexy thing to be sexy and I don't think the traditional thing is sexy when it comes to my partner or people I've dated."
"I think functionality is probably the sexiest thing we could possibly achieve in life. Sometimes just cool is sexy, too."
Rapinoe also said she was shocked and questioned why the company wanted her in particular.
She hopes the Victoria's Secret executives acknowledge their past mistakes and their history. Rapinoe's role as an ambassador won't end with photoshoots.
She's also been asked to consult on language, products and their brand narrative.