Actor Megan Fox called out the desperation for relevancy and clout chasing of Republican wannabe politician Robby Starbuck—who ran unsuccessfully for Congress in Tennesee last year—after he made public accusations against her parenting and made claims about her three children.
In a tweet on Friday, Starbuck posted a photo of Fox's children and claimed he had witnessed an incident involving Fox's children. He alleged he saw two of them having a "breakdown" while wearing girls' clothes, suggesting it was a form of child abuse.
He wrote:

"These are Megan Fox's sons. We used to live in the same gated community and our kids played at the park."
"I saw two of them have a full on breakdown saying they were forced by their mom to wear girls clothes as their nanny tried to console them."
"It's pure child abuse. Pray for them."
You can see Starbuck's tweet below.
Fox shares three children—Noah (10), Bodhi (9), and Journey (6)—with ex-husband Brian Austin Green. Both parents responded to Starbuck's claims separately.

Fox addressed Starbuck directly and condemned his actions, calling him a "clout chaser." The actor stated using someone else's children as "leverage or social currency," especially under false pretenses, was unacceptable.
She wrote:

"Irregardless of how desperate you may have become at any given time to acquire wealth, power, success or fame—never use children as leverage or social currency. Especially under malevolent and erroneous pretense."
"Exploiting my child's gender identity to gain attention in your political campaign has put you on the wrong side of the universe."
"I have been burned at the stake by insecure, narcissistic, impotent little men like you many times and yet I'm still here."
She concluded:

"You f***ed with the wrong witch."
You can see Fox's post below.
Those familiar with Starbuck concurred with Fox's assessment of his true motives.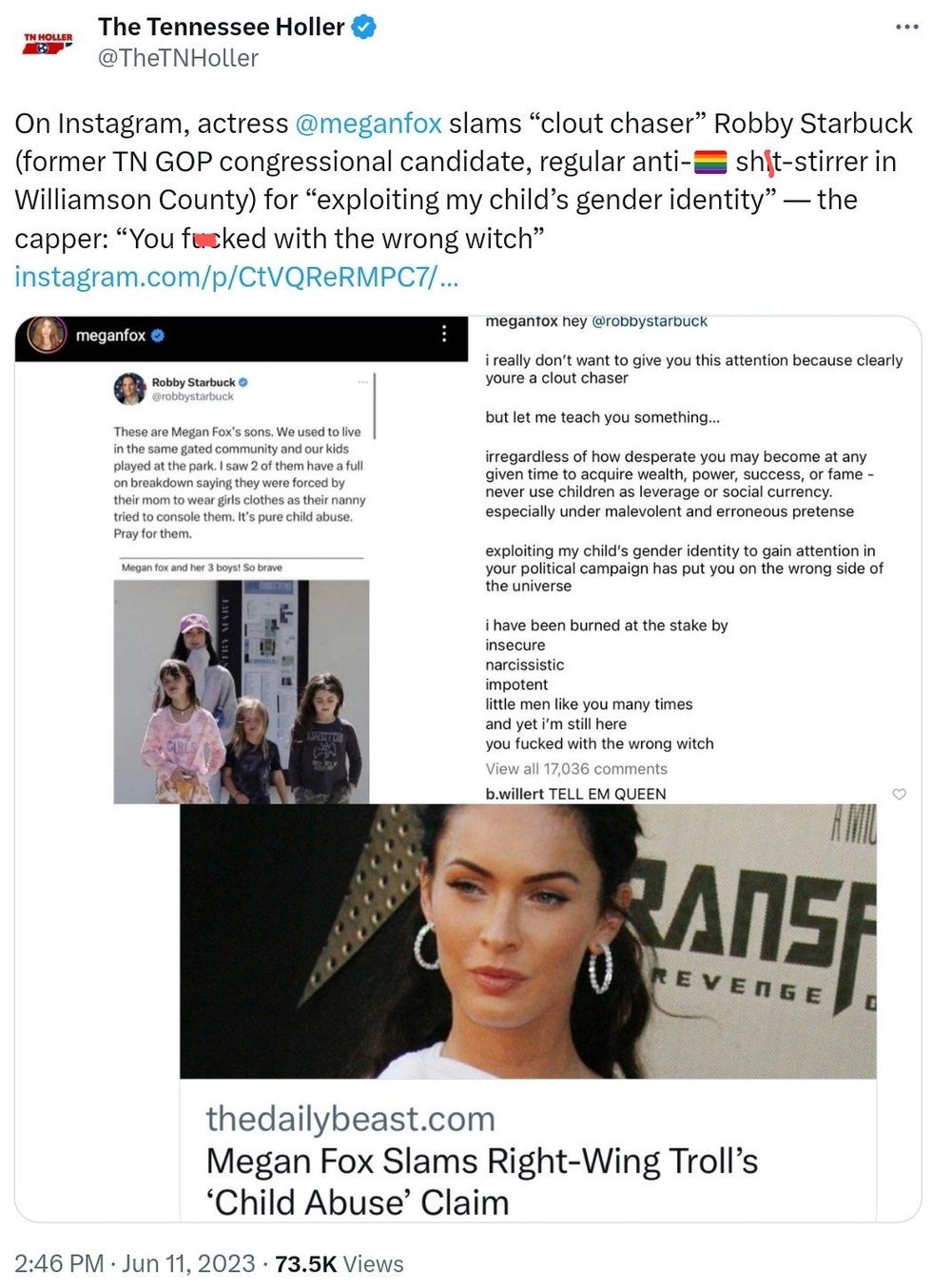 @TheTNHoller/Twitter
They noted Starbuck routinely attacks LGBTQ+ people to pander to a homophobic and transphobic base.
Starbuck later responded to her post on Twitter—again failing to tag Fox.
Starbuck whinged about being threatened "with witchcraft" and suggested Fox is not "sane."

Many mocked and called out Starbuck's inappropriate behavior in response.
Austin Green also weighed in on the situation, dismissing Starbuck's story as entirely untrue.

In an interview with TMZ, he asserted only a few individuals close to their family could "verify" the accuracy of such claims.
He emphasized Starbuck's motives were selfish and he showed a lack of regard for the impact they might have—"negatively affect[ing] a parent child relationship."