Lupita Nyong'o has been an international treasure since she won the Academy Award for Best Supporting Actress for her role in Steve McQueen's 12 Years a Slave, and she's been building a solid resume of work since.
---
Nyong'o's latest film is the horror film Us, the followup from Jordan Peele, who cemented his place as a horror visionary––and won his own Academy Award––for 2017's Get Out.
Us features Nyong'o and her Black Panther co-star Winston Duke as a couple who, along with their two children, find themselves stalked by their murderous doppelgangers. The film, which also stars The Handmaid's Tale's Elisabeth Moss, has already earned critical raves, and Nyong'o's been hard at work promoting it...
"'Us' is a horror movie." —@JordanPeele #UsMovie #BehindTheScenes https://t.co/sdl0tNHtMT

— Lupita Nyong'o (@Lupita Nyong'o) 1552995888.0
.@HowardU, come thru!! 🖤 This turnout to get tickets to #UsAtHoward is ridiculoUS!! Can't wait to be there with you… https://t.co/cLQisNPRIO

— Lupita Nyong'o (@Lupita Nyong'o) 1552943466.0
...including appearing on the late night talk show circuit.
Nyong'o stopped by The Late Show with Stephen Colbert, where she explained what happened when she ran into a fan at a recent screening of the film:
"At one point I went to the bathroom while the movie was going on, and another lady came out of the stall to wash her hands. And I emerged from my stall and she near had a heart attack."
Did the woman think Nyong'o was going to kill her? If she's seen Us, then she might have reason to feel uneasy!
We wonder if Nyong'o was wearing those spooky contact lenses she wore on the program: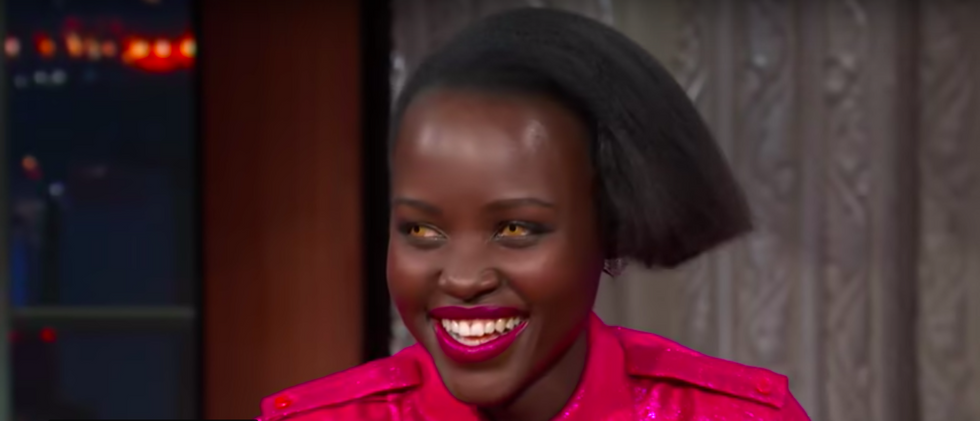 The Late Show with Stephen Colbert/YouTube
The fan, Nyong'o insists, was fine. She even asked for a selfie shortly after, so we're guessing she realized Nyong'o is not some psycho killer.
You can watch Nyong'o's interview below:
Lupita Nyong'o Has Eyes For Stephenwww.youtube.com
We really dig what Nyong'o was going for, however. Others seem to like it, too. (And it seems that after the film comes out this Friday, she'll earn a rightful place in many of our nightmares.)


What did that fan do after she left?

LA LA LA we'd rather not know. Back to the eyes.


Stars need to use the bathroom too, you know! It sounds like Nyong'o was a great sport about the whole thing, though we're interested in seeing how fans respond to her once her film is officially released!