Trolls really can suck all of the joy out of social media.
Whether it's their hurtful comments or unwillingness to back down, many people find themselves needing to take a break from it all from time to time.
---
This now quite regretably includes the major music icon, Lizzo, who says she's taking a break from Twitter after being confronted by too many trolls.
Lizzo really has faced a lot of social backlash.
Whether it was the people who were trying to take out all of the fun of photoshopping Lizzo's tiny purse at the AMAs, or the people who reinforced double-standards on women's bodies after Lizzo's major reveal at that recent Lakers game, the trolls have always been ready to criticize.
Lizzo finally reached her breaking point this week, posting a brief tweet about her need for a hiatus.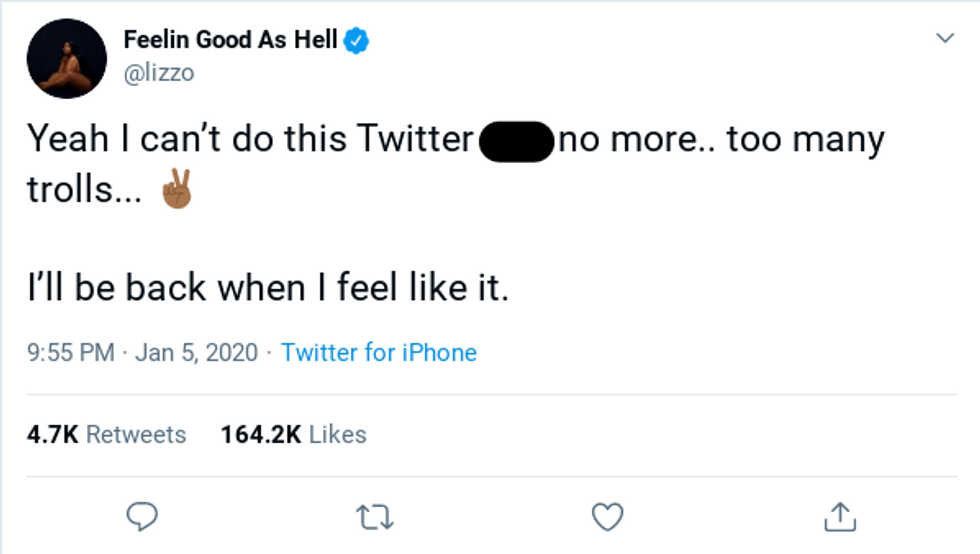 @lizzo / Twitter
Unfortunately, the comments on the tweet have been overwhelmingly negative, offering all the more evidence for Lizzo's need to step away.
Some have simply pointed out how funny they think it is that Lizzo is drawing attention to the fact that she won't be on Twitter for a while. Others are continuing their brash comments against her body, her appearance and her talent.

There have been those truest fans who have reached back out in the Twitterverse to offer their support, whether they're commenting their love for Lizzo or criticizing the trolls for their hate.
All the Twitter commotion aside, Lizzo is on a very high road to success, trolls following her or not.

Lizzo is currently touring Australia with her album, Cuz I Love You. She also recently hit the top of the Billboard Hot 100 chart back in September with her hit single, "Truth Hurts," which brought her to the attention of many new fans.
Lizzo was also named TIME's 2019 Entertainer of the Year.
She also shows no signs of slowing down. Being nominated for eight Grammy awards, she's sure to walk away with at least a trophy or two on the big awards night on January 26th.
Though her trolls are incredibly hateful, Lizzo only needs to keep looking forward to where her success is taking her.
Let's let Lizzo taking a break from Twitter be a reminder to all of us: if there's too much hate clouding our vision, we have every right to step away and find clarity again. Only then can we be our most successful selves.
Get Lizzo's album Cuz I Love You (Deluxe) is available here.