Lizzo recently attended a basketball game in Los Angeles.
Though everyone was expecting a game between the Lakers and the Timberwolves, they actually got a surprise appearance and a talk about body positivity instead.
---
Lizzo was seated in the front row in what appeared to be a cute, knee-length black dress with boots.
But when halftime came around, the Laker girls appeared and danced to Lizzo's hit song, "Juice." In response, a very excited Lizzo stood and twerked along with the girls, revealing the back of her dress.
The entire posterior section of the dress was cut out in an oval shape, revealing her butt and black thong underneath.
You can see a brief snippet of the halftime moment here:
And in the photo below: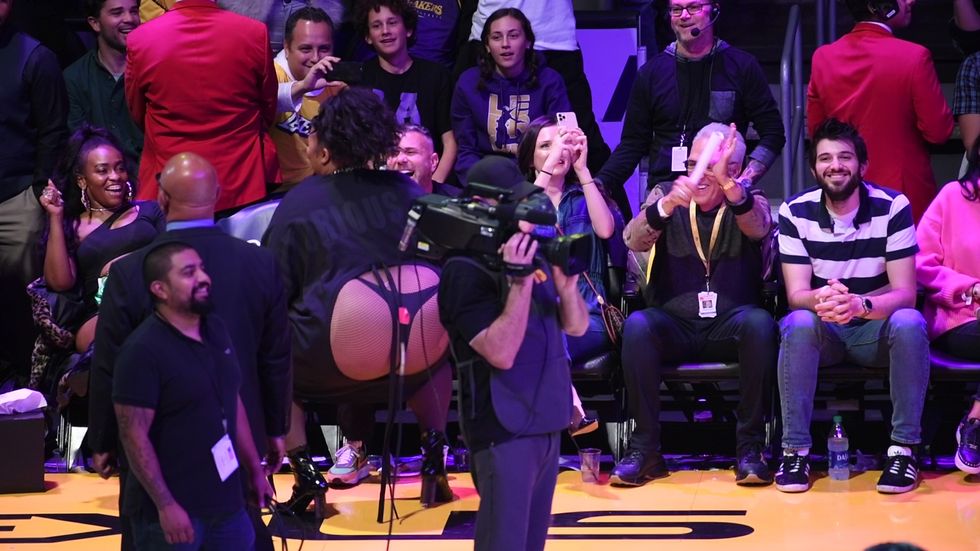 Allen Berezovsky/Getty Images
Right away, there were reactions to Lizzo's choice of outfit. Most of them, of course, were surprised at her choice for a Lakers game, but some decided to show their judgmental colors right away.

It's even been noted that the camera angle changed right away upon the reveal of Lizzo's dress.
But the moment actually led to an important conversation about body positivity, sizism, and bodily double-standards.

Some, of course, cited that a Lakers game is meant to be a family event and dressing this way would appear inappropriate to some families.
Others stated that everyone's problem wasn't with her outfit, but actually with her size.
Lizzo, in the meantime, has dropped a new music video, seemingly unphased by the attention to her attire.

Surely, Lizzo knew what she was doing when she selected that particular number to attend the Lakers game. Being seated in the front row, she may have even known the halftime would feature one of her songs.
Lizzo certainly guaranteed that this Lakers game would be one that everyone in the audience would never forget.