Actor Kevin Bacon recently expressed his support for drag performers by praising the latest season of RuPaul's Drag Race.
In an Instagram Story post, the Footloose star commended the show's musical theater challenge, specifically the production of Wigloose: The Rusical, which was inspired by Bacon's 1984 movie about a small town that bans dancing. The Rusical featured queens portraying children living in a rural town run by leaders seeking to ban drag.
You can see footage of the performance below
Wigloose: The Rusical 🤠👢 RuPaul's Drag Race Season 15youtu.be
Bacon also acknowledged the recent anti-drag bills and stated that the show came "at the right time."
He emphasized that drag is an "art" and a "right," and shared a video posted by RuPaul on March 8, in which the Drag Race host equated ongoing political maneuvering targeting drag performers and transgender people with bullying.
You can see a screenshot of Bacon's Instagram Story below.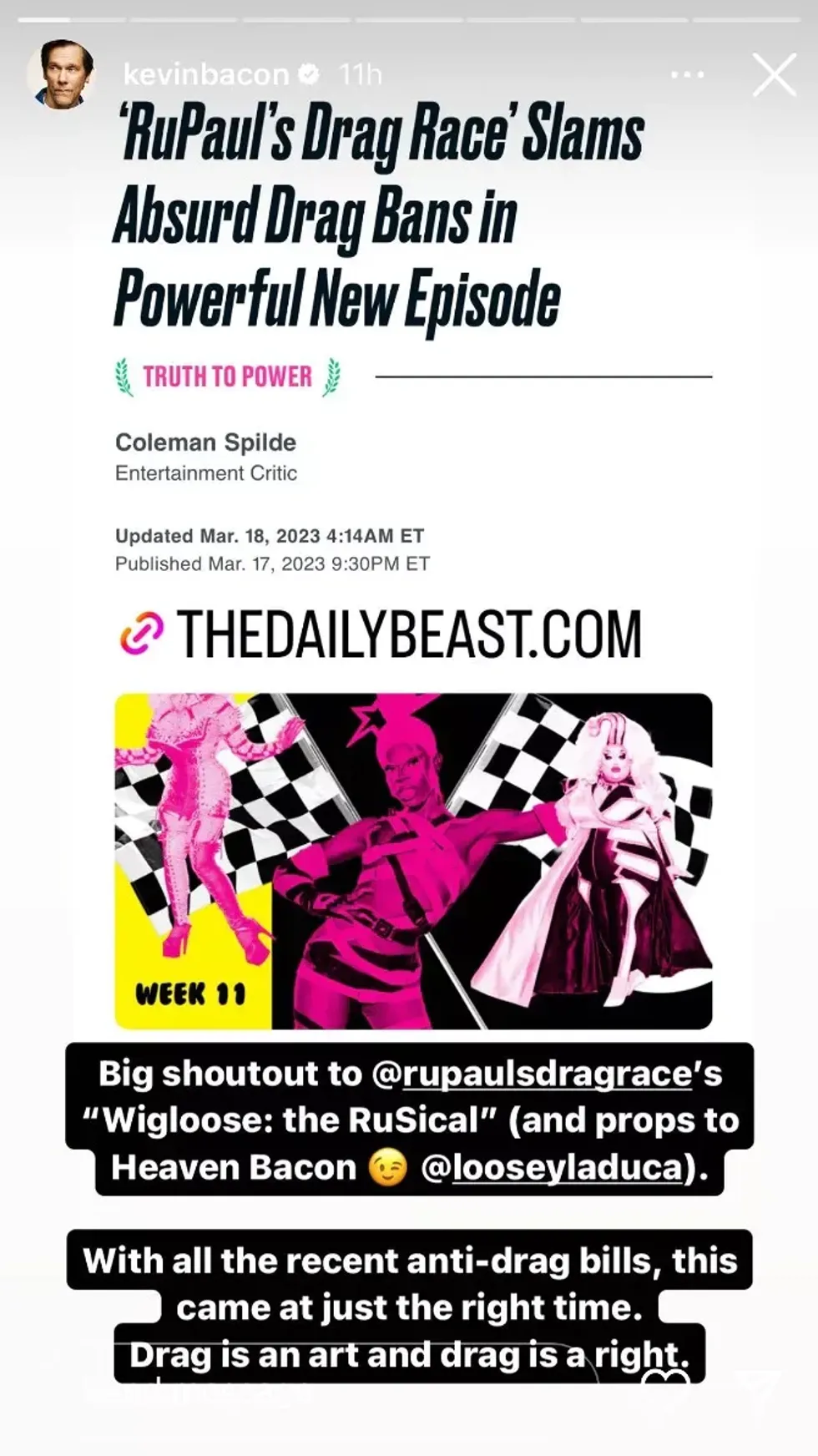 @kevinbacon/Instagram
The Rusical featured performances from Loosey LaDuca as Heaven Bacon, Anetra as Mama Bacon, Mistress Isabelle Brooks as Preacher Teacher, Sasha Colby as Carl, Luxx Noir London as Christian, and Salina EsTitties as Tuck.

LaDuca, who received a shoutout in Bacon's Instagram Story, to which they quipped, "WELL I'M DEAD."
Bacon later replied with the following message:

"Can't stop talking about Heaven Bacon!"
Many praised the actor for speaking out.

Bacon linked to the Drag Defense Fund, an initiative by RuPaul and Drag Race production company World of Wonder that raises money in support of those impacted by anti-trans and anti-drag legislation.
The rise in homophobic and transphobic political attacks has also led to the upcoming Drag Isn't Dangerous digital telethon on May 7.
The event will feature several RuPaul's Drag Race winners, show icons, and LGBTQIA+ community members, such as Monét X Change, Trixie Mattel, Jinkx Monsoon, and Kerri Colby, and will raise funds for those affected by anti-drag legislation.
In recent weeks, a disturbing trend has emerged in several US states as legislators consider or pass bans on public drag performances.
Tennessee was the first state to enact such a ban, but it is not alone in its discriminatory efforts. Idaho, Kentucky, North Dakota, Montana, Oklahoma, and Utah are all exploring similar bans.
Now, Texas is taking things even further, with lawmakers considering not just a ban, but a reclassification of drag performances that would place them in the same category as adult entertainment like strip clubs. This would force venues to pay higher licensing fees or cease hosting drag altogether, a move that would unfairly stifle artistic expression and harm the livelihoods of performers.