Every now and then, who doesn't get celebrities mixed up?
Sometimes it can be because they share a first name or appear in similar types of movies, such as Chrises Evans, Hemsworth, Pine and Pratt.
Other times, they might actually look remarkably similar, such as Ethan Hawke and Mark MgGrath, who reportedly signed autographs for fans thinking they were the other one for years.
But when Kathy Hilton mistook one celebrity for another on a recent episode of Watch What Happens Live, it was largely regarded as anything but an innocent mistake.
The mother of socialites Paris and Nicky Hilton's celebrity recognition skills were put to the test by WWHL host Andy Cohen in a game appropriately titled "Will Kathy Know Them?"
In the game, a photograph of a celebrity was shown on the screen, and then Hilton's fellow guest, Crystal Kung Minkoff of The Real Housewives of Beverly Hills, would have to guess whether or not Hilton would know who the celebrity was, before Hilton revealed whether or not she knew who they were.
Hilton was first unable to recognize movie star Ryan Reynolds or the Emmy winning star of HacksJean Smart.
But when Grammy Award winning singer Lizzo appeared on the screen, Minkoff seemed confident that Hilton would recognize her.
And while Hilton did indeed seem to recognize the chart topping singer, her guess was incorrect.
Claiming that she felt as if she recognized her, Hilton turned to Cohen and asked if the name of the person on the screen was "Precious".
Hilton seemed to have confused the chart topping singer with Academy Award nominee Gabourey Sidibe, or rather her character from Lee Daniels 2009 film Precious.
Minkoff and Cohen were unable to control their laughter at Hilton's blunder, while Minkoff tried to alleviate the situation by saying "she is precious though, Lizzo's precious."
Hilton also stood firm in her mistake, declaring "that's what I call her, her nickname is precious to me", as Cohen was caught hiding his face behind his cue cards.
Hilton fared a bit better during the rest of the game.
After failing to remember Keanu Reeves name, and referring to The View's Joy Behar as "Joyce", she was able to correctly identify former Real Housewives of Orange County star Vicki Gunvalson, as well as Harry Hamlin, Karen Hunger and Sheree Zampino, all at one point associated with a Real Housewives franchise, correctly.
But Hilton's mislabeling of Lizzo was all that remained on the minds of viewers, with many, unlike Minkoff and Cohen, not finding it a laughing matter at all.
This included Buzzfeed writer Morgan Murrell, who felt Hilton's mistake, and her claim that she calls Lizzo "Precious", perpetuated a racist stereotype that all Black people look alike.
Murrell expressed how it would have been fine if Hilton had simply not known who Lizzo was, but believed there was only one, upsetting reason Hilton would have got Lizzo and Sidibe confused, expressing how they don't look alike at all.
"Personally, I didn't find it funny at all."
"Especially because there's a narrative that's been around since slavery that 'all Black people look alike'."
"The stereotype has followed other minority groups as well under the white gaze."
"In my opinion, the women don't look similar at all."
"Lizzo and Precious — who, again, isn't a real person — or should I say Gabourey, the actress who played Precious, only share two physical traits: They're both plus-size and Black."
Twitter users were also quick to share their anger at Hilton's blunder, particularly angry that Hilton mistook Lizzo for a fictitious character, who's name was later one that had connotations of fat shaming and fat phobia.
While a select few Twitter users pointed out that perhaps Hilton didn't mean the character "Precious", but had instead confused Lizzo with model Precious Lee, it was quickly pointed out that that was no less problematic, as once again Hilton substituted one plus-sized Black Woman for another.
After Queens of Bravo reposted the clip to their Instagram page, Hilton would respond in the comments section that it was "poor vision" which caused her blunder.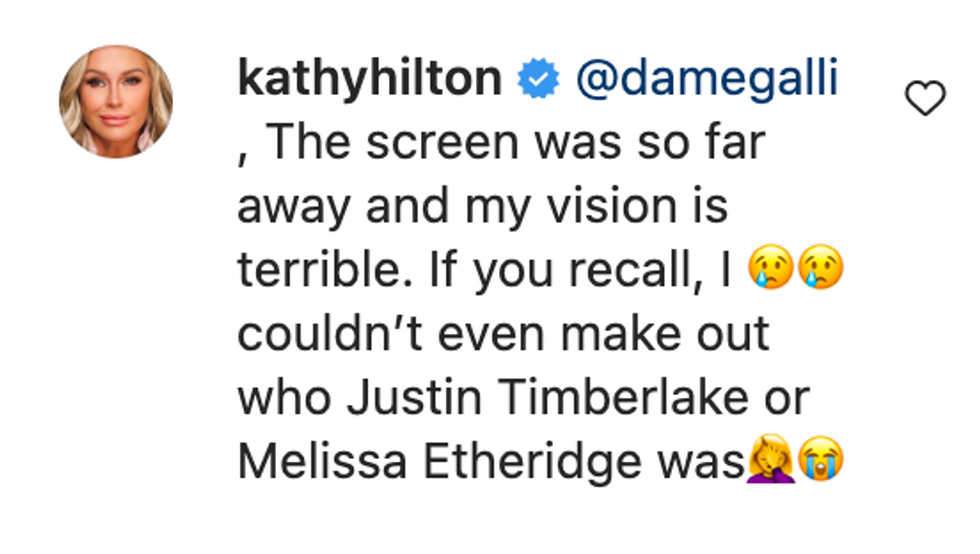 queensofbravo/Instagram
Lizzo, Sidibe and Lee all have yet to comment on Hilton's mistake.
But a source forE! News that Hilton "feels terrible" about her confusion.