Julia Talbot, from Essex Fells in New Jersey, may have won Halloween this year with her spot-on costume of Ruth Bader Ginsburg, using her wheelchair as a base.
---
Her mother, Lisa Talbot, posted a photo of Julia dressed as the 85-year-old US Supreme Court Justice in response to a tweet calling for the best good news of the week.
Posting the photo to Twitter, Lisa said: "My daughter's wheelchair made the perfect foundation for her Halloween costume."
@justinhendrix My daughter's wheelchair made the PERFECT foundation for her Halloween costume. https://t.co/EUjuVylIw3

— Warriormom (@Warriormom) 1540608978.0
Let's take in the entire costume in all its supreme glory, shall we?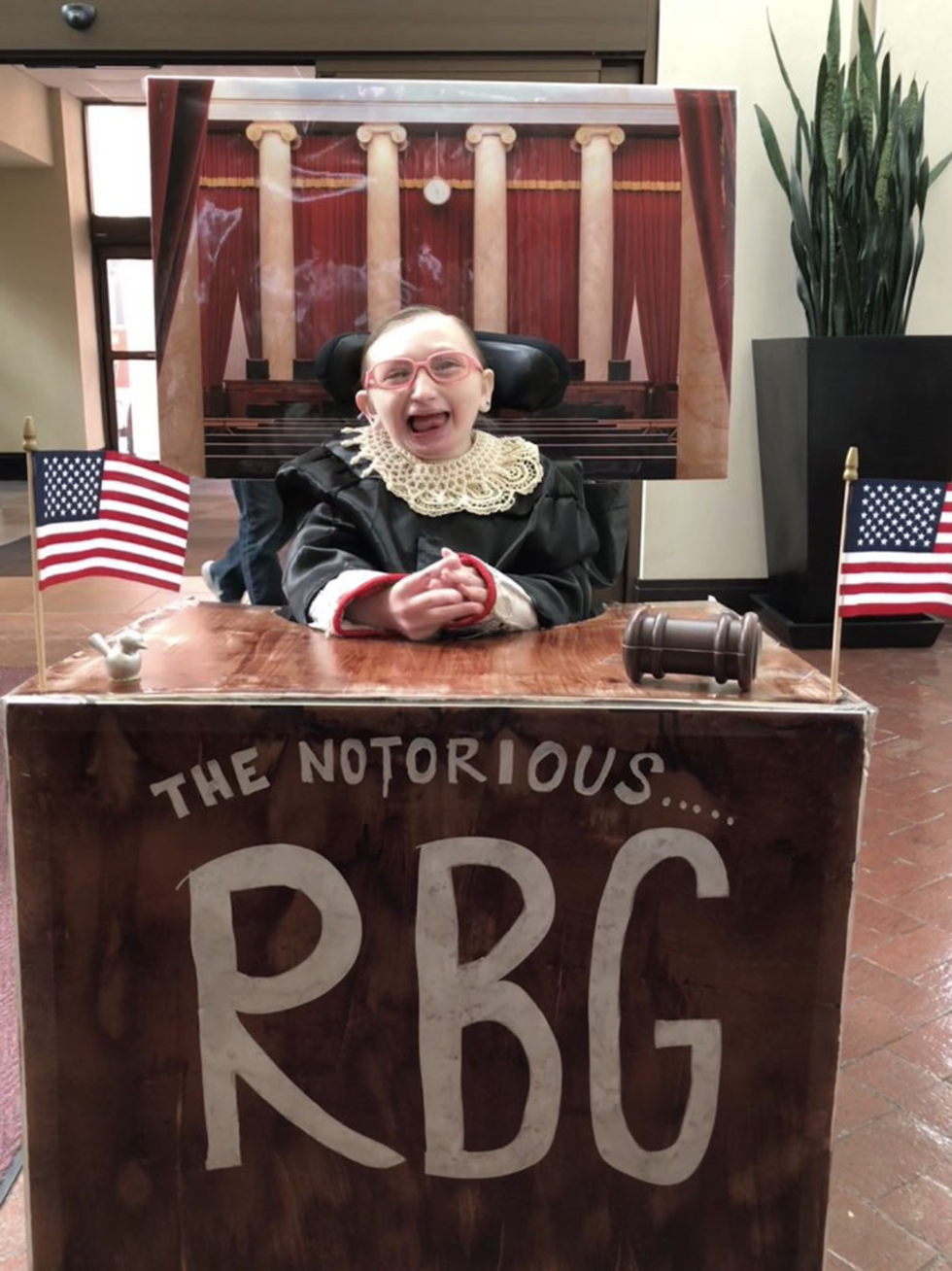 Twitter: @FightingForSB
Lisa explained that the family enjoys creating costumes based on female role models, and have previously dressed Julia as Daenerys Targaryen from Game of Thrones and Princess Leia from Star Wars.
"Most of her costumes have been of fictional women to date, but this is the first year we chose a non-fictional character," she noted.
"As for why Ruth Bader Ginsburg, what she's achieved in her life and what she means to other women is profound. She is a symbol of hope to millions of women at a time where women in America feel their rights are being threatened."
"For families of kids like mine, this is also a terrifying time because the healthcare coverage that they need to survive is being threatened. Protections for preexisting conditions are at stake in America."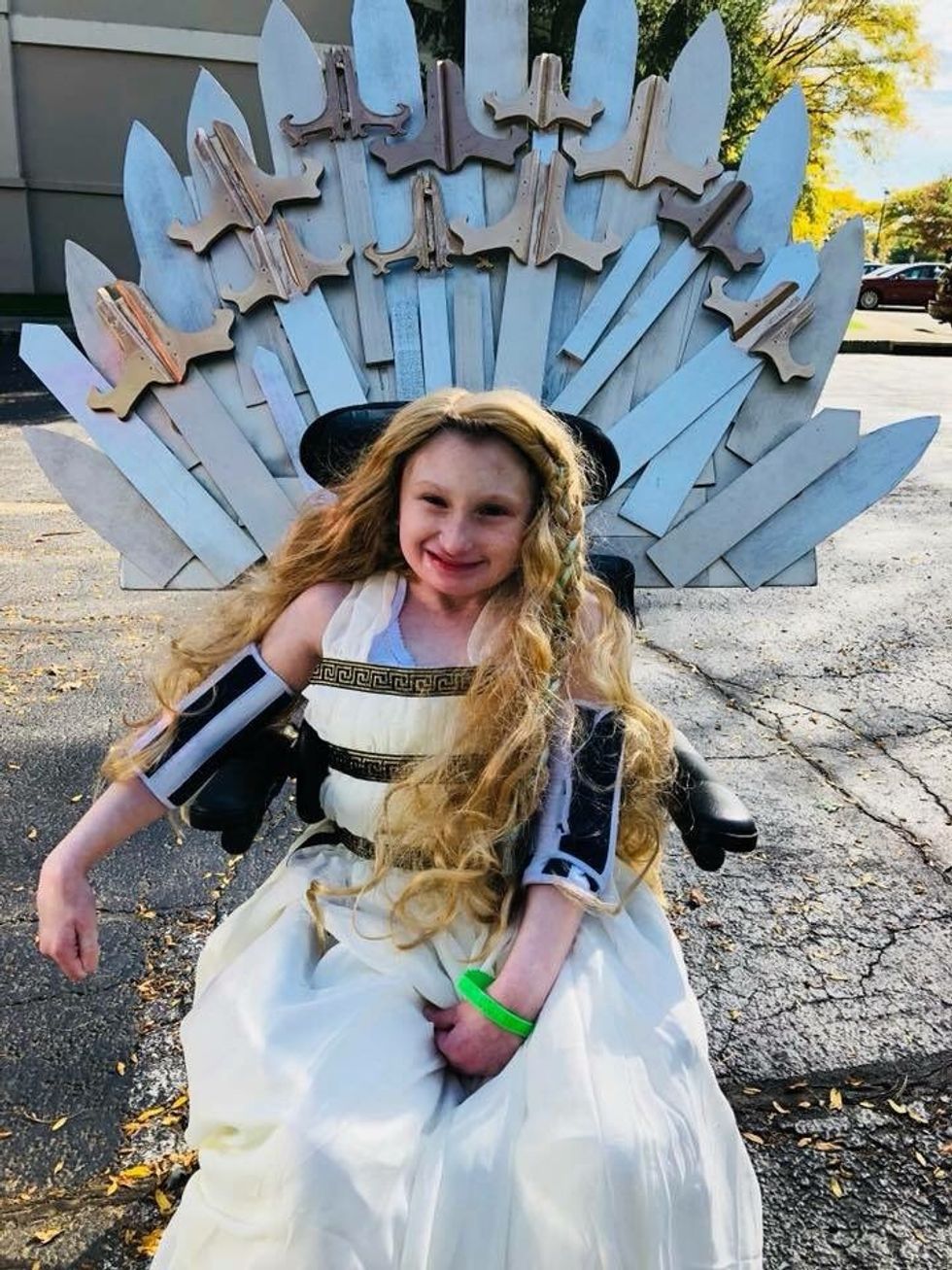 (Lisa Talbot) Julia as Daenerys Targaryen from Game of Thrones
Julia was born with Microcephaly, a medical condition which, in her case, was caused by a gene abnormality.
Lisa said: "Microcephaly can impact kids in a variety of ways, from minor learning disabilities to much more severe issues that are life threatening. Julia cannot walk or talk, she has limited use of her hands, she is tube fed and has cognitive issues. But those are just clinical. What is really important is how much this little girl loves life."
"It's so easy to look at someone like Julia and see only the disability," Lisa remarked. "The truth is kids with Microcephaly or any other disability are so much more than what you see. Don't write them off. The kids in the 'cephaly community' are awesome."
"We are nine years into this and we have found a way to enjoy every moment," she added. "That wasn't the case in the beginning. It's terrifying when your child is diagnosed with something like this, but I want other parents to know that it gets better."
The Tweet now has over 25,000 likes from social media users, and was even retweeted by actor Mark Hamill:
🎼"I believe that the children are our future- Teach them well and let them lead the way..."🎶 https://t.co/0iDS5wj1i5

— Mark Hamill (@Mark Hamill) 1540639969.0
Julia's brother, an avid Mark Hamill Fan, was apparently very impressed:
@HamillHimself This little lady's brother is your number one fan and just freaked out that you retweeted a pic of h… https://t.co/oAnxaaOJlW

— Warriormom (@Warriormom) 1540655705.0
"My daughter may not understand Halloween in the traditional sense, but she absolutely loves the attention she gets when she's in her costume," Lisa assured. "Her joy is infectious during Halloween so being creative with her costume ensures she gets the love and attention that brings her so much joy."
"As a family, we have a lot of fun with it."
And the fun is clearly being felt by Twitter:
@FightingForSB @justinhendrix And *that*, folks, is how you win Halloween, Twitter, and life all at once! https://t.co/NUG3ezRaFP

— AJ LeFevre (@AJ LeFevre) 1540642085.0
@FightingForSB @justinhendrix This is fantastic! It really is an uncanny likeness too. I hope the Hon. Ruth Bader Ginsburg sees this. ☺️😎

— Gabrielle Bourne 🇬🇧🇺🇸 (@Gabrielle Bourne 🇬🇧🇺🇸) 1540648203.0
@HamillHimself That is the best costume I've ever seen. #warriors

— TobyG (@TobyG) 1540643431.0
@FightingForSB @mammo49 @justinhendrix Warrior Mom, you are a genius!!! The notorious RBG needs to see this!! This… https://t.co/k8Pi1qwMiS

— A. J. (@A. J.) 1540658228.0
Thanks for putting a smile on all our faces, Julia!
A version of this article originally appeared on Press Association.