Hollywood scream queen Jamie Lee Curtis penned a piece fiercely defending fellow actress Scarlett Johansson, who was named one of Time Magazine's 100 Most Influential People.
Johansson, who starred in her standalone Marvel blockbuster, Black Widow, sued Disney in July and alleged the company's decision to simultaneously release the film in theaters and for streaming on Disney+ (with Premier Access) was a breach of contract.
Curtis, known for playing Laurie Strode in the iconic Halloween franchise honored Johansson on Wednesday by penning a powerful piece for TimeMagazine and had no qualms mentioning Johansson's legal battle with Disney.
"I always felt a kinship with Scarlett Johansson because she was born on my birthday, in the year I was married," began Curtis.
She then praised the actress for her portrayal of Curtis' mother, Janet Leigh, in the 2012 movie, Hitchcock, before diving into Johansson's current real-life Hollywood drama.

"I recently watched her own the screen as the 'Black Widow,' who exacts revenge on a powerful figure who manipulates (emphasis on man) women to fight for him."
"And then I saw her brilliant response to a real-life manipulation (same emphasis), when she filed a breach-of-contract lawsuit against the studio, alleging its decision to release the film simultaneously in theaters and on streaming cost her substantial losses in pay."
She continued:

"Whether as an assassin with a conscience, an actor with an emotional center or, having just given birth to her second child, a fierce mother, the message is clear: Don't f'k with this mama bear."
@curtisleejamie/Instagram
@curtisleejamie/Instagram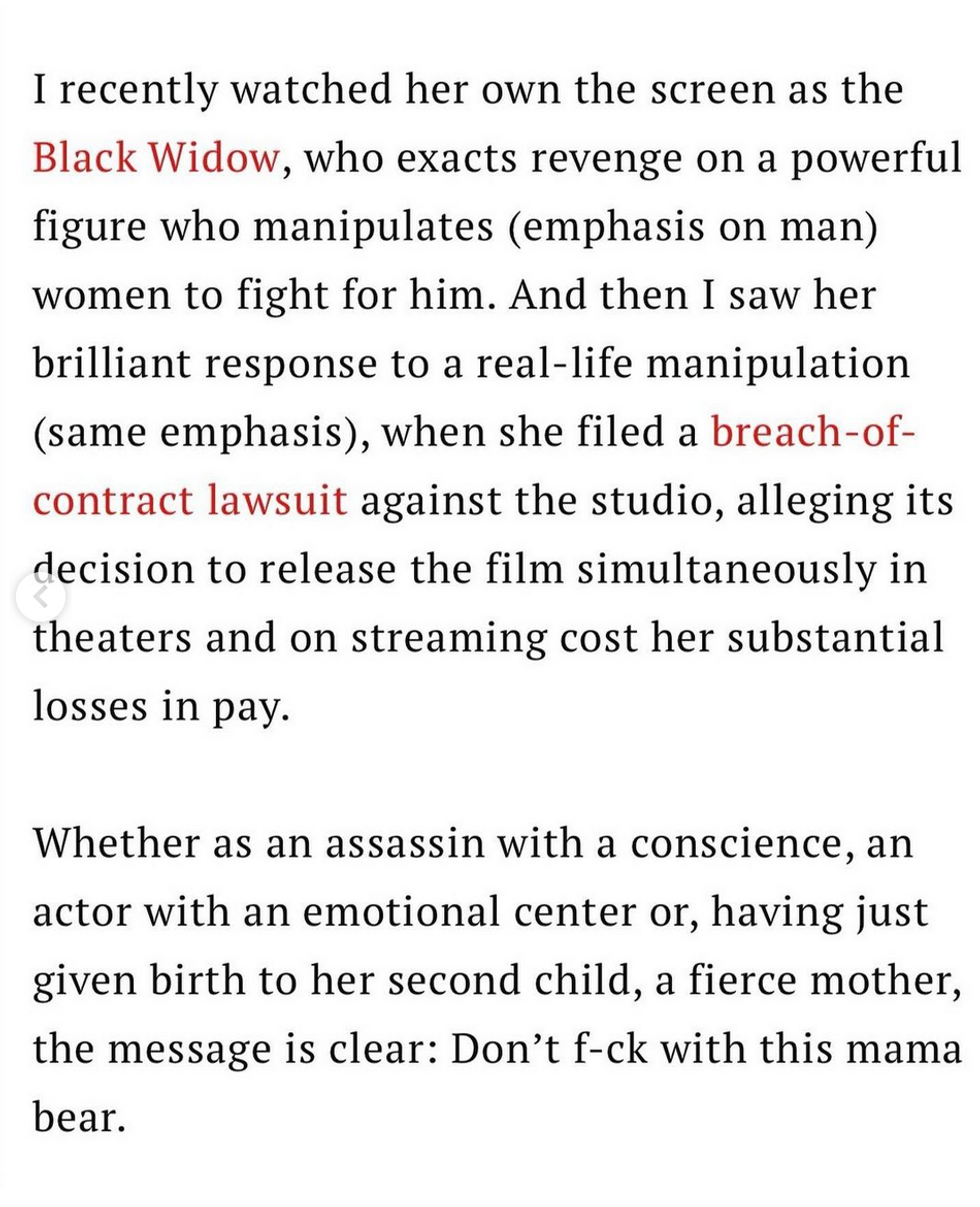 @curtisleejamie/Instagram
Twitter users commented on how having Curtis in their corner was the ultimate form of protection from public scrutiny.
Praise for Curtis continued on her Instagram post.
@curtisleejamie/Instagram

@curtisleejamie/Instagram

@curtisleejamie/Instagram

@curtisleejamie/Instagram

@curtisleejamie/Instagram
Curtis' mention of a "real-life manipulation" likely referred to Disney accusing Johansson of having a "callous disregard for the horrific and prolonged global effects of the COVID-19 pandemic"–a statement that was widely denounced on social media.
Johansson's agent called it a "direct attack on her character" and slammed Disney for "shamelessly and falsely" accusing the actor of being "insensitive to the global COVID pandemic, in an attempt to make her appear to be someone they and I know she isn't."
A number of female-led Hollywood groups also weighed in, accusing Disney's statement of using a "gendered character attack."

Women in Film, Los Angeles, ReFrame, and TIME'S UP wrote:
"While we take no position on the business issues in the litigation between Scarlett Johansson and The Walt Disney Company, we stand firmly against Disney's recent statement which attempts to characterize Johansson as insensitive or selfish for defending her contractual business rights."
Other fellow Marvel actors like Elizabeth Olsen, who plays, "Wanda/Scarlet Witch," defended Johansson.

She told Vanity Fair in a recent interview:
"I think she's so tough and literally when I read that I was like, 'Good for you Scarlett.'"

Benedict Cumberbatch, who plays "Doctor Strange," also voiced his opinion by telling The Hollywood Reporter:

"Just the verbiage and the accusations of, 'Put it in a global pandemic context.' The whole thing's just a bit of a mess."
"We're trying to understand what the revenue streams should be for artists that contribute to the billion-dollar business that is Disney. And it has to be contractualized."