There seems to be no bit of news too frivolous for actor James Woods to construe as some gravely offensive affront to American conservatives—even well documented pussy grabbing cartoon character Pepe Le Pew being removed from one scene in an upcoming movie.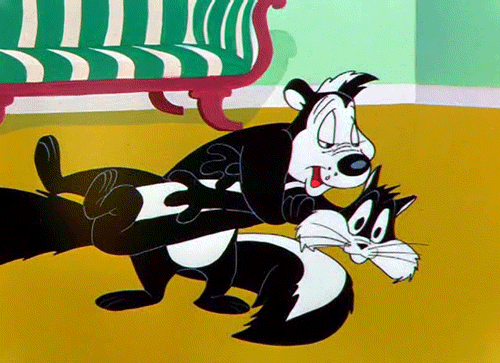 Giphy
Along with many other conservatives, Woods took to Twitter this week to rail against the "cancellation" of Pepé in a memorial tweet.

Woods has since deleted the tweet—probably because the roasting that ensued was swift and hot—but, of course, screenshots are forever.
Conservatives have been up in arms all week over the removal of Pepé Le Pew, a Warner Brothers cartoon character first introduced in 1945, from the upcoming sequel Space Jam: A New Legacy.
The character and storylines of Le Pew, a French lothario skunk, center on the relentless pursuit and entrapment of a French female cat who always rebuffs his romantic advances and has to escape his grasp.
It's the sort of character that would almost certainly not fly were it to debut in these more enlightened times, when Le Pew's behavior would be construed as sexual harassment, even predatory stalking. Or as comedian Dave Chappelle famously joked more than twenty years ago, "what kind of fu*king rapist is this guy?"
Nevertheless, conservatives have been decrying Le Pew's removal from the film--but notably no other media as of this writing--as "cancel culture" and yet another example of the supposedly tyrannical overreach of the "woke left."

That group seems to include Woods, who has become notorious online in recent years for right-wing vitriol and outrageous claims--like that Donald Trump's 2020 loss means America is "gone forever" or that Democratic Representative Alexandria Ocasio-Cortez is "the most dangerous person in America."
Woods has also quit Twitter more than once over claims of "censorship," so it's perhaps unsurprising that he's incensed over the supposed silencing of Pepé Le Pew who, as a reminder, is a cartoon skunk from the 1940s and not a real person.
On Twitter, people found this outrage absolutely ridiculous and a thorough roasting ensued.
Several people on Twitter also pointed out that Woods himself is the subject of sexual harassment accusations.
Fellow actor Amber Tamblyn claimed on Twitter in 2017 Woods hit on her and a female friend in a restaurant and invited them on a trip to Las Vegas when they were 16 years old.
Woods denied the accusation.