Musician Jack White—best known as the lead singer and guitarist of the duo The White Stripes—criticized billionaire Elon Musk in a viral Instagram post, saying Twitter's new owner made an "a**hole move" by allowing former Republican President Donald Trump to be reinstated to the platform.
Conservatives had for months called for Musk to reinstate Trump to the platform, which meant lifting a ban Twitter had imposed on Trump in the days following the events of January 6, 2021, the day a mob of Trump's supporters attacked the nation's seat of government on the false premise that the 2020 general election had been stolen.
White accused Musk of "trying to help a fascist have a platform so you can eventually get your tax breaks" and likened his move to reinstate Trump to "selling the KKK gasoline to burn crosses," leveling the most scathing criticism of Musk's leadership style yet.
You can see White's Instagram post below.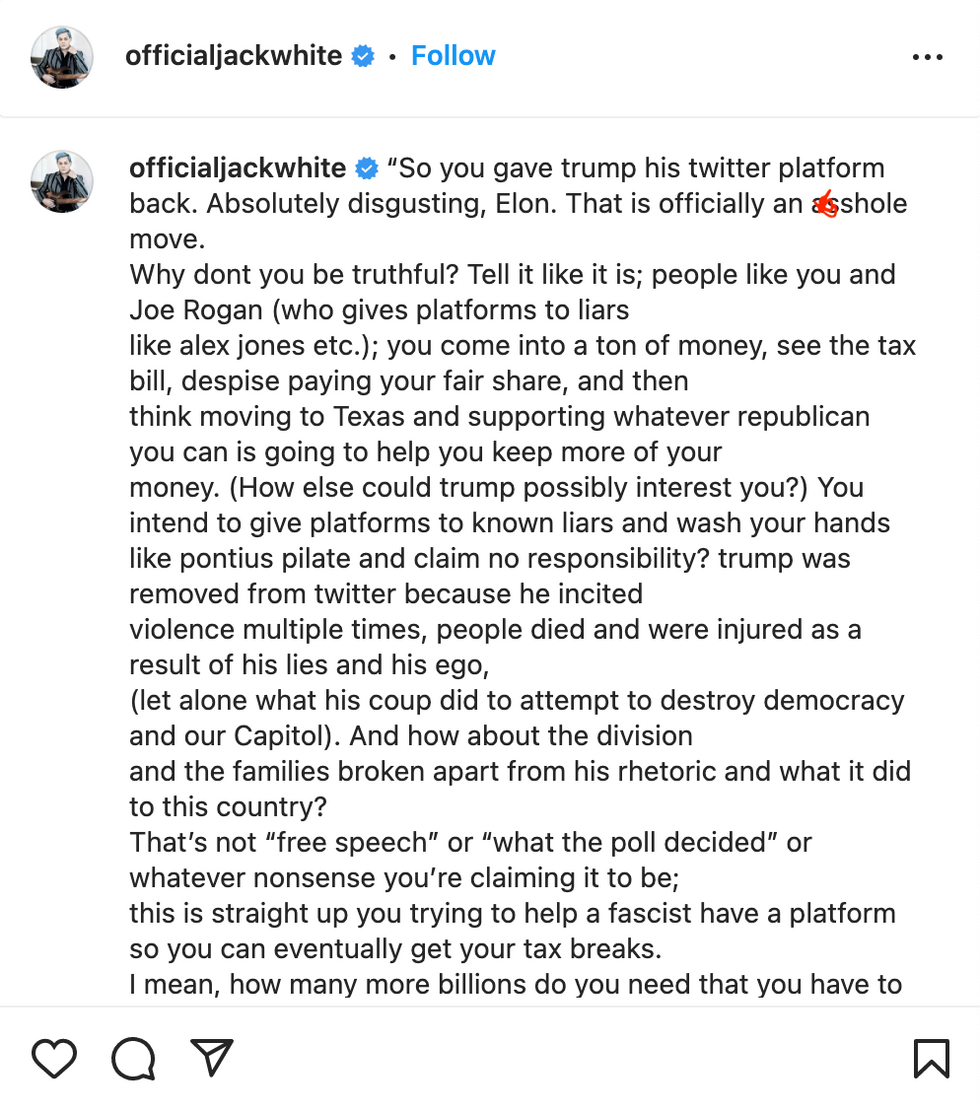 @officialjackwhite/Instagram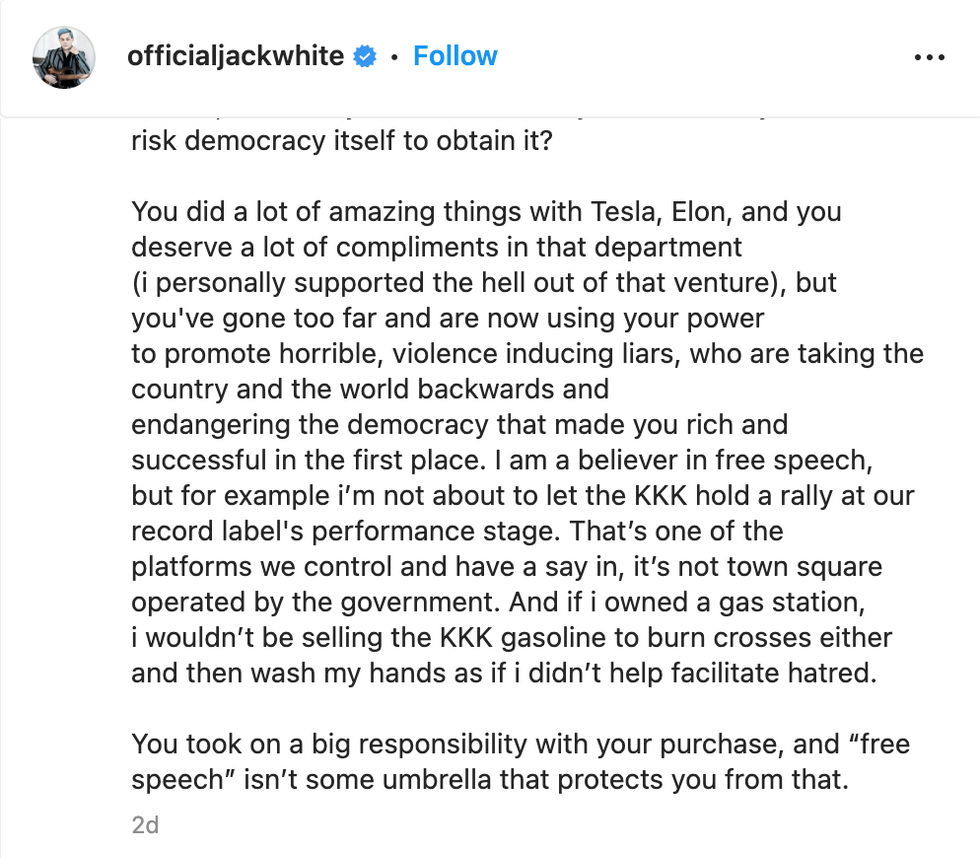 @officialjackwhite/Instagram
White wrote:

"So you gave Trump his Twitter platform back. Absolutely disgusting, Elon. That is officially an a**hole move."
"Why don't you be truthful?"
"Tell it like it is; people like you and Joe Rogan (who gives platforms to liars like Alex Jones etc.); you come into a ton of money, see the tax bill, despise paying your fair share, and then think moving to Texas and supporting whatever Repyblican you can is going to help you keep more of your money."
"(How else could Trump possibly interest you?)"
"You intend to give platforms to known liars and wash your hands like Pontius Pilate and claim no responsibility?"
White noted that Trump was banned from Twitter "because he incited violence multiple times," that "people died and were injured as a result of his lies and his ego," and the January 6 insurrection was part of an "attempt to destroy democracy."
He then criticized Musk's decision to have Trump reinstated to the platform by polling Twitter users, saying that the move "is straight up you trying to help a fascist have a platform so you can eventually get your tax breaks."
White went on to acknowledge that Musk had done "a lot of amazing things with Tesla" but said that now he's "gone too far" by using Twitter "to promote horrible, violence inducing liars, who are taking the country and the world backwards and endangering the democracy that made you rich and successful in the first place."
He concluded:

"I am a believer in free speech, but for example i'm not about to let the KKK hold a rally at our record label's performance stage. That's one of the platforms we control and have a say in, it's not [a] town square operated by the government."
"And if I owned a gas station, i wouldn't be selling the KKK gasoline to burn crosses either and then wash my hands as if i didn't help facilitate hatred."
"You took on a big responsibility with your purchase, and 'free speech' isn't some umbrella that protects you from that."
Many have praised White for speaking out.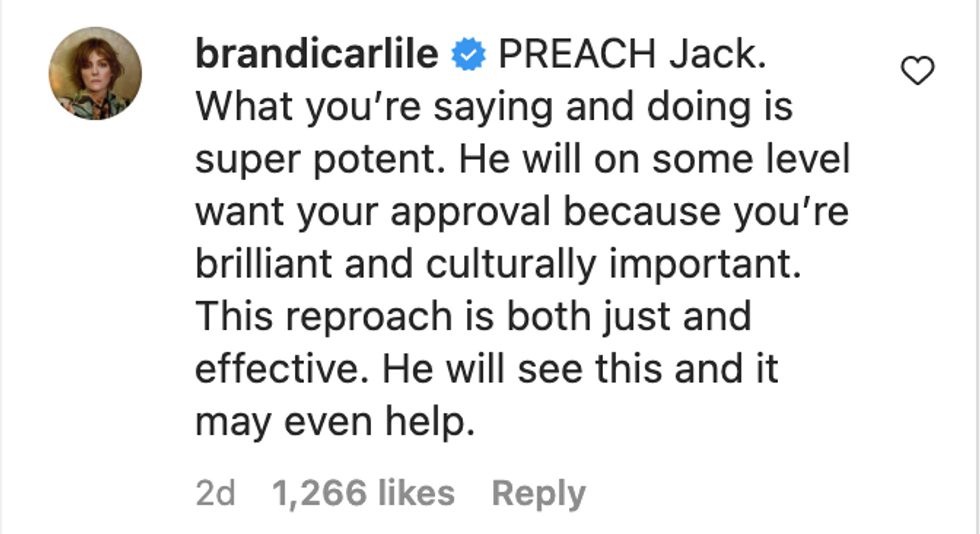 @brandicarlile/Instagram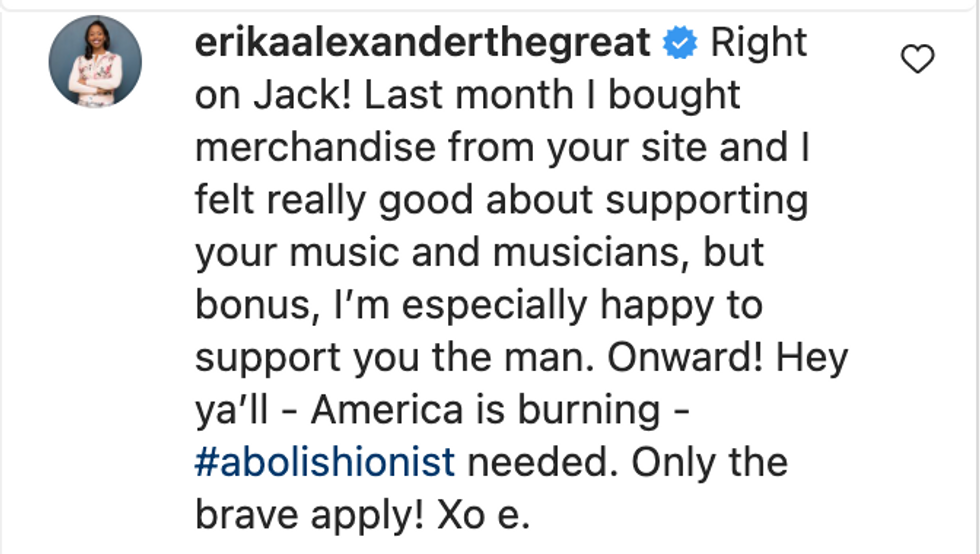 @erikaalexanderthegreat/Twitter

@sipwatchtweet/Instagram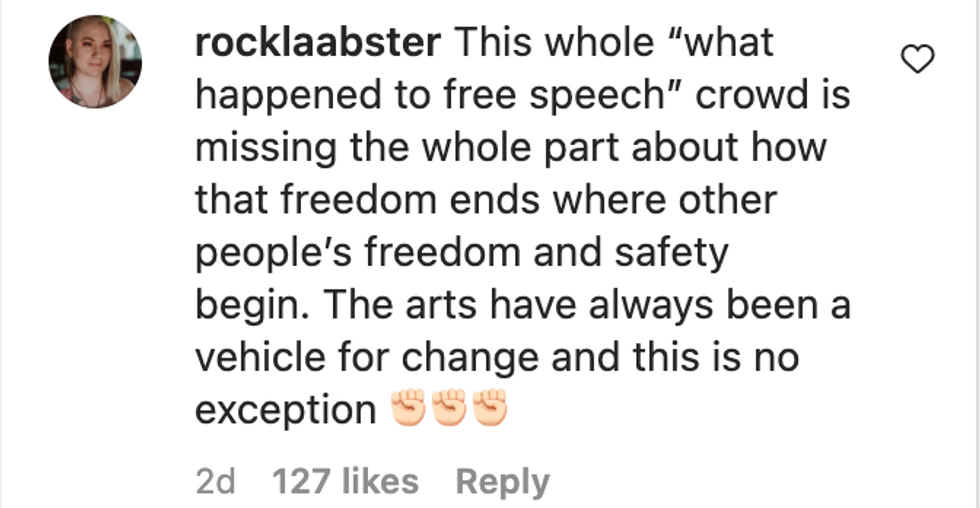 @rocklaabster/Instagram

@alex_vincent

@phillipmscales/Instagram

@adriapetty/Instagram

@all.kylee.red/Instagram
Though Musk has officially reinstated Trump to Twitter, Trump has opted not to join the platform, preferring to devote his time to his own social media site, a conservative playground and Twitter clone called Truth Social.
And while Musk has publicly defended Trump on many occasions, Trump wasn't particularly fond of him over the summer, referring to Musk as a "bullsh*t artist" shortly after Musk announced what proved to be a futile attempt to abandon his deal to purchase Twitter for $44 billion.