Generally, one would hope Yelp reviews offer an accurate glimpse into how good or bad a restaurant is.
One reviewer, however, has recently gone viral for a one-star critique of a restaurant that had nothing to do with the service or the food.
---
The reviewers biggest problem with the restaurant?
They weren't given a discount for being an Instagram influencer.
"I'm giving 1 star because of the cheap management and customer service. I heard the food was very good so I went to try. Me and the BF got the calamari, spaghetti alle vongole, and gnocchi. All were very delicious."
"I was actually so impressed that when the manager came to ask us how everything tasted I told her it was some of the best Italian food I've had and I told her I'm going to post about it on Instagram where I have over 11 thousand followers and a lot of them are in the area. She seemed very happy about it."
"I was wrong. I thought that she would be greatful [sic] for the free advertising but when the cheque came there was literally no discount at all. I thought at least one of the entries would be taken off but they didn't even take off the calamari or even the drinks!"
"I won't got back here because of this. Which is a shame because the food was very good. The manager needs to understand how to treat customers."
Social media couldn't believe anyone would act so entitled.
Yelp seems to be filled with somewhat questionable reviews.
How must influencers think of other people?
The restaurant should proudly display this review in a place of honor.
One thing is certain.
Her one-star review is hardly accurate.
Plus, the "exposure" wouldn't have been free at all.
Some people need to take themselves a bit less seriously.
Here's a good rule of thumb for life:
when eating at a restaurant, always plan on paying the bill, no matter how famous think you are.
You too can declare your sense of entitlement with this shirt available here.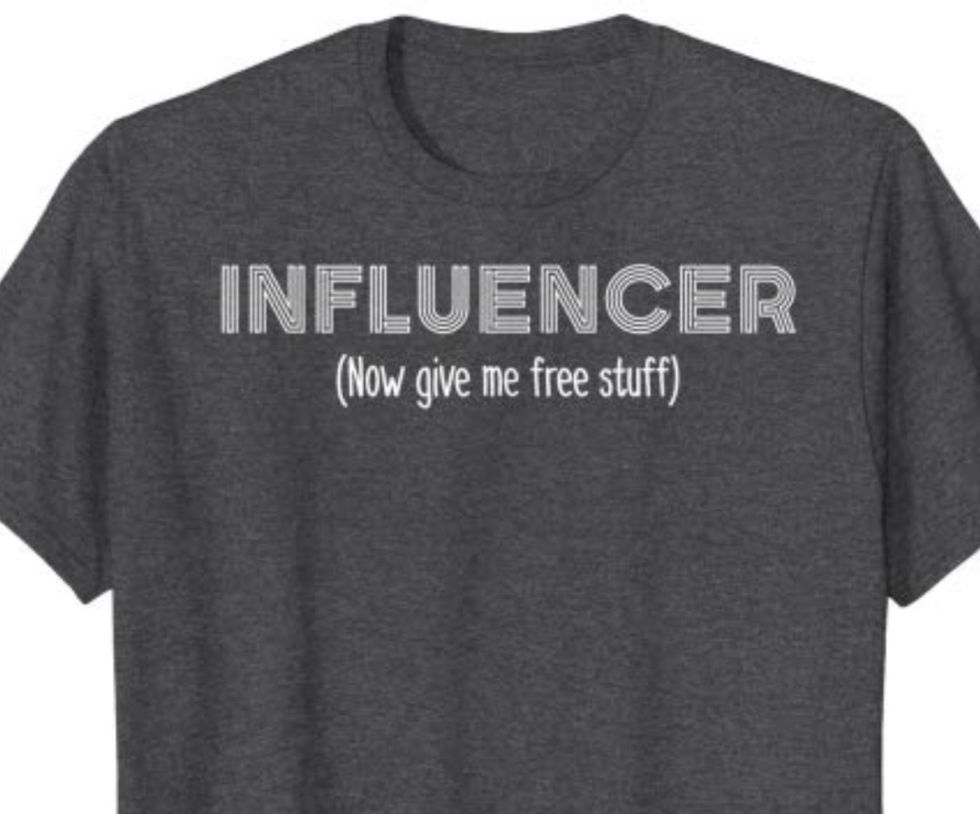 Amazon