The southern United States—the southeast really—gets a bad rap sometimes over outside perceptions.
And while some negative stereotypes ring true, so do some positive ones.
Like southern hospitality is a real thing.
---
A neighborhood in Hermitage, Tennessee within metropolitan Nashville proved it when Immigration and Customs Enforcement came to visit. A man entered his van with his 12 year-old son when an ICE vehicle blocked him in his own driveway.
Over the next few hours, neighbors came to support their neighbor, bringing them water, gas to refill the tank so they could run air conditioning and wet rags so they could stay in their van without suffering heat stroke.
Neighbor Felishadae Young said:
"We made sure they had water, they had food, we put gas back in the vehicle when they were getting low just to make sure they were okay."
FOX 17 News reported ICE agents had no criminal warrant, instead they came with a civil detainer signed by an administrator, not a judge. Because this was a civil matter, ICE agents are not able to enter someone's home or vehicle or forcibly remove a person and citizens are not committing a crime by interfering.

And interfere the neighbors did.
After about four hours—while ICE agents stood looked on—neighbors formed a human chain around the van and leading to the home's front door. The man and boy were able to safely exit the van and enter the residence.
Nashville Noticias shared video live on Facebook and captured the moment neighbors counted to 10 and told the boy to run for the house.
From there, other organizations picked up the video.
VIDEO: "Human Chain In Hermitage" Watch neighbors form a HUMAN CHAIN in Hermitage yesterday to protect a father an… https://t.co/iDtNf7MPu5

— The Tennessee Holler (@The Tennessee Holler) 1563891876.0
'It hurts to see people go through what they're going through.' — Community members formed a human chain to block I… https://t.co/oEb5lhMoOa

— NowThis (@NowThis) 1563915180.0
I'm outside a home in Hermitage where neighbors say ICE agents tried to take a man from his home early this morning… https://t.co/d1F7PqyFVh

— Steven Hale (@Steven Hale) 1563808723.0
ICE agents could only watch as any attempt to remove the neighbors to get to the van's occupants would have been illegal. Once the man and his son were in the home, ICE left.

Witnesses on the scene reported ICE agents lied to the van's occupants and the residents of the community to try to detain the man.
Sounds like this was an incredible scene. ICE was here with an administrative order, which does not give them the r… https://t.co/FBlaBFOvei

— Steven Hale (@Steven Hale) 1563809389.0
Neighbors were having none of it though.
One neighbor told me of the family targeted by ICE: "These people have lived here for 14 years. They don't bother a… https://t.co/fCnPw17WcZ

— Steven Hale (@Steven Hale) 1563809726.0
Daniel Ayoadeyoon, a local lawyer who came to the scene to help, said:

"There were two immigration officials sort of bullying a family inside of their own vehicle, telling them that they had an administrative warrant, which isn't the same thing as a judicial warrant, and trying to harass them and fear them into coming out."
"They were saying, if you don't come out, we're going to arrest you, we're going to arrest your 12-year-old son, and that's just not legal, it's not the right law."
Felishadae Young said:

"I know [ICE are] gonna come back, and when they come back, we're coming back."
Another neighbor, Stacey Farley added:
"I could see if these people were bad criminals, but they're not, they're just trying to provide for their kids."
"The family don't bother nobody, they work every day, they come home, the kids jump on their trampoline, it's just a community."
"We just wrapped our arms around and formed a chain and dared someone to break through it."
"There's kids involved. We can't correct the parents' choices, but the kids don't deserve that. These kids were born in the US. It's just not fair."
"I would protect them again if it happened again. When ICE does stuff like this, we're gonna protect our neighbors."
Neighbor Angela Glass said:
"They don't bother anybody. Our kids play with their kids. It's just one big community. And we don't want to see anything happen to them. They're good people. They've been here 14 years, leave them alone. To me, they're considered Americans."
ICE notified local law enforcement, but they only came to keep the peace, not assist ICE. It is the policy of Nashville Metro Police to not get involved in civil matters. If ICE agents had a warrant alleging a crime, Metro Police would have assisted in their investigation.

Both Metro Police and the Sheriff's office issued statements that their departments will not assist with anything but criminal offenses.
Civil matters must be handled by ICE personnel.
Davidson County Sheriff Daron Hall wanted it known his office will not be taking part in ICE agent civil activity in Nashville.
"They do not house them here [at the county jail], they do not keep the person here, we're not involved in ICE at all. There's a lot of misunderstanding and confusion about that."
Hall adopted a new policy at the Sheriff's office after President Trump said ICE raids would increase in coming weeks to remove all undocumented immigrants, whether falling under DACA or not.
Sheriff Hall said:
"I notified ICE that we would no longer house anyone for what would be considered an 'ICE Purpose' only, they must be a local criminally active person before we would house them."
Nashville Metro Councilman Bob Mendes said in his statement:
"There are reports I have heard that the ICE agents may have been telling the gentleman in the van that he had to give himself up or else MNPD (Metro Nashville Police Department) would arrest him. If that's what they said, that's not true. Again, Metro's policy and MNPD's policy is to not be involved in federal civil immigration enforcement. Our city is less safe if people are afraid of MNPD."
Nashville Mayor David Briley issued a statement to FOX 17 News about the situation:

"It is my job as Mayor is to keep all Nashvillians safe."
"This morning, ICE agents attempted to detain a Nashville resident. However, the agents did not end up detaining the resident, and no arrests were made."
"Our police officers do not actively participate in immigration enforcement efforts and only serve as peacekeepers. The officers were at the incident today to keep neighbors safe and secure a perimeter."
"I am keenly aware that this type of activity by our federal government stokes fear and distrust in our most vulnerable communities, which is why we do not use our local resources to enforce ICE orders."
"I will continue to work with local advocacy organizations like TIRRC to make sure residents know their rights and that support and resources are available for undocumented immigrants should the need arise."
Every Nashville resident and family deserves to feel safe, regardless of immigration status. My statement on yester… https://t.co/epfHg0kBGq

— David Briley (@David Briley) 1563899710.0
This Hermitage, Tennessee neighborhood demonstrated real southern hospitality and neighbors helping neighbors, no matter their differences.
It may not say it on the statue, but the sentiment has always been associated with Lady Liberty. Show your support for the huddled masses yearning to breathe free with this shirt, available here.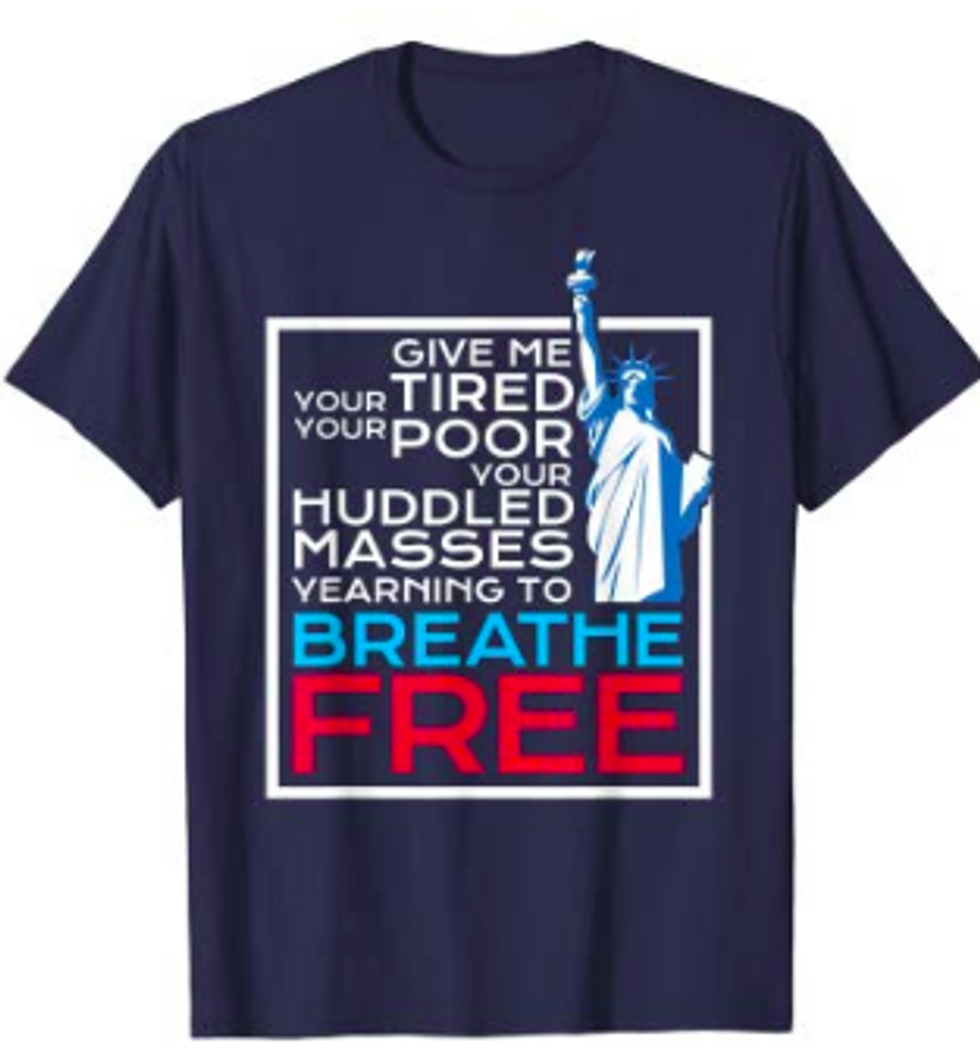 Amazon