The August 13 wedding of Dontez Williams and Myshella Burton in Detroit, Michigan resulted not only in the union of the happy couple, but the official beginning of a family.
When delivering his heartfelt vows, the 33-year-old Williams surprised Burton's two daughters, 9-year-old Abigail and 8-year-old Natalie, by getting down on one knee and proposing to adopt them.
Williams posted the tear inducing moment in two parts to his Instagram page.
Williams included an emotional note with the video, expressing his love for Abigail and Natalie.
"I cried just at the thought of writing these vows to my daughter's whose lives I've been in since they were 1 and 2."
"I have transitioned from a step-father to a father to these girls and love them dearly."
"Although they are not biologically mine, blood could not make us any closer."
"I wanted to make it official in becoming their dad as I wrote vows not only to my wife but to my daughters as well asking them could I adopt them..."
Burton's daughters were already overcome with emotion at the start of the video, as Williams made it known how much having the two of them in his life changed him for the better.
"I never knew you really do become a man when you have children."
"Having someone to teach, protect, provide for them, discipline them, learn from them and support them."
"For all of these reasons, you've helped me become a better version of me."
After acknowledging the girls call him "dad" already, Williams asked the girls if he could "make it official" and adopt them as he got down to one knee.
The girls quickly accepted his "proposal" by running into his arms, as cheers erupted through the church and Williams' groomsmen proved unable to hold back their tears.
It wasn't just a surprise for the girls, however, as Williams 26-year-old bride was also unaware of Williams plans to "propose" to her daughters.
Williams told Fox News his adoption proposal was a secret between only the officiant and himself.
But though she can't be seen in the video, Williams assured Fox News Burton was no less moved by his proposal than anyone else at the wedding.
"Myshella was really shocked, but she was happy and just thankful for me stepping up."
"She was really happy that I feel that way for them and said she's grateful to have me in their lives."
Indeed, Williams, who works as a case worker at Starfish Family Services, has been part of the girl's lives since both of the girls were toddlers. He met Burton, who works at a child birthing center, seven years ago through the dating app Plenty of Fish.
The heartwarming video received over five thousand likes on Instagram. People were quick to commend Williams moving words to his new daughters in the comment section.
Several offered blessings for the family as they start their new life together.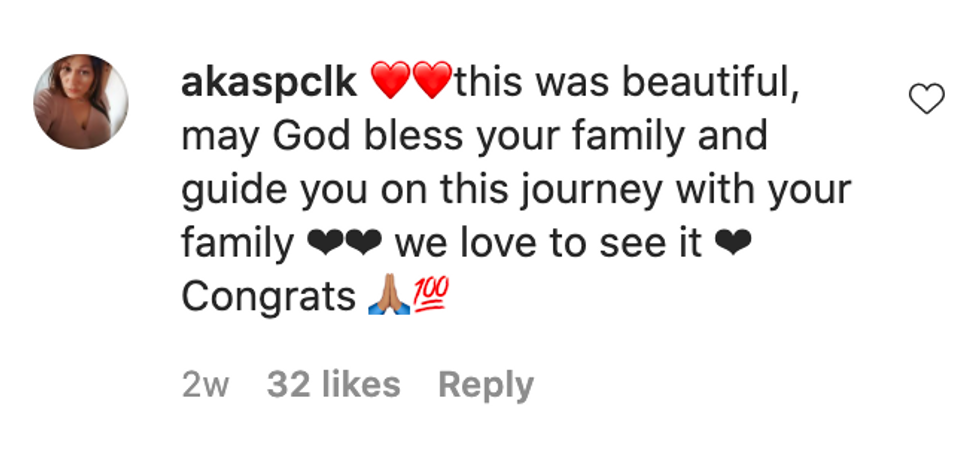 @handsome_is_me/Instagram

@handsome_is_me/Instagram

@handsome_is_me/Instagram

@handsome_is_me/Instagram
Others commended Williams for embodying everything it is to be a father, emphasizing how lucky Abigail and Natalie are to have him in their lives.
@handsome_is_me/Instagram

@handsome_is_me/Instagram

@handsome_is_me/Instagram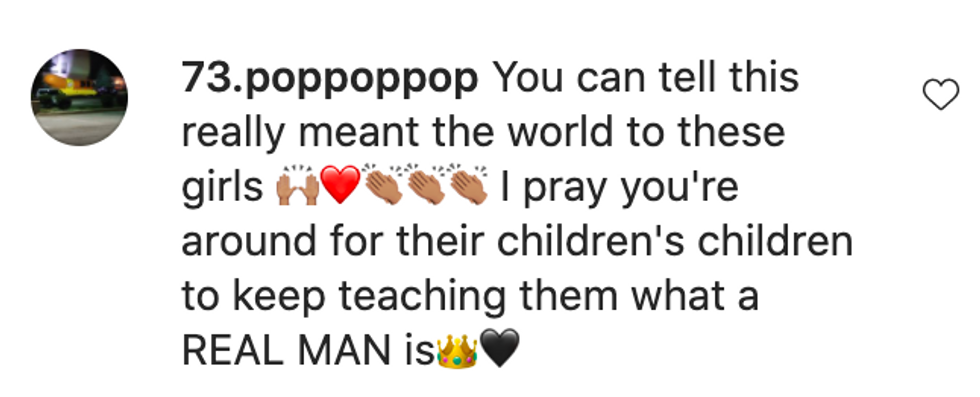 @handsome_is_me/Instagram

@handsome_is_me/Instagram
While some simply had to share the emotional reaction they experienced watching the video.

@handsome_is_me/Instagram

@handsome_is_me/Instagram

@handsome_is_me/Instagram
Williams and Burton had been engaged since 2017, but their initially planned 2020 wedding was postponed as a result of the pandemic.
Judging from the joy from Abigail and Natalie in the video, it seems pretty clear this very special day was well worth the wait.