Kevin McHale, who portrayed wheelchair-bound Artie Abrams on the high school show-choir comedyGlee, has been prompting speculation from his fans on social media over his sexuality. Now, in a reaction to Ariana Grande's new single, No Tears Left to Cry, it seems McHale has officially come out of the closet and his followers are delighted!
---
Over the past couple months, McHale would frequently post adorable pictures of himself and actor Austin McKenzie on Instagram:
McHale also posted a photo of himself holding hands with a mystery person (who fans suspected to be Mackenzie).
At one point, it seemed McHale was just trolling his followers.
When one Twitter user called him a "miserable closet queen," McHale responded:
I'm not miserable.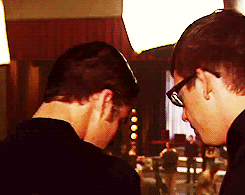 Giphy
Finally, McHale ended all the wondering with a series of tweets reacting to Ariana Grande's new single: