Risqué humor is a tricky thing. There are times when you know your audience and times you aren't sure how people will react.
A 22-year-old man is facing the repercussions of making an off color joke in front of someone who did not take the joke well. So he turned to the "Am I The A**hole" (AITA) subReddit for feedback.
Redditor inappropriategay asked:
"AITA For Making A Gay Sex Joke?"
The Original Poster (OP) explained:
"My friends and I were at a friend's house—Jacques (male-23)—and we were drinking, and chilling. (In a responsible manner!)."
"I'm gay, been out for over a year now!"
"While we're drinking, Jacques makes a comment, and I turn it into a sex joke, because why not? The atmosphere had been pretty light hearted, everyone was f'king around, all was okay."
"Everyone freezes."
"Jacques asks me: 'What the f'k do you mean by that?'"
"So I explain, and he looks visibly uncomfortable, and tells me that I'm not funny, and that gay men shouldn't make these sort of jokes around straight people, because it was essentially me hitting on him, and like two other of my friends agree."
"The atmosphere doesn't go quite back to normal, and Jacques moves further from me after calling me an 'unbelievable a**hole', and so I make an excuse and bounce."
"Razor, my best friend, who's gay and has been out for longer than I have, thinks they're overly sensitive, and he followed me immediately when I left, and said some choice words about Jacques and the two friends who defended him."
"I don't know how to feel. When I was younger, I had issues with boundaries, so maybe I did transgress some, and Jacques told me that unless I apologize for making him uncomfortable, I'm not welcome."
"So what do y'all think?"
"AITA for making a gay sex joke around a group of mostly straight people?"
The OP returned to share the joke he made.
"He said 'Bottoms up!' and I stood up."
He added:
"To clarify something; I wasn't the first person who made a sex joke. Others were made."
Redditors were asked to weigh in by voting:
NTA - Not The A**hole
YTA - You're The A**hole
NAH - No A**holes Here
ESH - Everyone Sucks Here
Redditors agreed the joke was clever, funny and not at all explicit.
They also agreed the OP was definitely "Not The A**hole"—as in not a single Redditor voted anything other than NTA.
"NTA. I honestly think the joke was funny (as a straight female)."
"It shows that Jacques has a lot more issues with someone being lgbtq+ than he is willing to admit and he's taking it out on you." ~ CheshireChimera13
"NTA. There's no way that joke is in any way hitting on him." ~ Bearberlycrusher

"I noticed people who are homophobic always assume every gay guy would f'k them... all the time I've seen this and I even had to tell my friends like 'bro if I was gay I wouldn't f'k any of u' and of course they thought I was coming out the closet and hitting on them..."
"NTA, I laughed my ass off. " ~ therealfactoner

"NTA. The joke was clever and was in no way hitting on anyone and Jacques sounds majorly homophobic."

"Get a new friend and while you ditch Jacques the homophobe, ditch anyone who supports his obvious homophobia." ~ LakotaGrl
"High quality joke lmao. Gonna steal even as a straight woman."
"It had nothing to do with being inappropriate and everything to do with homophobia. NTA." ~ Scarlaire

"Stealing as a straight man. Sounds like the exact kind of joke my gay friends would make, and I'd love to get the one up on them by making it before they can. NTA in any way." ~ Shawnyall
"Lmao, NTA, your friend being sensitive [as f'k]."
"I expected some raunchy joke but that was a great joke, simple, harmless, and only pointed at yourself!"
"Good on you for being funny!" ~ BrokenBackWorkingSac
"If you lived near me my friend group would adopt you for that joke alone. I just died a little bit, that's 100% our humor and I'm loving it."
"Your friends are prudes, and I feel sad for them." ~ Beruthiel9
"Hahahaha, NTA fellow gaybro. Jebus I know I'm probably sterotyping but either he is overly sensitive or a closet case."

"I'm not sure how it is among your group of friends but for most of my straight friends a joke like that would go over their head since they are unused to gay terminology." ~ LeetwoodPboda
"NTA - The joke you made is obviously about you, not him, and that in no way is hitting on him so he's definitely being an a**hole and a lot homophobic."
"That joke is not even a joke that applies only to gay people." ~ WayHaught_N7
"Also, what weird reasoning he gives for taking offense. Is every sex joke his friend makes an attempt to hit on any women around him (presuming he's straight)?"
"I'm betting not. Those friends are being straight up homophobic." ~ noface1289

"Yes. And that's exactly why he's offended. Homophobic men are afraid gay men will hit on them the way they hit on women." ~ kmywn

"Exactly! Plus if the straights can get away with making constant sex jokes why can't LGBTQ+ folks? NTA" ~ VampireChild

"Because our sexualities are 'political' and a 'sensitive topic'." ~ ZombieS-OWO-uls

"Straights can make as many sex jokes as they want, but a gay joke arises and suddenly it's 'not appropriate'."
"This guy, Jacques, sounds like an insecure arsehole of the highest order." ~ BananaTiger13

While the AITA subReddit is for moral judgment, not advice, the overwhelming message to the OP was keep the sense of humor, but get new friends.
OP to Jacques and friends...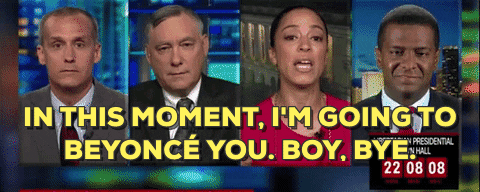 Giphy