Well it's that time of the year again—the blessed season when the meteorologists inadvertently draw male genitalia on the nation's TV screens while reporting about tropical storms and hurricanes.
This time it comes from Fox News' Bryan Norcross.
While reporting on Tropical Storm Ian Sunday morning—which has since been upgraded to a hurricane—Norcross did the usual onscreen doodles, drawing a line from the Florida Pandhandle down into the Caribbean to indicate Ian's potential path

But when he circled the potential areas of Ian's landfall on either side of the path line? Let's just say it made the contiguous United States a bit more "anatomically correct" by adding the pair of, um, coconuts its Floridian appendage has always been missing.
You can see video and a screenshot here.
Classic.
Making the drawing even more hilarious was Norcross's narration during his doodle. While circling the two areas of potential tracks for Ian—one over the Gulf of Mexico, one over Florida itself—Norcross said:
"What you think you see is all kind of tracks here over Florida, and fewer over here [over the Gulf.]"

No, Mr. Norcross, respectfully what we think we see is two very sizable testicles on either side of a very phallic diagram more than twice the size of the state affectionately nicknamed "America's D*ck."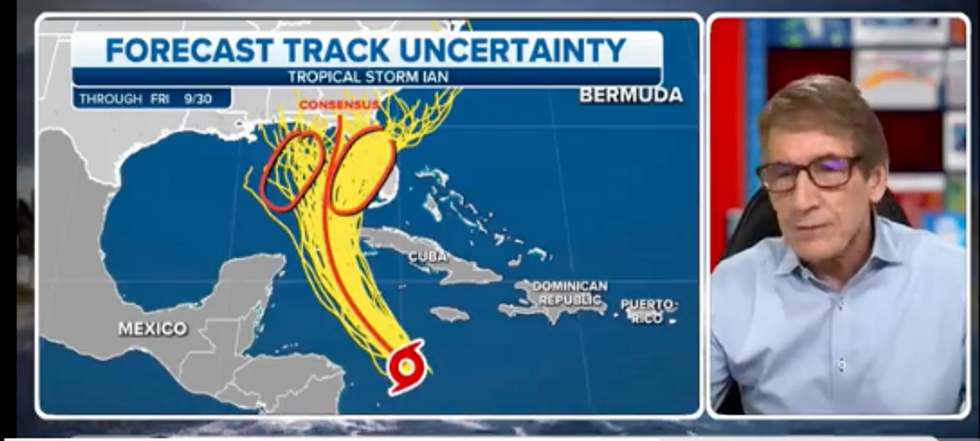 Fox News
Ian is really packing.
Not to mention a bit of a kinkster, what with that hurricane-symbol Prince Albert down there at the end.
Ever the professional, Norcross didn't seem to notice the anatomy lesson he was giving America's Fox News viewers and just continued on with his explanation of the forecast graphic, saying:
"Well, that's just because the European model makes more of these uncertainty tracks than the American GFS model."
And it apparently wasn't the first time Norcross has given this very phallic demonstration of hurricane paths.

Of course, Twitter had a field day with this.

Ian was upgraded to a hurricane earlier today and while its path is uncertain, it is expected to make landfall near the Tampa Bay area of Florida some time Wednesday or Thursday.