With movie theaters shut down, a group of film fans have recreated a remarkable medley of iconic movie moments – transforming a bedsheet into Hannibal Lecter's strait jacket and substituting a hand drill for Bond baddie Blofield's gun.
With household goods featuring heavily, they have reenacted favorite scenes from film classics like The Shining, A Clockwork Orange, Breakfast at Tiffany's, Bride of Chucky, and Mad Max – using everything from fruit to children's toys and old salad bowls as props.
These "front room" interpretations of moments from the silver screen were the brainchild of art director Martin Jackson, 62, of Shoreditch, east London, as a way to have some fun until the cinemas reopen.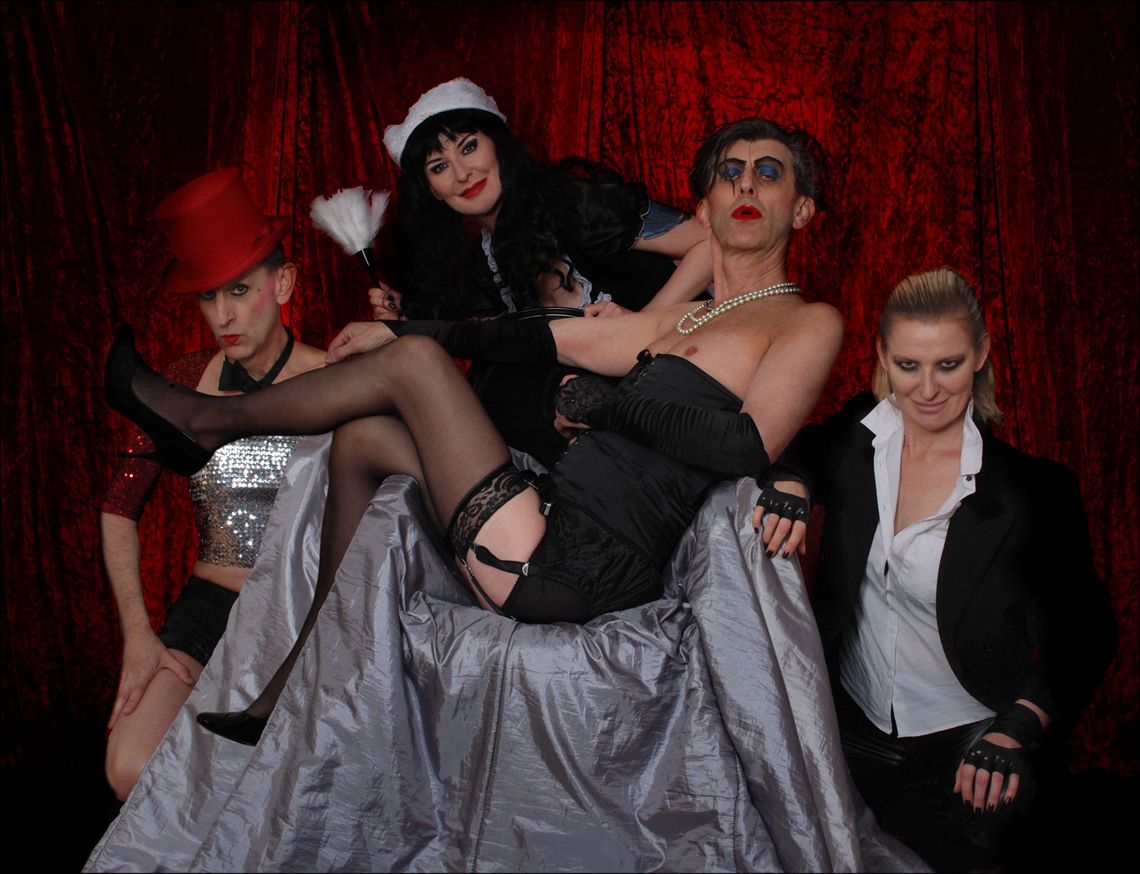 Martin Jackson and Helen Smith play Frank 'N' Furter, Columbia, Riff Raff, and Magenta from 1975 film 'The Rocky Horror Picture Show' (PA Real Life/Collect)
Each Monday he sends iconic images to up to 50 participants who have until Friday to perfect and photograph their creation, which is then presented to all who have taken part at a private Zoom viewing that evening.
Martin said:
"It started as a simple art challenge to recreate familiar paintings, but when I saw the joy it was bringing to people, I widened it out to include moments from movies that everyone would recognize."
"And the seminal movie moments really took off."
Maria Der plays Bridget Jones in the 2001 film 'Bridget Jones's Diary' (PA Real Life/Collect)
He continued:
"Participants can just enjoy the challenge of the creative process, being resourceful and feeling a sense of achievement in these groundhog days."
"Some people go for straight mimicry of the original, while others apply their personal interpretation with a sense of wit and originality."
"There is no judgement and no right or wrong way to do it. I just want it to be fun and to give people something to remember about this period in time."
He added:
"This will be, I hope, remembered as one of the happier parts of lockdown."
Initially, those taking part came from the 400-strong membership of London's Art Society Soho, an organization Martin created, but now it is open to anyone and people from all walks of life have enjoyed recreating their big screen moment.
Martin assigns images on a Monday to prevent crossovers or repeats, as he wants it to be fun, rather than competitive, and gives everyone a Friday deadline so they all work within the same time frame.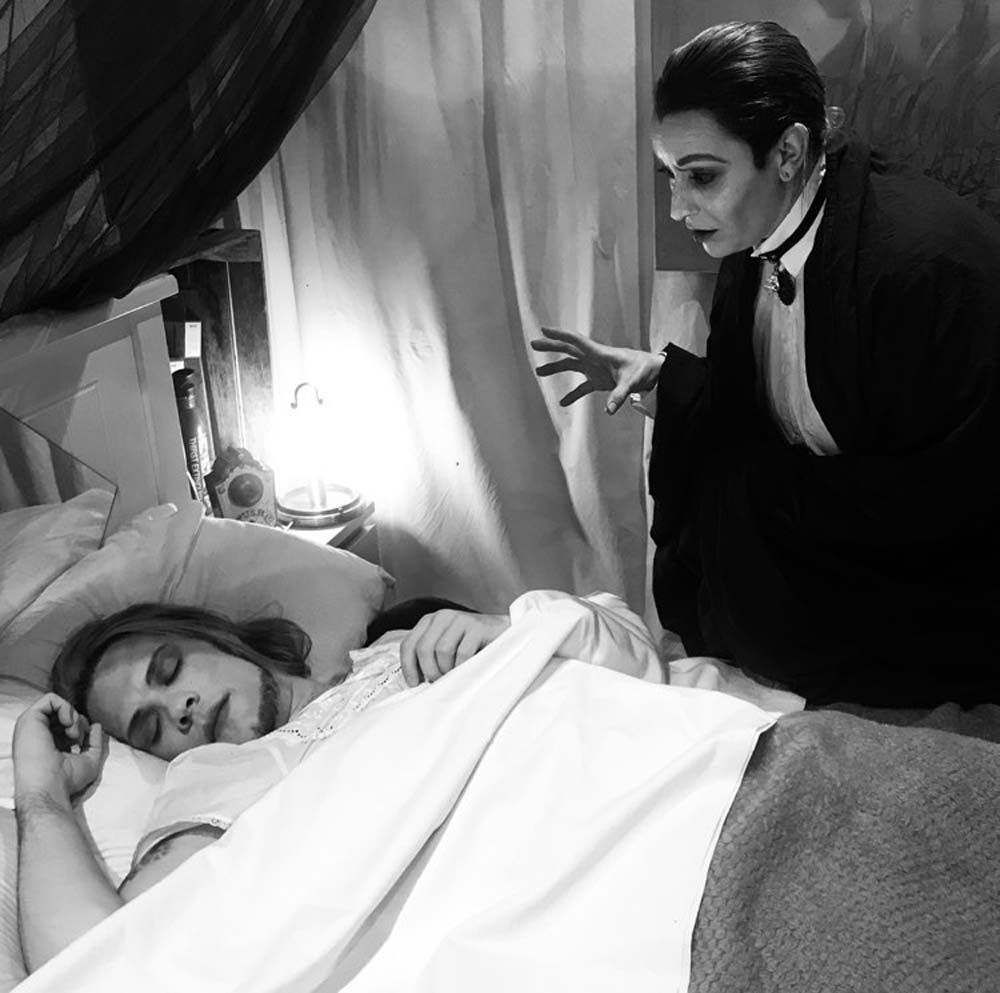 Amy Hawes and Jacob Kamper play Mina Haker and Dracula in 1931 film 'Dracula' (PA Real Life/Collect)
"It started with 20 people, but has snowballed and we've now had about 50 people take part, mostly from the UK, but from as far afield as Bali, Finland, Crete, Ibiza, and Australia," he said.
"I put the pictures into a slide show format and then every Friday at 7.30pm we have a private viewing over Zoom when everyone comes online. I usually do an introduction and people will dress up and I'll have assigned a cocktail for everyone to make."
"It's very positive and upbeat. It's like watching a firework show where everyone cheers. Then I put them up online and share them through Instagram."
He explained:
"I was absolutely bowled over by what people have done and they keep getting better. "
And of course, Martin and his partner, DJ and events manager Helen Smith, 42, have been setting an example,.
In the first week they used costumes they had from cabaret nights to recreate an iconic scene from The Rocky Horror Picture Show, with Martin as Frank 'N' Furter and Columbia, and Helen as Magenta and Riff Raff.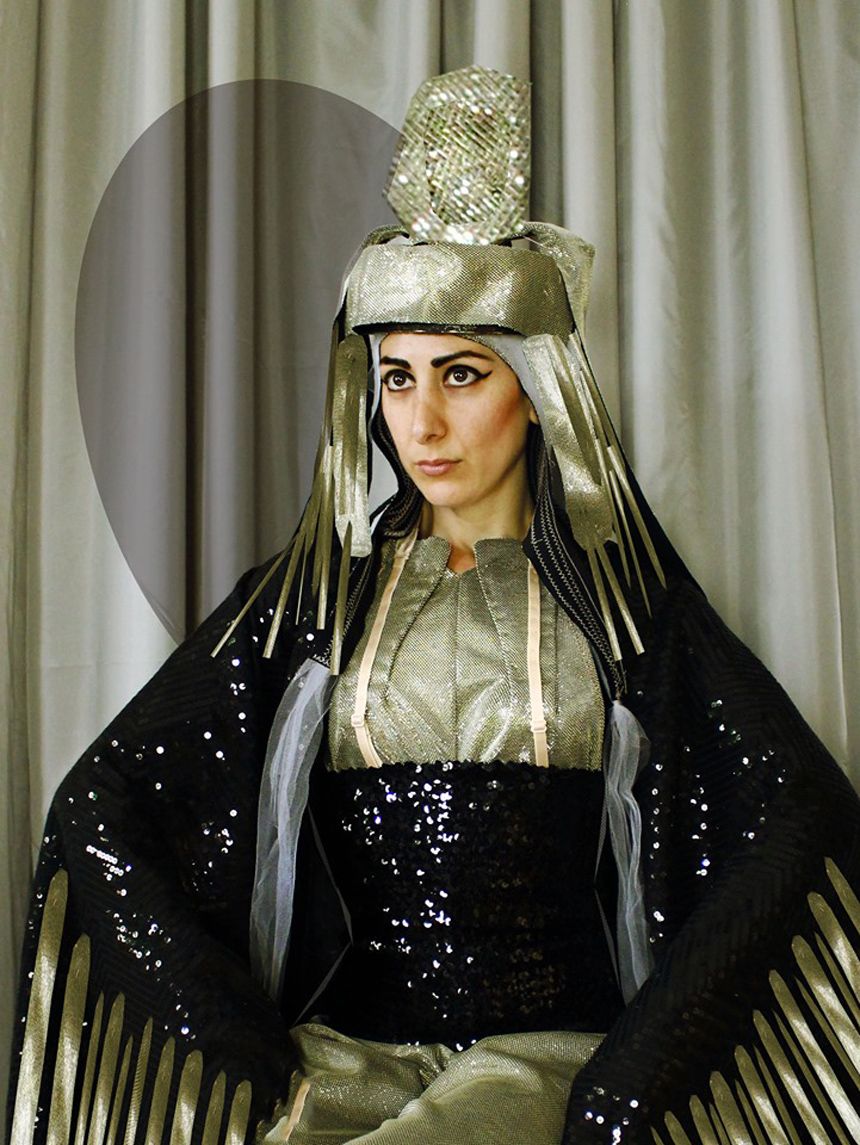 Beatrix Carlotta as Cleopatra from the 1963 film (PA Real Life/Collect)
Mark Best, 44, a freelance PR and fitness instructor, of Brockley, south east London, is Hannibal Lecter from the 1991 film The Silence of the Lambs.
"Thinking about how I could do the mask, I initially thought of wrapping ham around my face, but that didn't work! In the end I shaped it out of some Amazon packaging then I used a fitted bedsheet and two belts for the straitjacket," he said.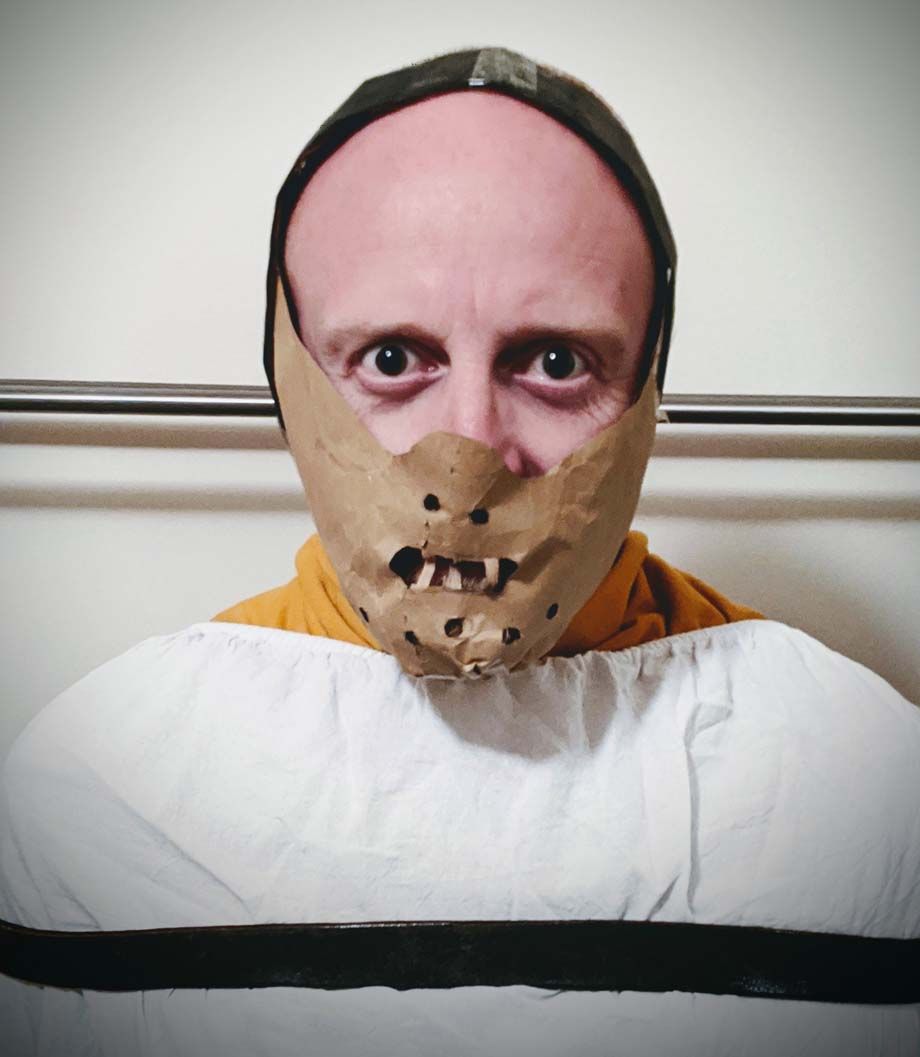 Mark Best as Hannibal Lecter from 1991 film 'The Silence of the Lambs' (PA Real Life/Collect)
Cayden Foxx, 36, a hairdresser, and Tristan Pineiro, 47, a PR executive, of Temple, central London, dressed as Chucky and Tiffany from the 1998 film Bride of Chucky.
Cayden said:
"I'm a massive fan of the film 'Child's Play' and the Chucky movies. I already had the dungarees, so I hand painted them and Tristan was wearing an old table cloth and some basic drag clothes. I used an app on my phone to make our heads look enlarged."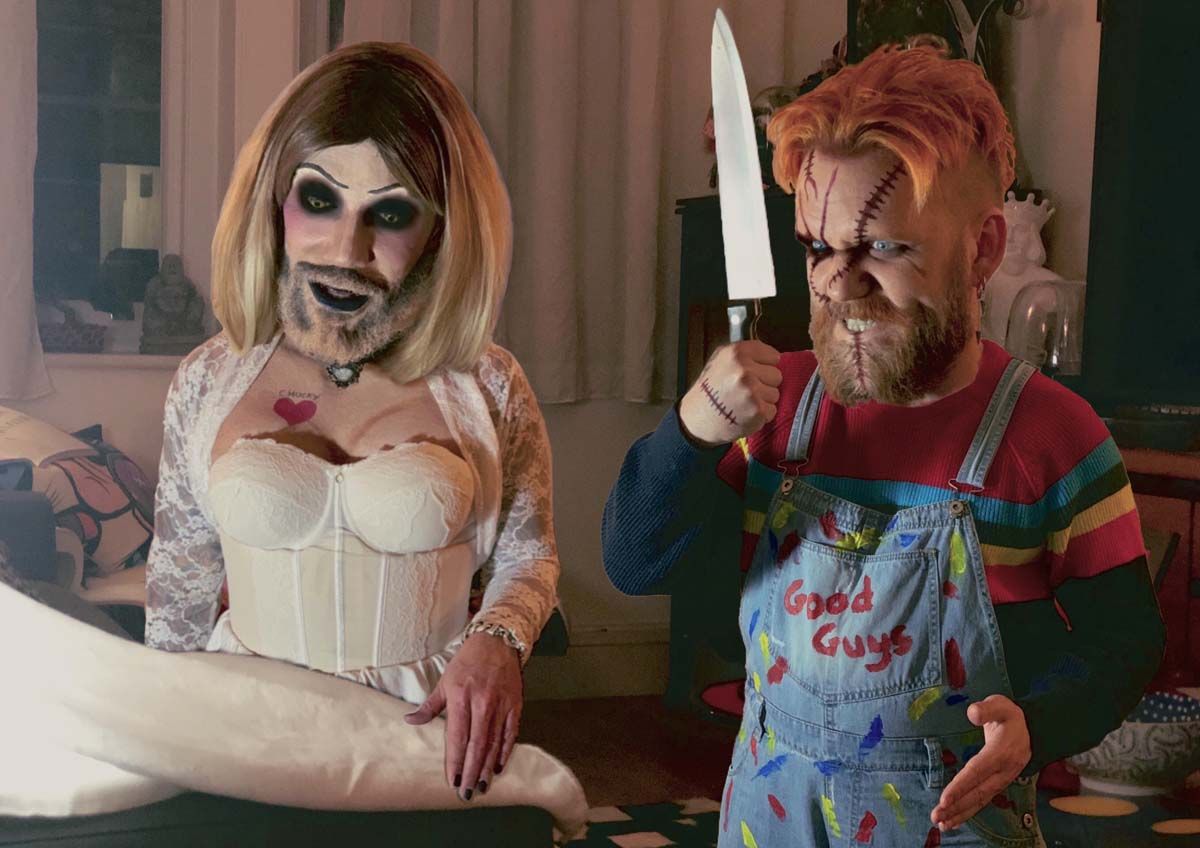 Tristan Pineiro and Cayden Foxx as Tiffany and Chucky in 1998 film 'Bride of Chucky' (PA Real Life/Collect)
Neil Rushton, 38, a carpenter and set designer, and Elcin Kirca, 36, a tattoo artist, of Shepherds Bush, west London, took on the roles of Lady and The Tramp from the 1955 Disney film and Jack and Wendy from the 1980 film The Shining.
Neil said:
"For 'Lady and the Tramp', we thought if we tried to match the color palette that would work. It was the little details, I spent quite a lot of time arranging the spaghetti on the plate!"
"With 'The Shining', we were thinking we did not want to break a door in the house, but we did have a sash window in the bathroom, which had a similar look, so I stuck my head through the slightly open window. The axe is a Lego axe which we blew up. We didn't want it to be too serious and I was definitely not going to go out and buy an axe! Elcin then spent a good few hours digitally enhancing to get the finished images."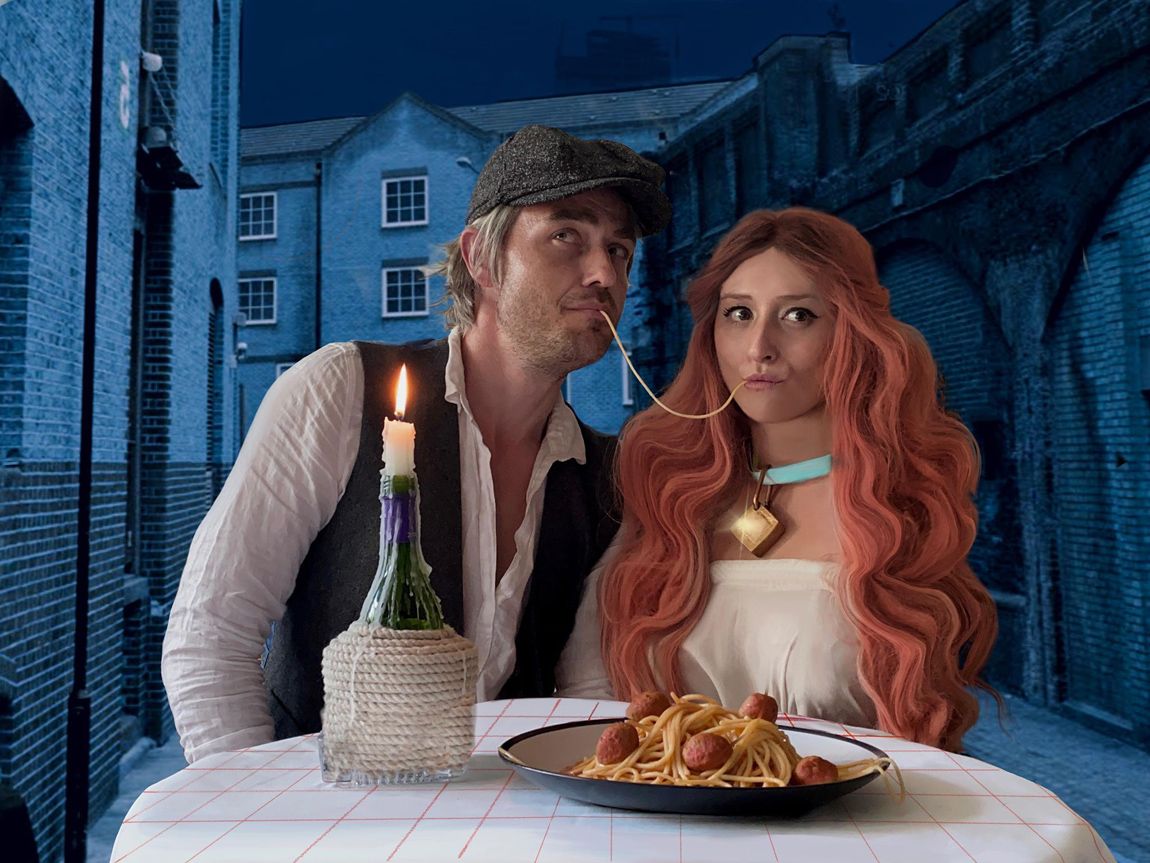 Neil Rushton and Elcin Kirca as Lady and The Tramp (PA Real Life/Collect)
Jane Goldsmith, 34, photographer and burlesque performer known as Dee Monique, of Chelmsford, Essex, played Sally Bowles from the 1972 film Cabaret.
"I decided to set a time limit of an hour so I could give it my full concentration. It was like a meditative experience. I was thinking of nothing else and it helped me to focus and take my mind off lockdown."
"I have a drag act so have a lot of theatrical costumes and make my own clothes, so the Sally Bowles costume was something I pulled out of the bag."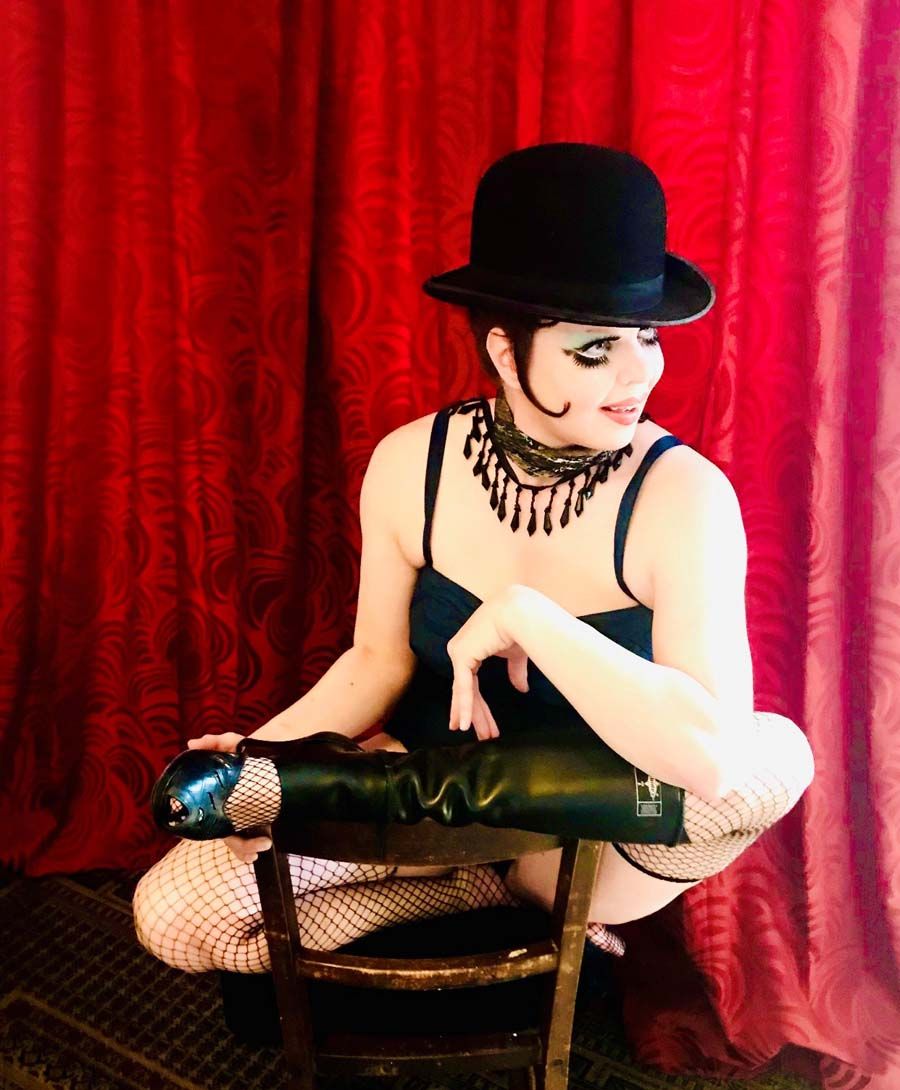 Jane Goldsmith as Sally Bowles from 'Cabaret' (PA Real Life/Collect)
Maria Der, 25, a designer, from south east London, played Bridget Jones from the 2001 film Bridget Jones's Diary, and Mary from 1998 film There's Something About Mary.
"I was trying to define the 'great British night out'. It's something that ties the moment in the movie to reality – a pint and a fag!" she said.
"In these very strange times I think this has helped keep my sanity level normal."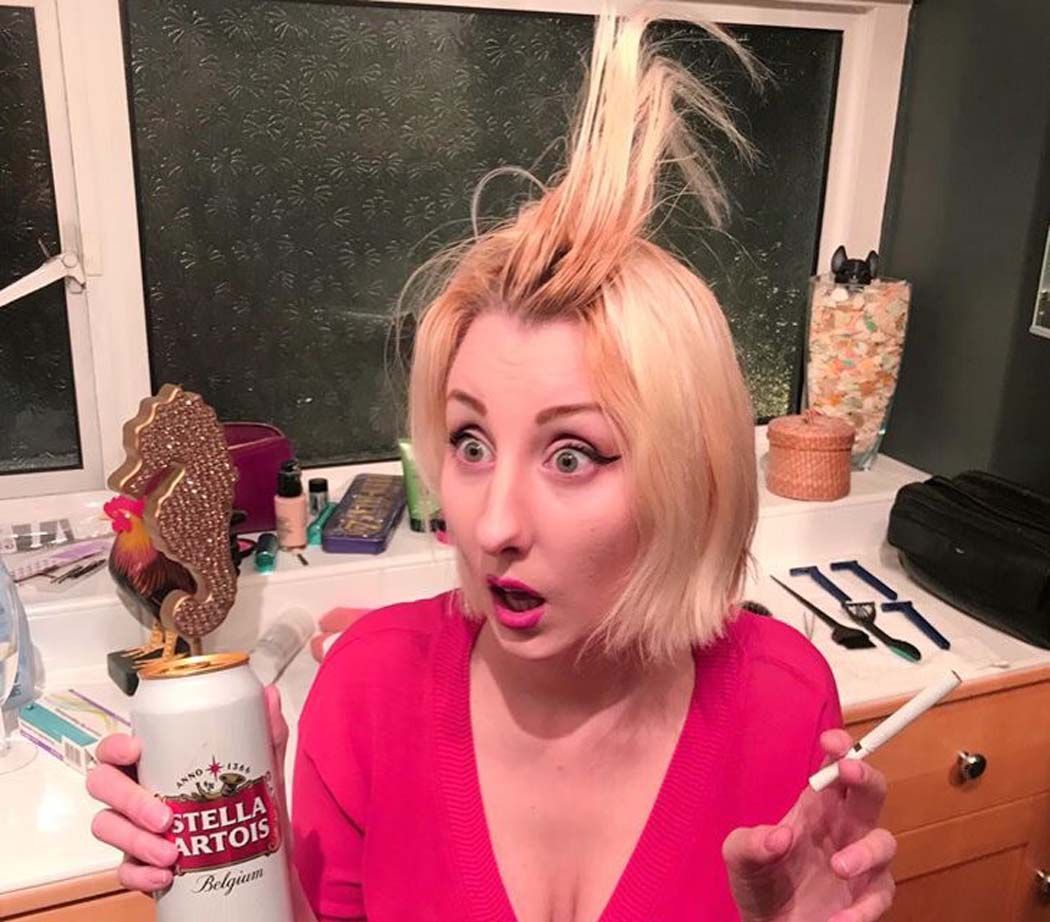 Maria Der plays Mary in 1998 film 'There's Something About Mary' (PA Real Life/Collect)
Kate Lomax, 34, an artist from east London, plays Morticia Addams from 1991 film The Addams Family.
"I'm a fan of Anjelica Houston, I think she is so glamorous and has so much poise, and she's beautiful in a unique way," she said.
"I don't have any teacup sets at home, so I had to make one from cardboard and paint it. The hardest thing was trying to get everything in the right position, trying to do it in the reverse of the image. That took a bit of time."
"It's a bit of escapism from the current situation. "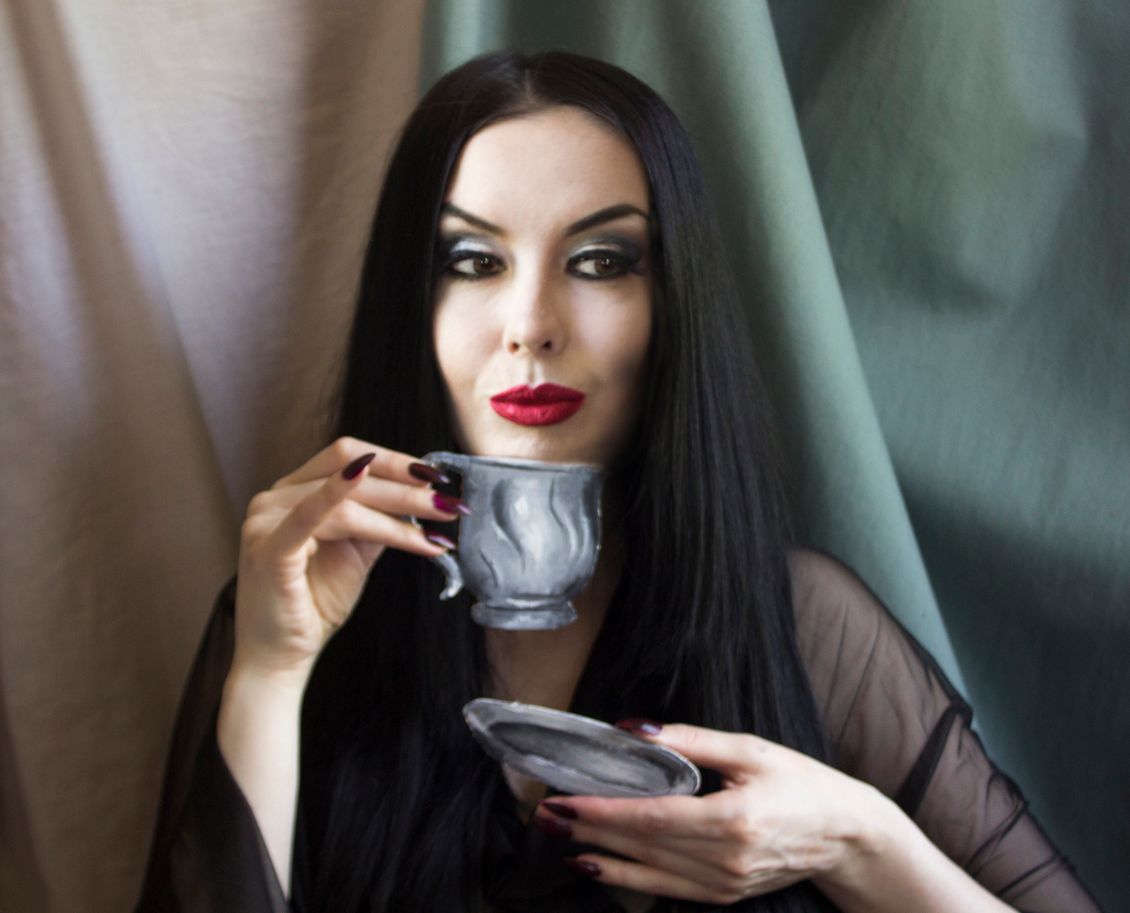 Kate Lomax as Morticia Adams from the 1991 film 'The Addams Family' (PA Real Life/Collect)
Aimee Gibson, 25, a trainee primary school teacher, of Cambridge, played Holly Golightly from the 1961 film Breakfast at Tiffany's.
"I enjoyed the challenge of finding the props and working out what I could use. The pure joy was in trying to make something out of nothing," she said.
"I found some rubber gloves at home, which happened to be black. For the necklace I threaded some grapes on a piece of string, I used a paint brush as a cigarette holder and tin foil for the hair accessory. My neighbor gave me some flowers and I put some fairy lights in the background."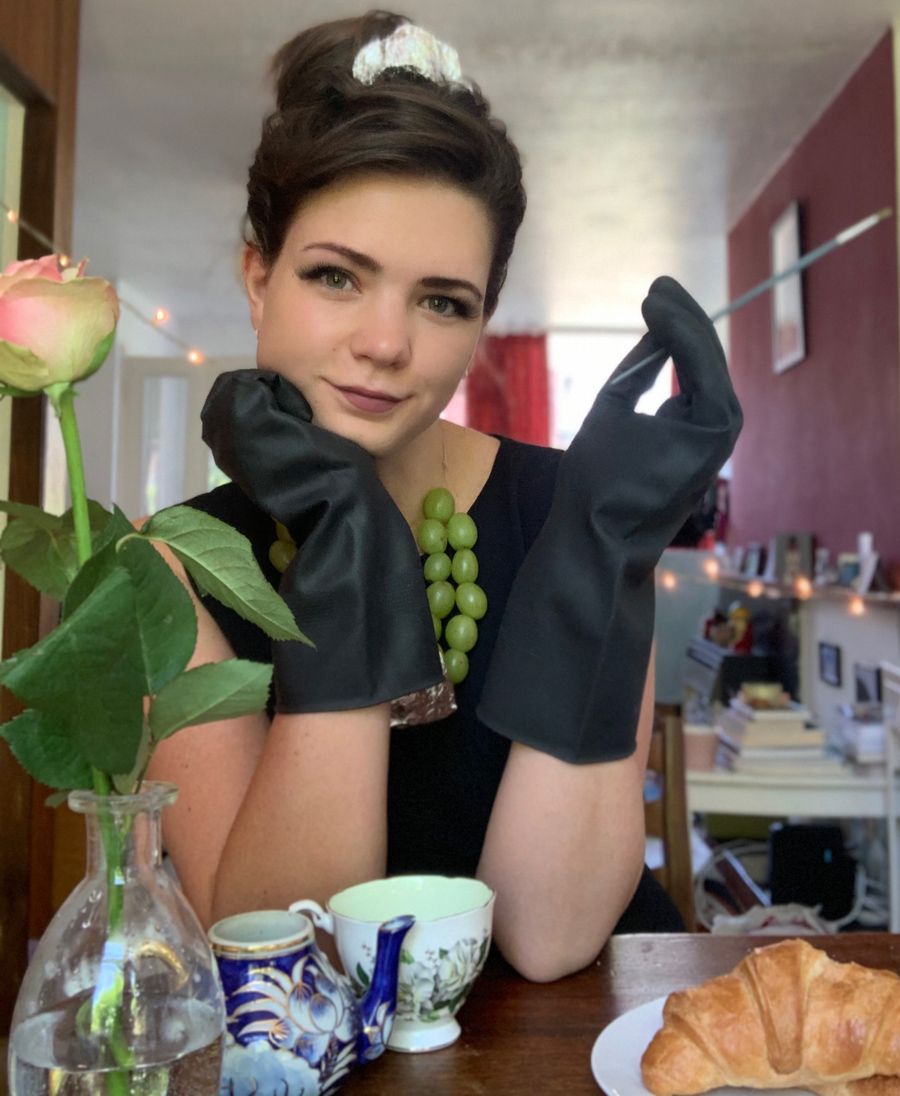 Aimee Gibson as Holly Golightly from 1961 film 'Breakfast at Tiffany's' (PA Real Life/Collect)
Amy Hawes, 38, a massage therapist, and Jacob Kamper, 31, a personal trainer, of Blackheath, south east London, played Dracula and Mina Haker from the 1931 film Dracula. Amy also played It from the 2017 movie It.
Amy explained:
"With Dracula, all my bedclothes are black, so I used those as the cape."
"Somebody had given me this granny nightie because I like creating fun costumes, so Jacob wore that. We decided to switch gender roles, and he really enjoyed playing the damsel in distress. We had so much fun with it."
"I used to be a face painter so for 'It', I already had everything. My hair is usually red, but I let it fade through and used glue on my hairline so I could paint the make up right up. There's a tutu and kitchen curtains around my neck."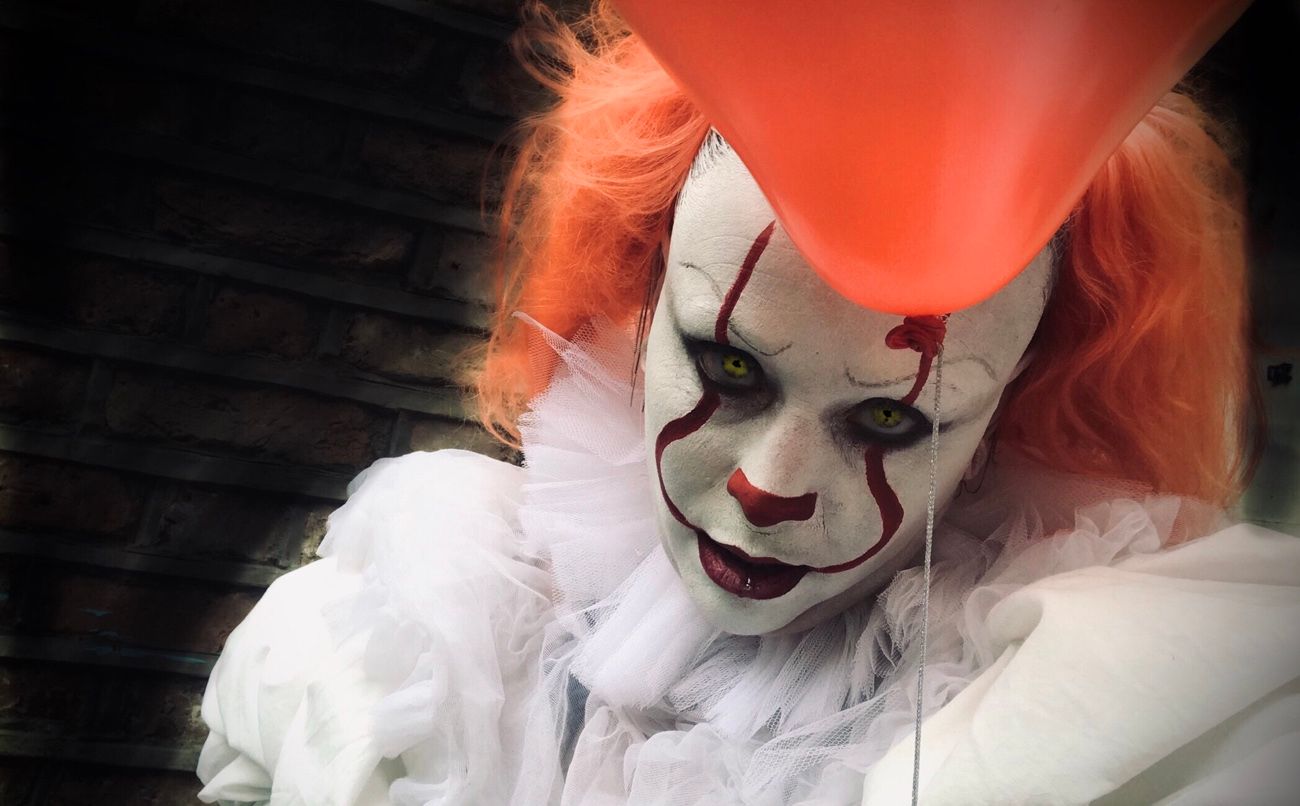 Amy Hawes as IT from the 2017 film (PA Real Life/Collect)
Beatrix Carlotta, 34, theatre producer and performer, of Newham, east London played Cleopatra and the Elephant Man.
She said:
"With the Elephant Man, I decided to do a half mask as a Phantom of the Opera reference. I used papier-mâché, toilet roll, plastic, all sorts, until I made a sculpture."
"For Cleopatra, I used costumes I'd made, which I decorated to make as glam and ornate as the image from the film."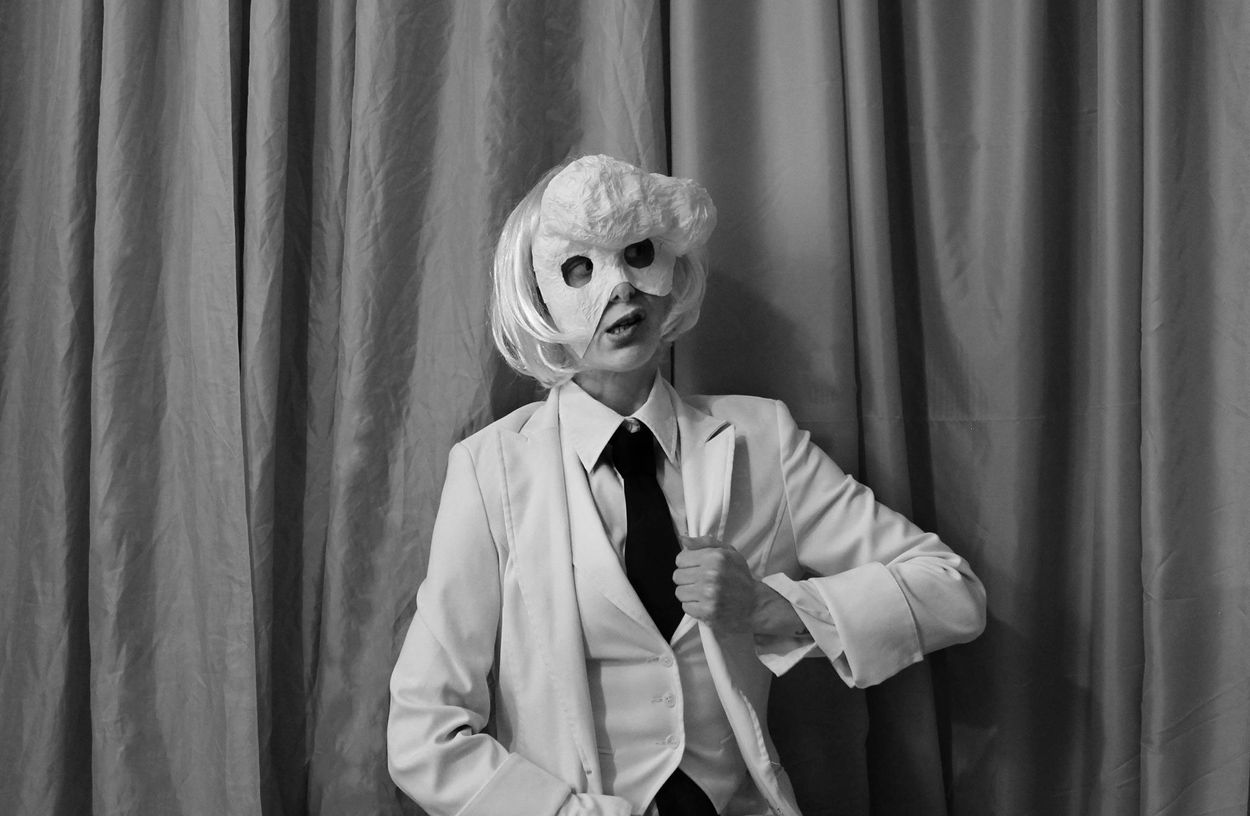 Beatrix Carlotta as John Merrick from 1980 film 'The Elephant Man' (PA Real Life/Collect)
K Anthony, 51, a photographer of Vauxhall, south west London, played Blofeld from the 1967 James Bond film You Only Live Twice.
"I was running around the house trying to find something cat-like. They're often in my garden so I did think about trying to grab one!" they said.
"That didn't work so I decided to make it a parody and use a rocking horse instead. Like most, I do not have a gun at home so used a drill."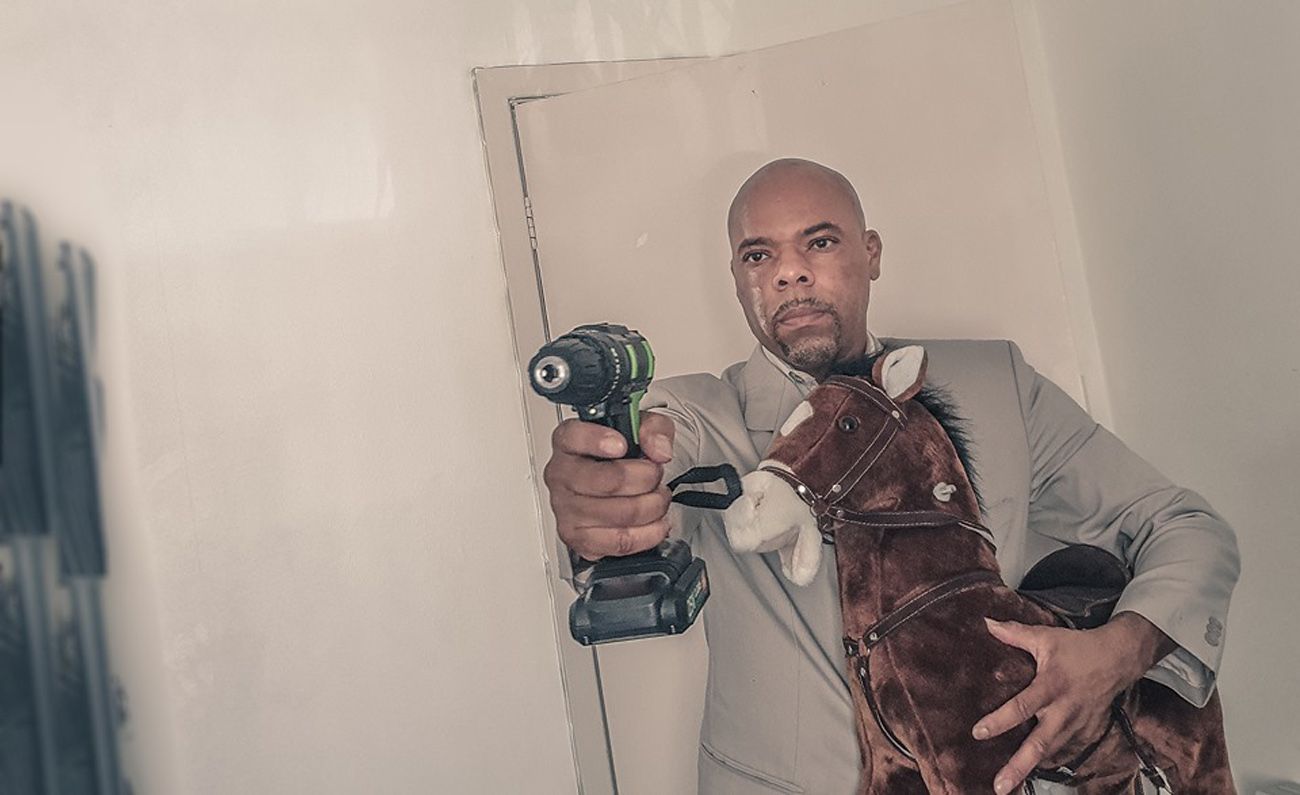 K. Anthony as Blofeld from the 1967 film (PA Real Life/Collect)
Amy Statik, 33, costume designer and performer, of Tottenham, north London, played Barbarella from the 1968 film of the same name.
She said:
"I made the top out of left over packaging from a wine order, which I Sellotaped together. Then I used throws from my sofa for the backdrop, wore a swimming costume, and curled my hair."
"I have an act called 'Strippers in Space', so the water pistol had already been adapted for that."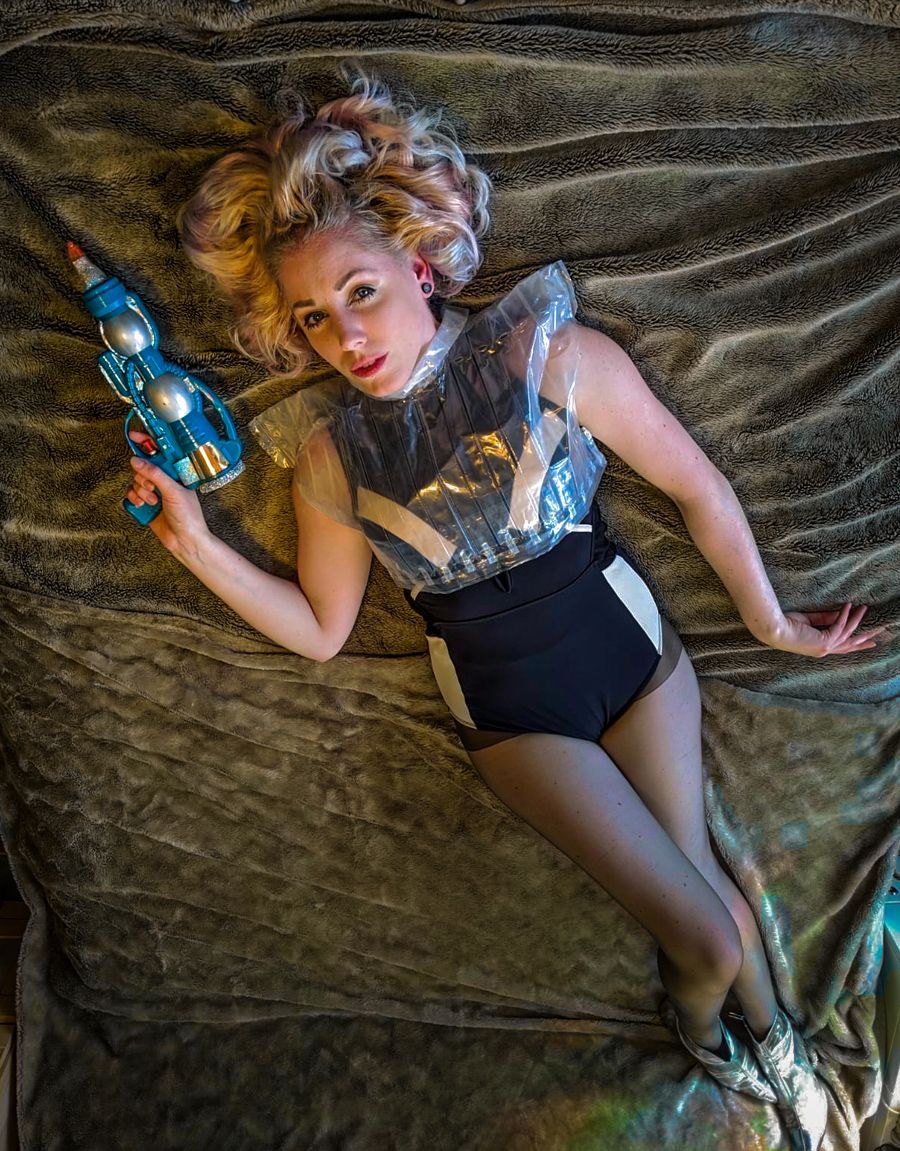 Amy Statik plays Barbarella in 1968 film 'Barbarella' (PA Real Life/Collect)
Molly Beth Morossa, 32, writer and cabaret performer from Upminster, Essex, played Pale Man in Pan's Labyrinth and Alex from A Clockwork Orange.
"A lot of people think of cabaret as being quite affluent, with expensive costumes and make up, but this was a really 'back to grass roots thing,' using whatever you can find around the house. I really loved that almost Blue Peter childhood playtime thing," she said.
"Pan's Labyrinth is one of my favorite films, so the Pale Man was a great one to do. I made the fingers out of painted masking tape, the eyes are made from metal tea light candles and the face is a piece of white fabric which I also used to make the trousers in the Clockwork Orange image."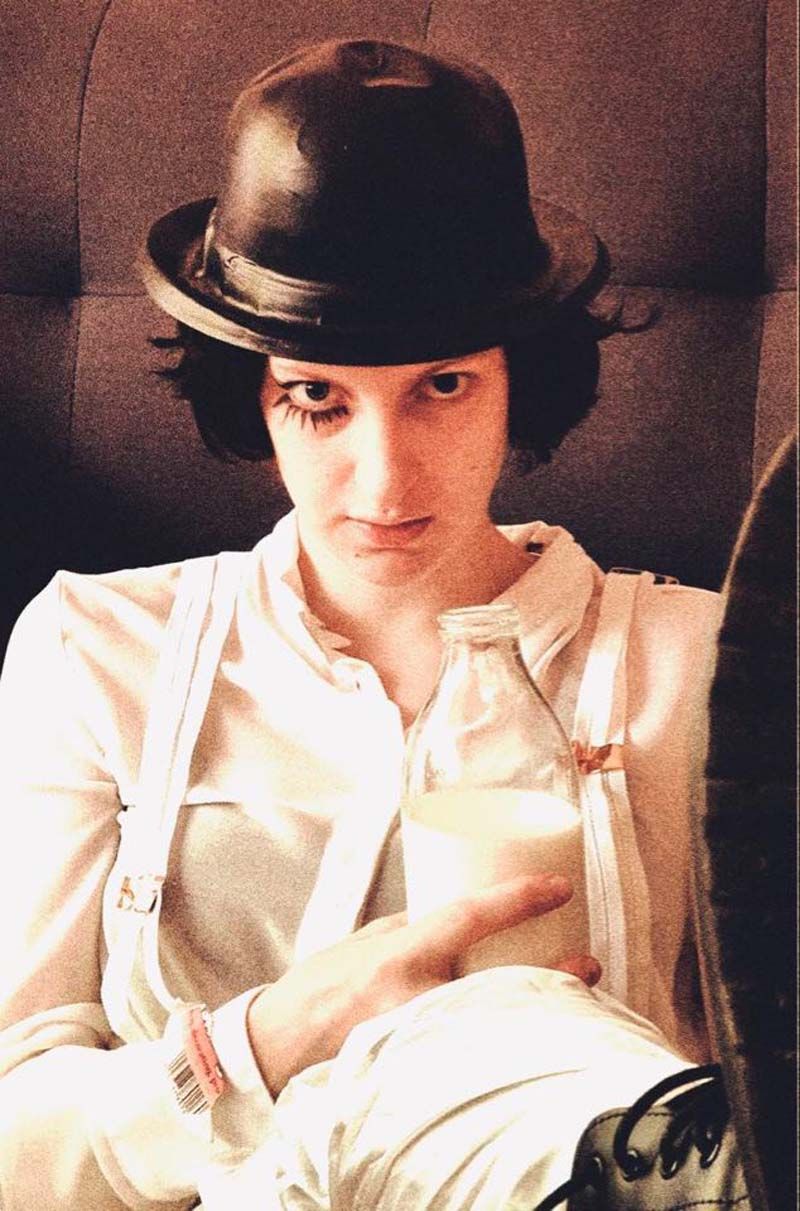 Molly Beth Morossa as Alex in the 1971 film 'A Clockwork Orange' (PA Real Life/Collect)
"One of my drag acts is Moloko Jones, so that fitted with the cocktail in A Clockwork Orange. Being a massive goth, I didn't have any white clothes so had to borrow a blouse from my mum. I used cotton hemming tape for the braces and old Twix wrappers. My cabaret act is big and camp and dramatic so I went for that with the make-up."
"I'm quite a chirpy person so getting Alex's glower was quite hard."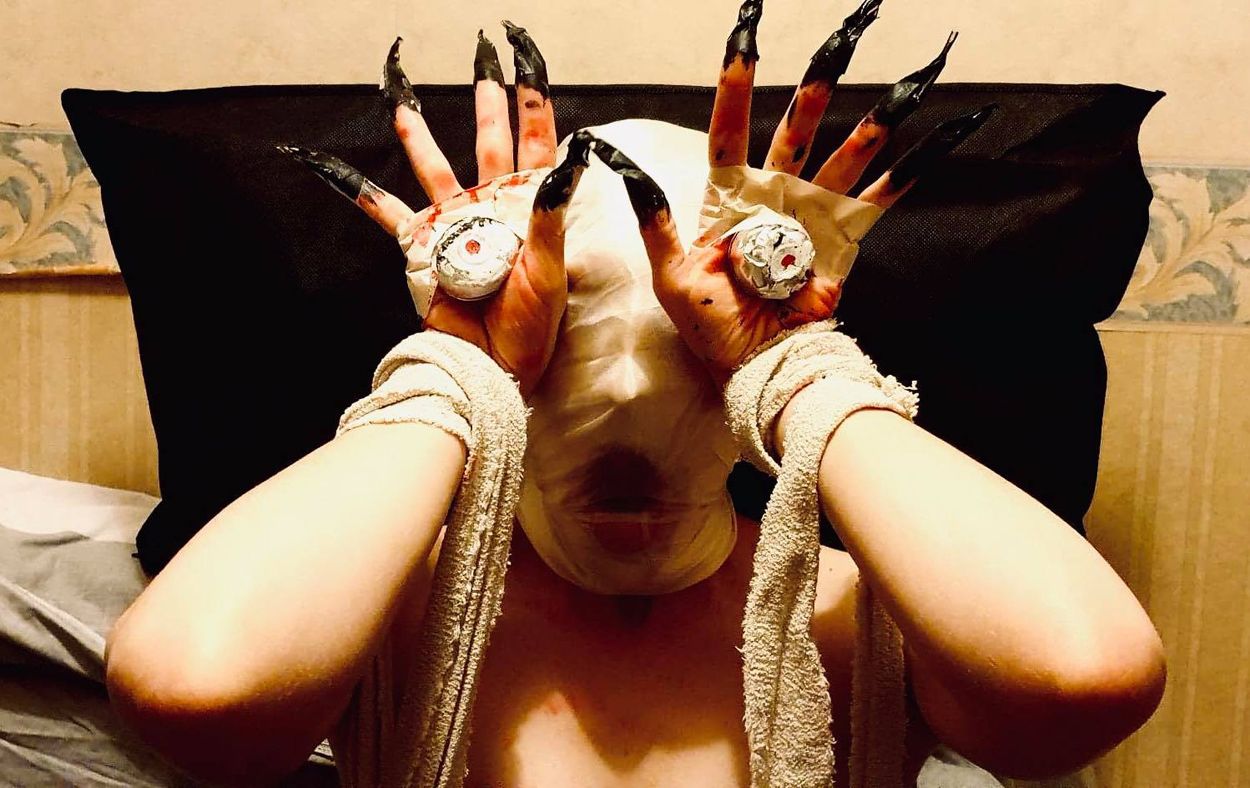 Molly Beth Morossa as Pale Man from 2006 movie 'Pan's Labyrinth' (PA Real Life/Collect)
Gordon Marquez Castro, 35, a juggling performer, of Chipping Norton, Oxfordshire, played Immortan Joe from 2015 film Mad Max: Fury Road.
He said:
"It's not like you can go out to the shops and buy props so you have to put some thought into it. The mask I made out of a menu and painted it black and glued on some bits. The steering wheel is made out of really thick wire which I rolled up and bandaged and the shoulder pads – one is made out of an old salad bowl and the other a horse-riding helmet."
"I used an abandoned lorry and filled it with pipes to get the background."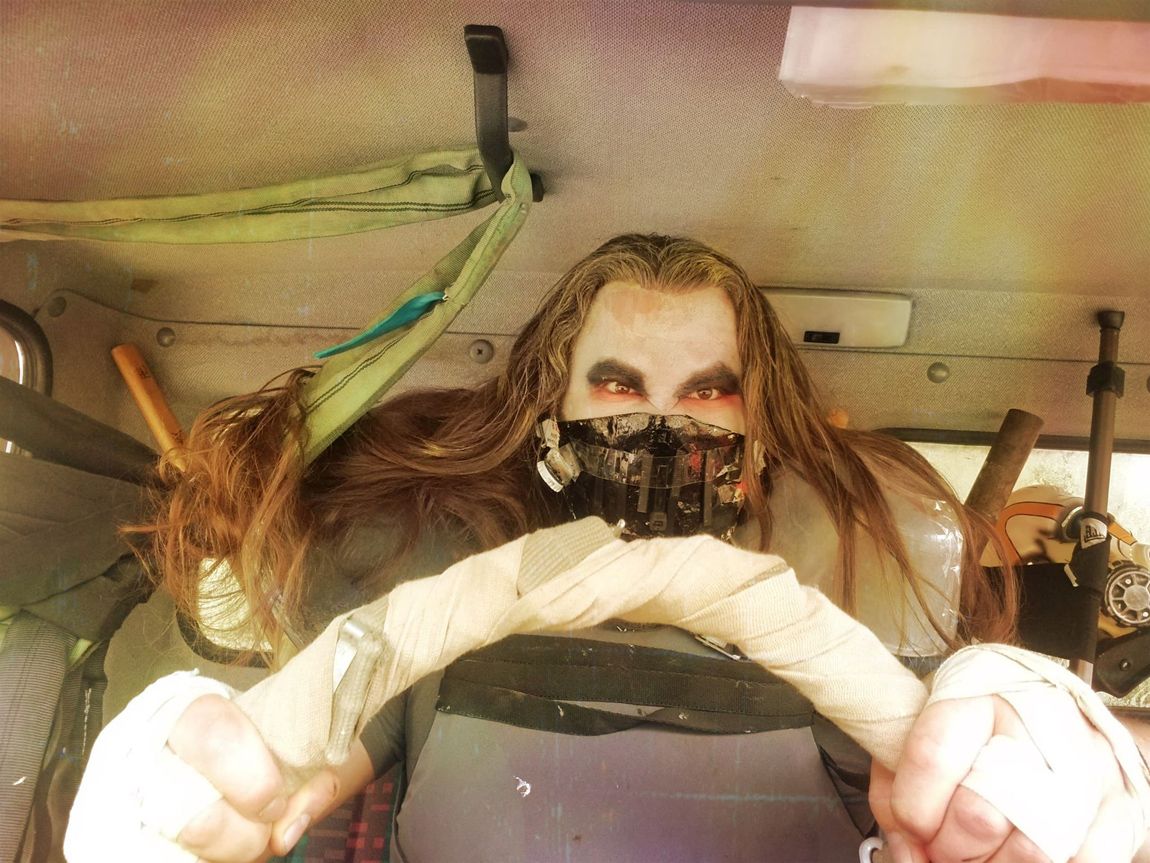 Gordon Marquez as Immortant Joe from 2015 film 'Mad Max: Fury Road' (PA Real Life/Collect)
Alyssa Henley, 47, an IT worker of Reading, Berkshire, took on the role of Mia Wallace from 1994 film Pulp Fiction.
"I love that movie. I have a black wig already and had to find the right shoes. Obviously I don't have a gun so had to make do with a hand drill!" she said.
"My friend took the pictures. We took a bunch of shots to get the right one."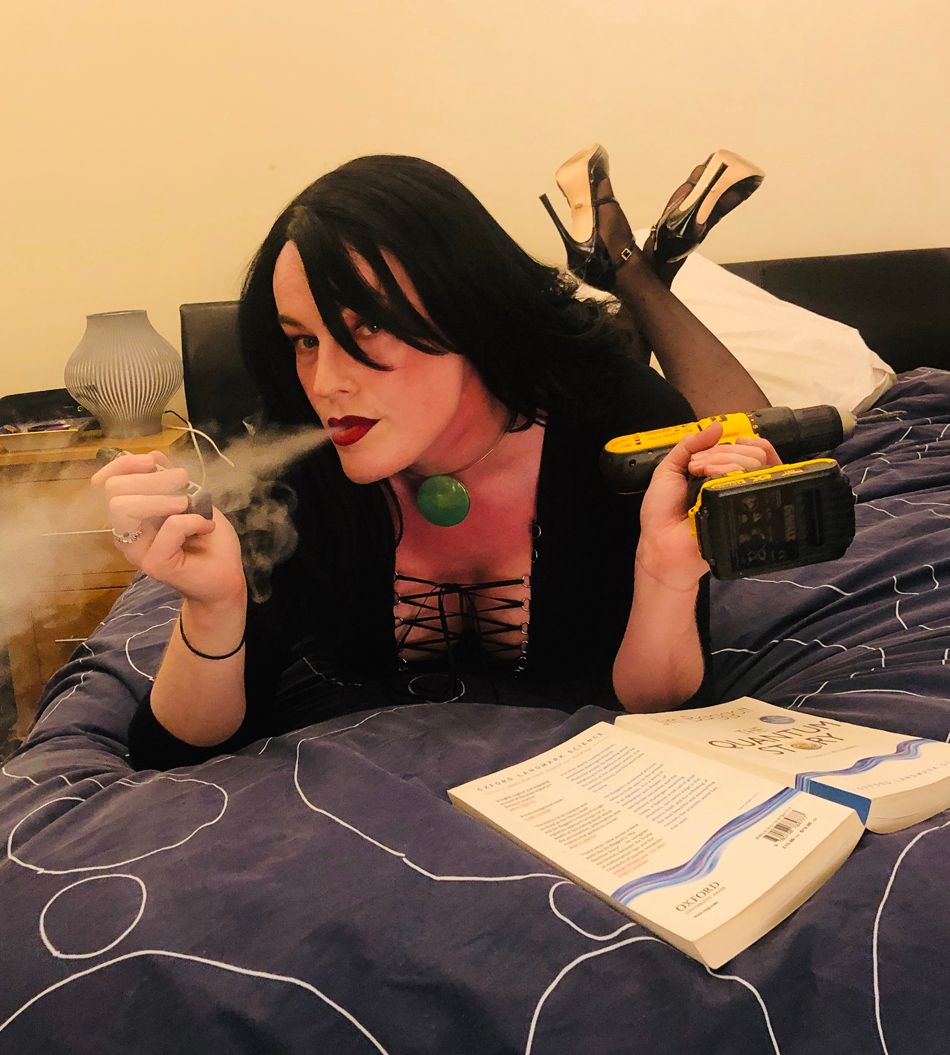 Alyssa Henley as Mia Wallace from 1994 film 'Pulp Fiction' (PA Real Life/Collect)