Hurricane Walaka, a category 3 storm which struck many islands in the Pacific in early October, not only caused huge amounts of damage to human settlements, but also left its mark on the Earth itself. East Island, "second-largest islet in French Frigate Shoals," seems to have been completely wiped off the map by the hurricane, causing irreparable harm to the local ecosystem.
---
East Island was located 550 miles north of Honolulu, and was relatively small compared to Hawaii's big islands: it measured only a half mile in length and 400 feet across. However, scientists believe the island was of critical importance to several endangered species, including the "Hawaiian monk seal, the threatened Hawaiian green sea turtle and several species of seabirds," many of whom use it as a breeding ground.
1 EastIslandFlyBy, Drone Pilot Kristian McDonald, University of Hawai'i at Mānoayoutu.be
The disappearance of the island was first reported by the Honolulu Civil Beat, and satellite images from the U.S. Fish and Wildlife Service later confirmed that the remnants of the island had been scattered across a nearby reef, presumably by Walaka.
Hurricane Walaka, one of the most powerful Pacific storms ever recorded, has erased East Island, which is part of F… https://t.co/pbGoKPCVJh

— Honolulu Civil Beat (@Honolulu Civil Beat) 1540311586.0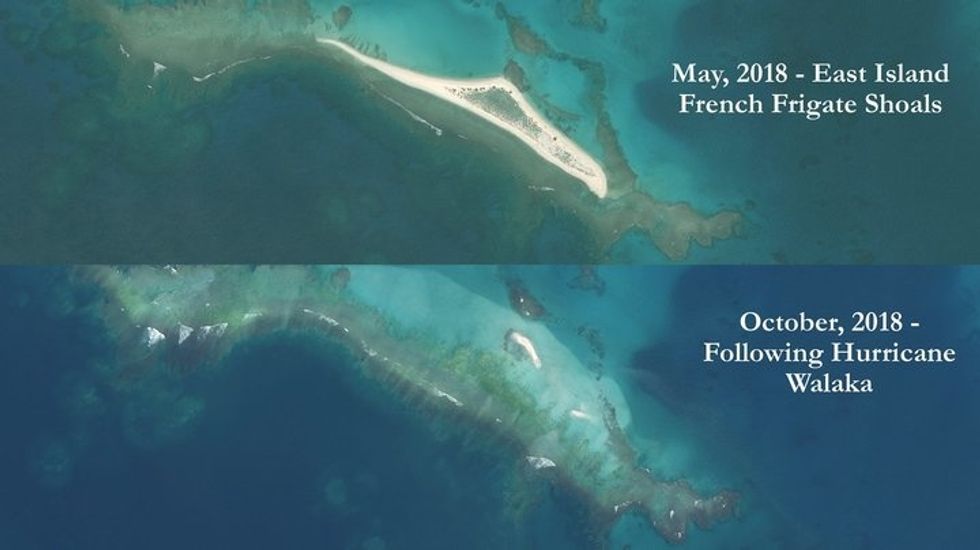 CHIP FLETCHER/FACEBOOK/HUFFPOST
Researchers are fearful of the impact the island's loss will have on local species and their ecosystems, the full scope of which might not be known for many years. Charles Littnan, the director of the National Oceanic and Atmospheric Administration's protected species division, commented to Huffpost that loss of habitat due to events such as Walaka is a "persistent threat" to endangered species—one that's only becoming more prominent due to the effects of climate change:
These small, sandy islets are going to really struggle to persist...This event is confronting us with what the future could look like.
@CivilBeat @NathanEagle Wow. It just blew away. 😳

— Jackie (@Jackie) 1540339412.0
96% of Hawaiian green sea turtles reportedly nest in the French Frigate Shoals, with roughly half of them laying their eggs on East Island. Though all adult turtles had left the area by the time the storm hit, scientists estimate "19 percent of this year's nests on East Island had not yet hatched and were swept away by the storm." Hawaii monk seals, "one of the most endangered marine mammals on the planet," formerly gave birth to nearly 30% of their pups on East Island.
We're going to see a lot of these stories in the years ahead, and every one will be so sad https://t.co/rb3buPR3rn

— Bill McKibben (@Bill McKibben) 1540325238.0
And, sadly, East Island isn't the only islet which has been lost in recent memory. Trig Island, formerly located nearby and also the nesting place for many monk seals and green turtles, was destroyed earlier this year...not by a storm, but by "high wave activity."
This is wild. A small island in Hawaii is legit gone, drowned by "the bad luck of a hurricane going into that vicin… https://t.co/gv6ZlYuZuP

— Emily AAAAH-tkin 👻 (@Emily AAAAH-tkin 👻) 1540312616.0
Chip Fletcher, an associate dean at the University of Hawaii's School of Ocean and Earth Science and Technology, wasn't surprised by this loss of habitat considering scientist's repeated warnings to the world about climate change:
This is not surprising when you consider the bad luck of a hurricane going into that vicinity and sea level rise already sort of deemed the stressor in the background for these ecosystems. The probability of occurrences like this goes up with climate change.
East Island is not the first land mass to succumb to the sea, nor will it be the last https://t.co/Sr5Mv3ZmSk

— Emily AAAAH-tkin 👻 (@Emily AAAAH-tkin 👻) 1540323095.0
The internet was pretty scared by how climate change could further affect our planet.
@HuffPost @brontyman So, we'll all be boating in the next few weeks, whether we like it or not?

— AlzCare Labs, Inc (@AlzCare Labs, Inc) 1540326419.0
Damn. The future is now. https://t.co/NMtysQCTcd

— Preeti Desai🌿 (@Preeti Desai🌿) 1540316773.0
Climate change is real and here is one of the devastating effects. https://t.co/e7OZxkOCM1

— Mary Montgomery (@Mary Montgomery) 1540314461.0
Scientists agree: these happenings are but a small sample of what our planet could experience more and more frequently if the world fails to take action against climate change. The danger to life on earth is very real, and many species are already experiencing it first-hand, according to Fletcher:
We're going to have to look at really creative ways to help support these species to persist into the future.
H/T - Huffpost, Science Alert