A TikTok video went viral when @meganelizabeth1016 trolled her Tinder date after he told her to look "pretty" for him, going as far as to say what not to wear. So Megan decided to do exactly what he didn't want her to do.
In the viral TikTok with 1.6 million views, Megan said in text on the screen:
"When the guy I matched with on Tinder askes me out on a date to Panera but randomly messages me beforehand saying, 'Please look pretty and don't show up looking like a goth witch or something.'"
"'I don't like that.'"
The video shows her going from her normal everyday no-makeup look to the "goth witch" she was told not to look like, complete with dark eye shadow, bold eyebrows and black lipstick.
She continued with the caption:

"Uhhhh...??? What a strong thing to say... but what do you expect from tinder... right?"
"So, I decided to get ready and do the exact opposite of what he requested. Because I do what I want..."
"Good think I don't give a F if he thinks I'm pretty."
"I'll buy my own asiago cheese bagel and listen to slipknot in a booth by myself."
The video was so popular even the official Panera Bread and Tinder TikTok accounts commented.

@panerabread/TikTok

@tinder.TikTok
Of course, Megan gave us an update.

In that video we learned the date's name is Trevor. Megan texted Trevor to let him know she was at the Panera.
He responded:
"I literally just saw you walking by..."
"All girls are the same."
"I asked one thing... for you to look pretty and not dress like that. I'm not coming in and being out in public with you like that so embarrassing."
She replied coyly:
"I don't know what you're talking about."
Megan even showed up with her own glass of wine to toast herself.

Even though she clearly showed this Tinder date and the rest of TikTok that she wasn't messing around, Megan got a comment who agreed with Trevor.
In the video reply, we learned the Megan improvised this look last minute, using liquid eyeliner as lipstick.
And she still doesn't care if men think she looks pretty with or without makeup.
TikToker's commented their love for Megan's trolling and joined in on the fun.


@bethany__lee/TikTok

@rebeccajostuck/TikTok

@scaryluvx/TikTok

@panda43084/TikTok

@justheretochat/TikTok

@assassin_chia/TikTok

@ganjaliii/TikTok; @meganelizabeth1016/TikTok

@emilyrock23/TikTok

@bemerritt91/TikTok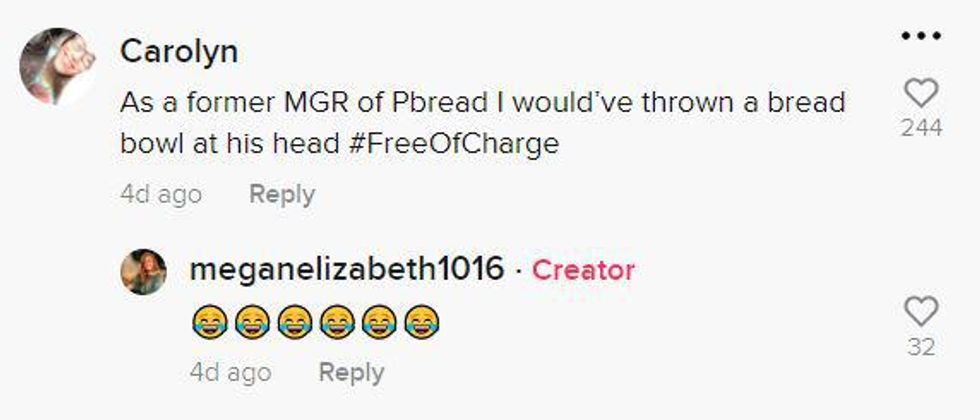 @auntie__carowin/TikTok; @meganelizabeth1016/TikTok
Seems like everyone had a good time with Megan's makeover except for Trevor.