A disabled artist who paints using her mouth as she cannot use her hands – selling her paintings for on average £400 (~$528) – hopes to brighten up mantlepieces all over Britain this festive season with her stunning Christmas cards.
Showing remarkable skill, Leanne, of Hull, East Yorkshire, England, sold a painting for £750 (~$990) when she was just 18 and now specializes in portraying wildlife and the natural world as a member of the Mouth and Foot Painting Artists (MFPA) partnership.
She said:
"I don't like being told I can't do things because of my disability. I'm like, 'Yes, there will be a way.'"
"Art is not more of a challenge for me because I'm disabled, it's a challenge for anybody and that's what makes it interesting."
"My main challenges are more to do with people's attitudes to disability."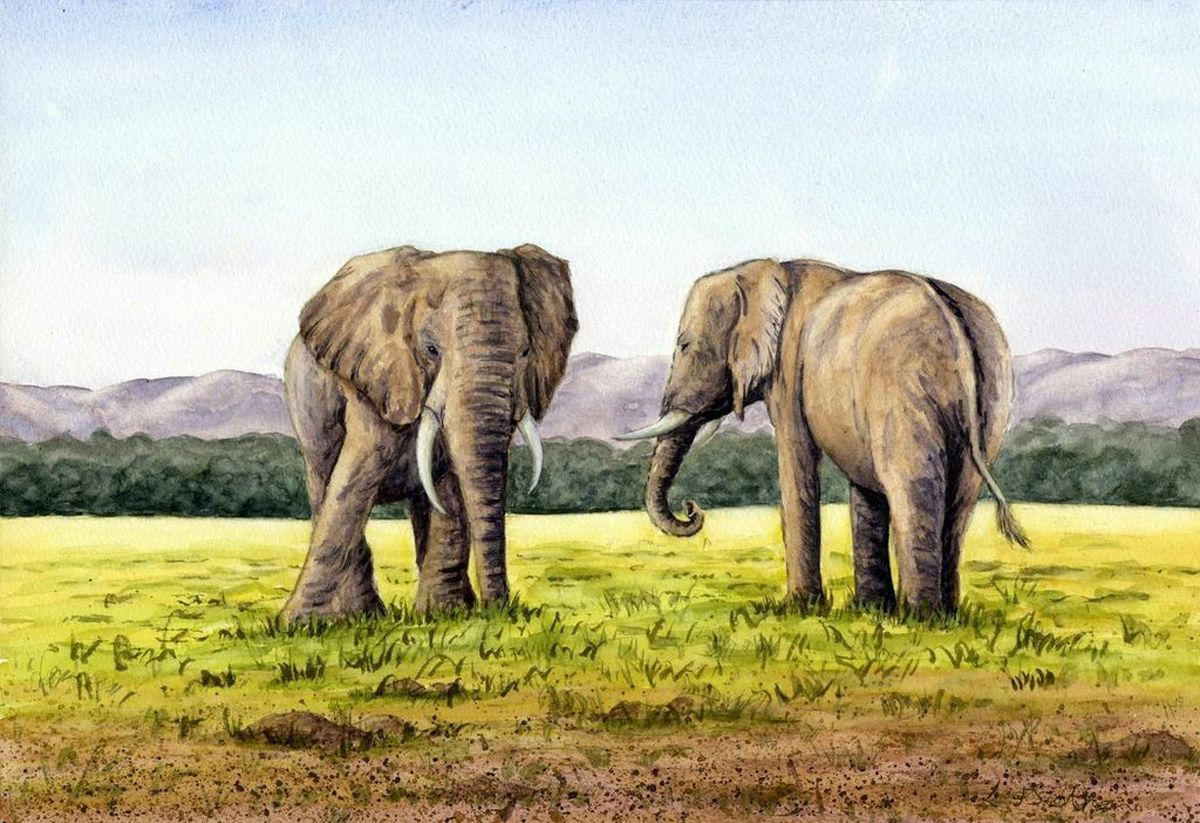 Leanne's painting of elephants which sold for £750
She continued:
"The world has improved a lot since I was a child, but there's still a stereotype that disabled people can't do things, that they are helpless or weak and we're not."
Leanne has certainly never allowed AMC – which, according to the Arthrogryposis Group, describes a condition causing multiple curved joints at birth due to a problem in the development of connective tissues surrounding them eight to 10 weeks into pregnancy – to hold her back.
Modesty prevents her from calling herself "talented," but she does agree she showed an "instinct for art" early on in life.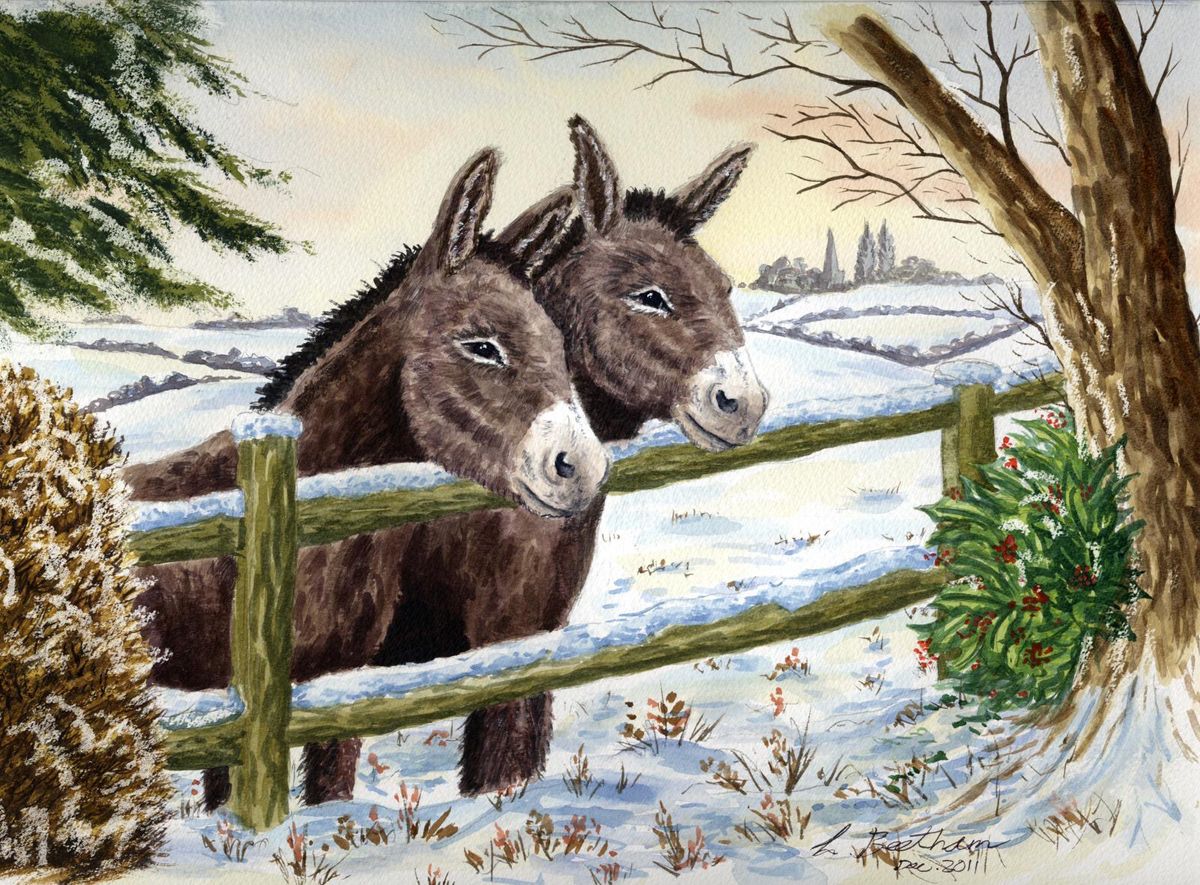 Leanne's Christmas card collection (PA Real Life and MFPA)
"I never really considered I was good at it, I just enjoyed doing it," she said.
"I've been doing it since I was three. My grandma Maureen said one day I asked for a magazine and pen and picked it up with my mouth and started drawing.
"My home is near a field, so I've always loved going off for adventures in nature and that's what I was drawn to with my art – so I grew up drawing animals."
Leanne explained:
"I think you are born with interests and it comes down to practice. It's a skill you have to refine and if you're interested you will get better at it. I put a lot of effort in, but I would not call myself talented."
Others clearly beg to differ as, in 2004, when Leanne was at school, she had some Christmas cards printed which were featured in the local newspaper and caught the attention of an artist with the MFPA.
She has worked with the organization ever since and is one of the artists whose original paintings they reproduce as unique greeting cards, calendars and other products, providing members with an income, which allows them to live independently.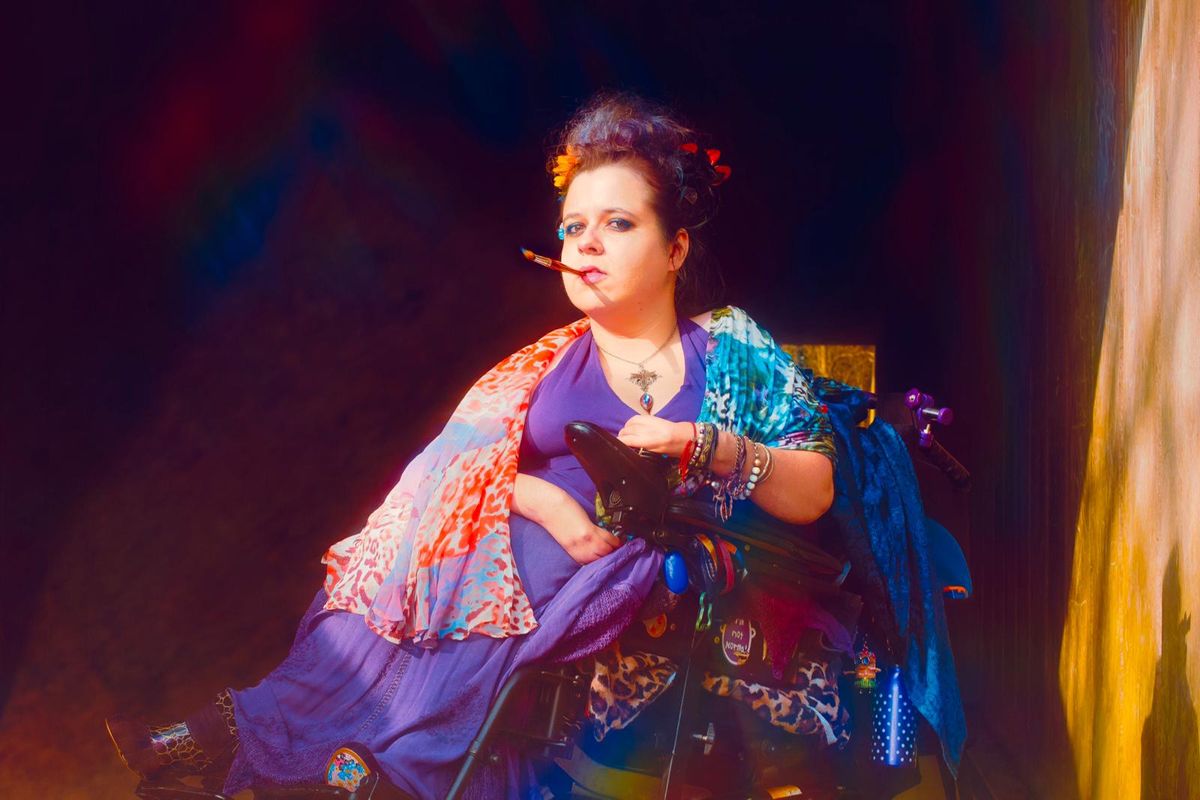 Leanne (PA Real Life and Joe Martin)
Leanne, who is single, said:
"As members of the MFPA, we also travel up and down the country a lot doing demonstrations and exhibitions and giving talks at schools."
"It's allowing me to do the thing I love most in the world and achieve financial independence too."
"I have complete artistic freedom, too, which is wonderful. I do not have to abandon my preferred style."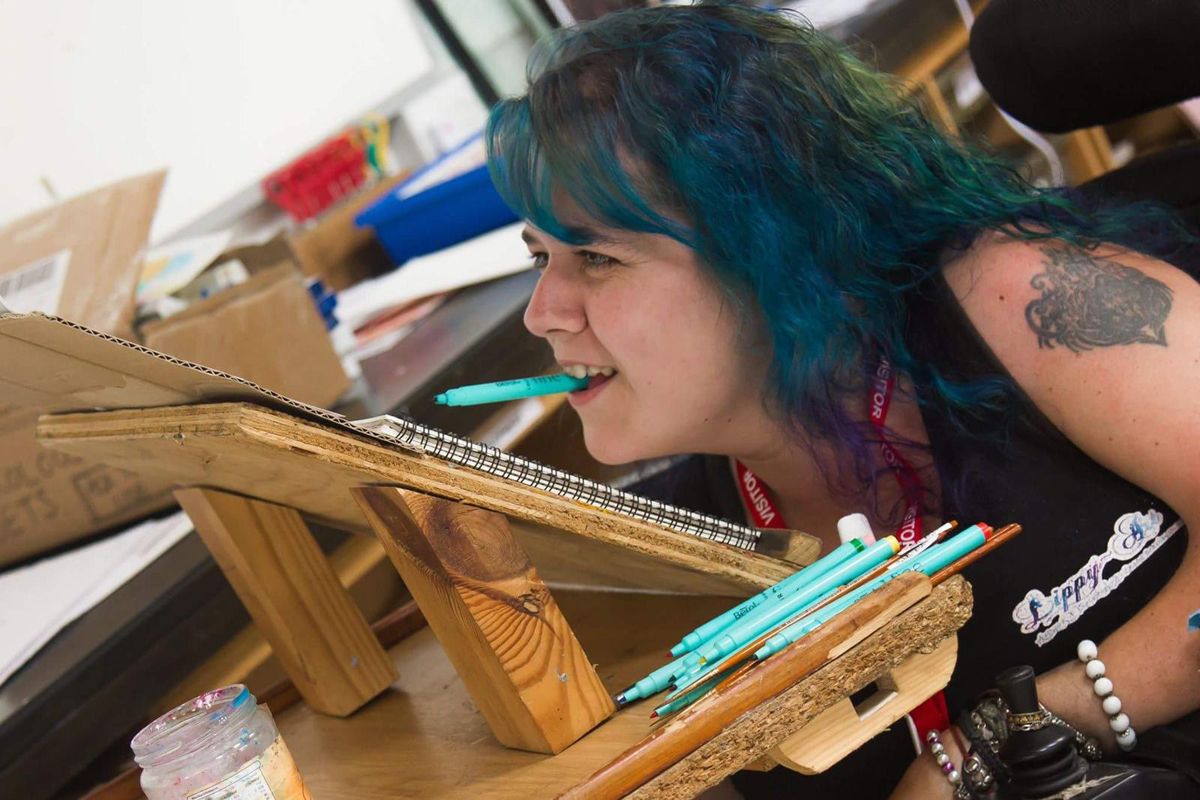 Leanne teaching drawing (PA Real Life and Daniel Marshall)
Leanne's first big sale came in 2006 when, aged 18, her watercolor painting of elephants sold at London auction house Christie's for £750, which she donated to David Shepherd Wildlife Foundation.
The same year, she exhibited three paintings at the Royal College of Arts – selling two to author Frederik Forsyth.
"I think that was one of my most satisfying moments," she recalled.
"I was at college at the time doing a levels and had a tutor who told me I wouldn't work as a real artist, but that same week I had to take time off to go to London for this exhibition," she added.
"It taught me that art is really subjective and just because one person doesn't like it, that doesn't mean someone else won't. Even with my own work, pieces I don't like really appeal to others."
Leanne, who got an A* in her GCSE Art and has taken a number of short courses, including children's book illustration, spends the majority of her day painting, describing it as an "obsession."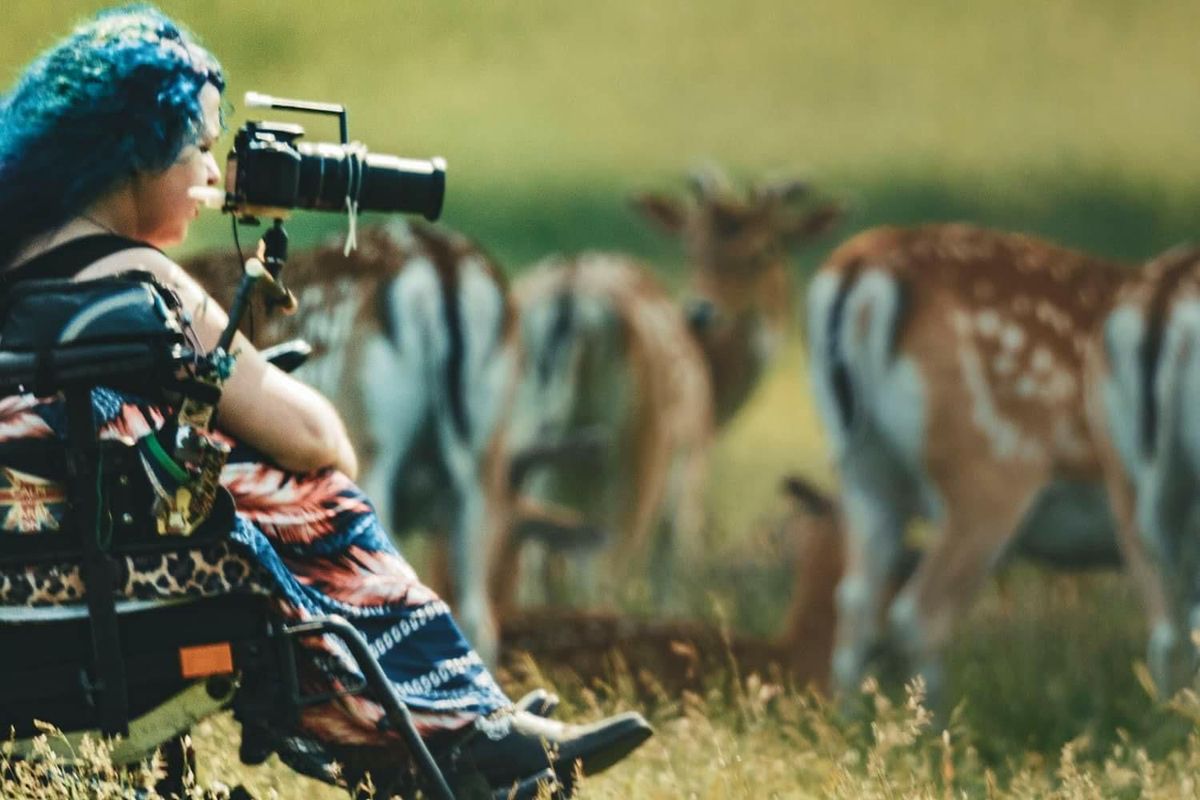 Leanne painting deer (PA Real Life and Joe Martin)
"It's something I need to do, like an urge, rather than a job. I have to put pen or paintbrush to paper and go for it," she said.
"Regardless of if I'm getting paid, I just have to do it."
"I switch the medium around to keep it interesting, My favorite is pencil, which is one of the first things I did and comes so easily to me."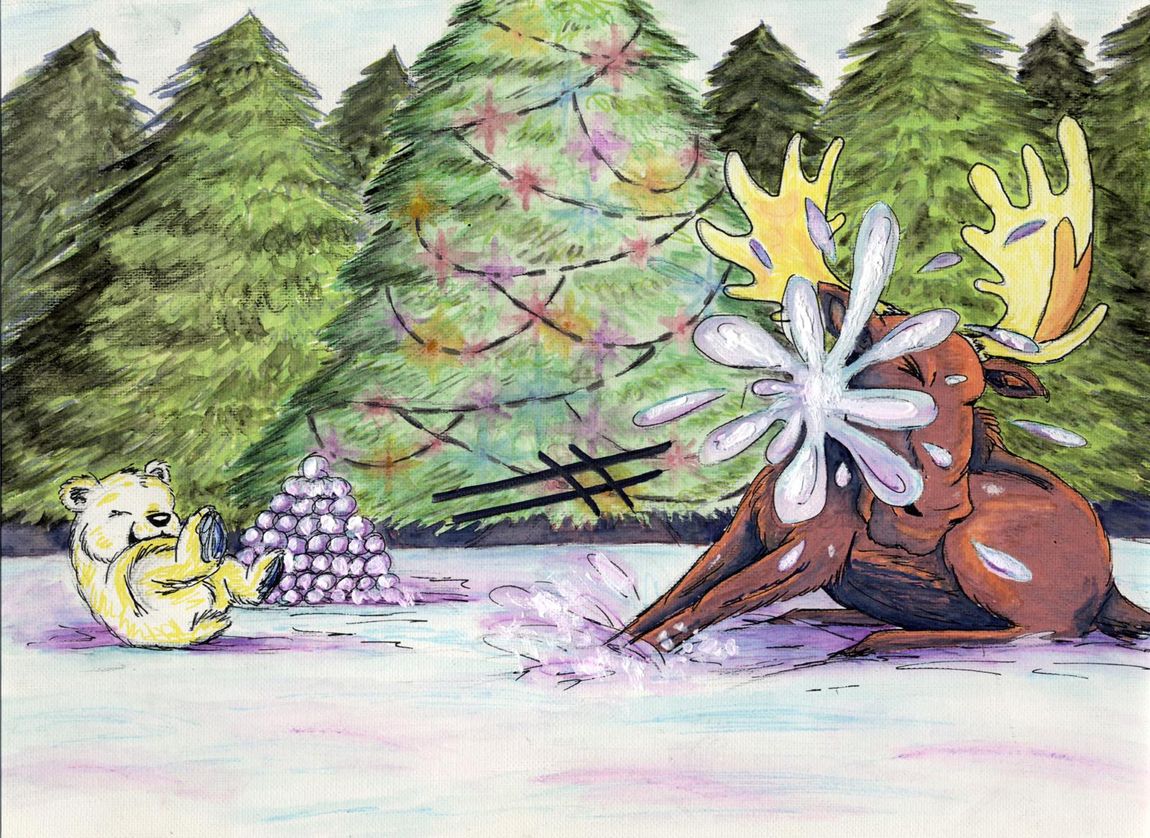 Leanne's Christmas card collection (PA Real Life and MFPA)
She said:
"I enjoy charcoal and watercolor too, but at the minute my obsession is experimenting with digital, which is new and different."
"The iPad is great as it's got some really good disability features and I can fix it to my wheelchair, allowing me to draw when I'm out and about."
"I will produce sketches like that, then come home, refine them and then paint them."
Also inspired by photography, Leanne had her SLR camera equipment specially adapted by charity REMAP, which custom makes equipment for disabled people, so she can use it with her mouth to take pictures which she will then paint from at home.
In 2009 she obtained a degree in Applied Animal Behavior and Training at Bishop Burton College in East Yorkshire, the first disabled person to graduate the course, which has also helped to hone her observational skills.
"It helped teach me how to observe and how to predict behavior and movement, which assisted with drawing and painting animals," said Leanne, who also worked with the college during her time there to improve access for disabled staff and students.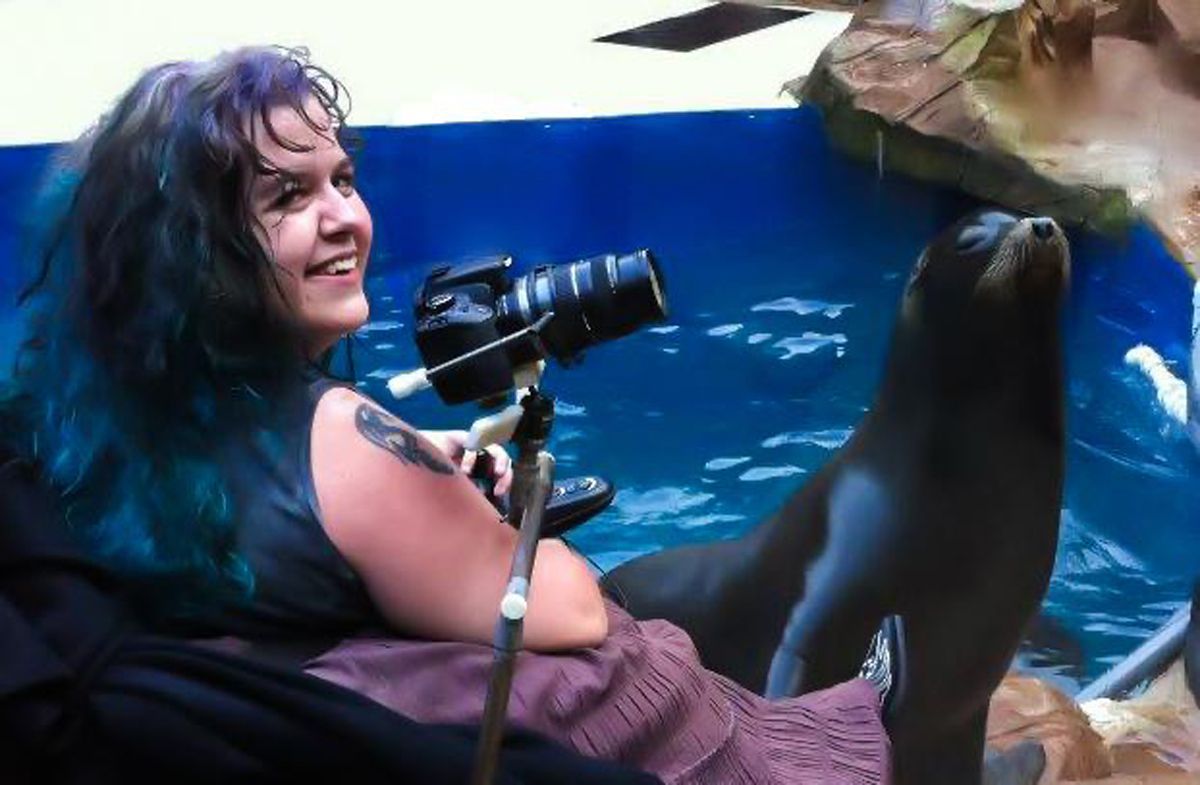 Leanne photographing a sealion (PA Real Life and MFPA)
"My degree has really helped me to understand my subjects and see things in context," she added.
With pandemic restrictions leaving her largely stuck indoors as she is in a vulnerable category, Leanne has been setting herself new challenges.
She said:
"It's interesting how you adapt. I've decided I'm going to redesign the NHS rainbow to an umbrella out of beads because the rainbow comes after the storm and the key workers are there during the storm. I've got thousands of beads everywhere!"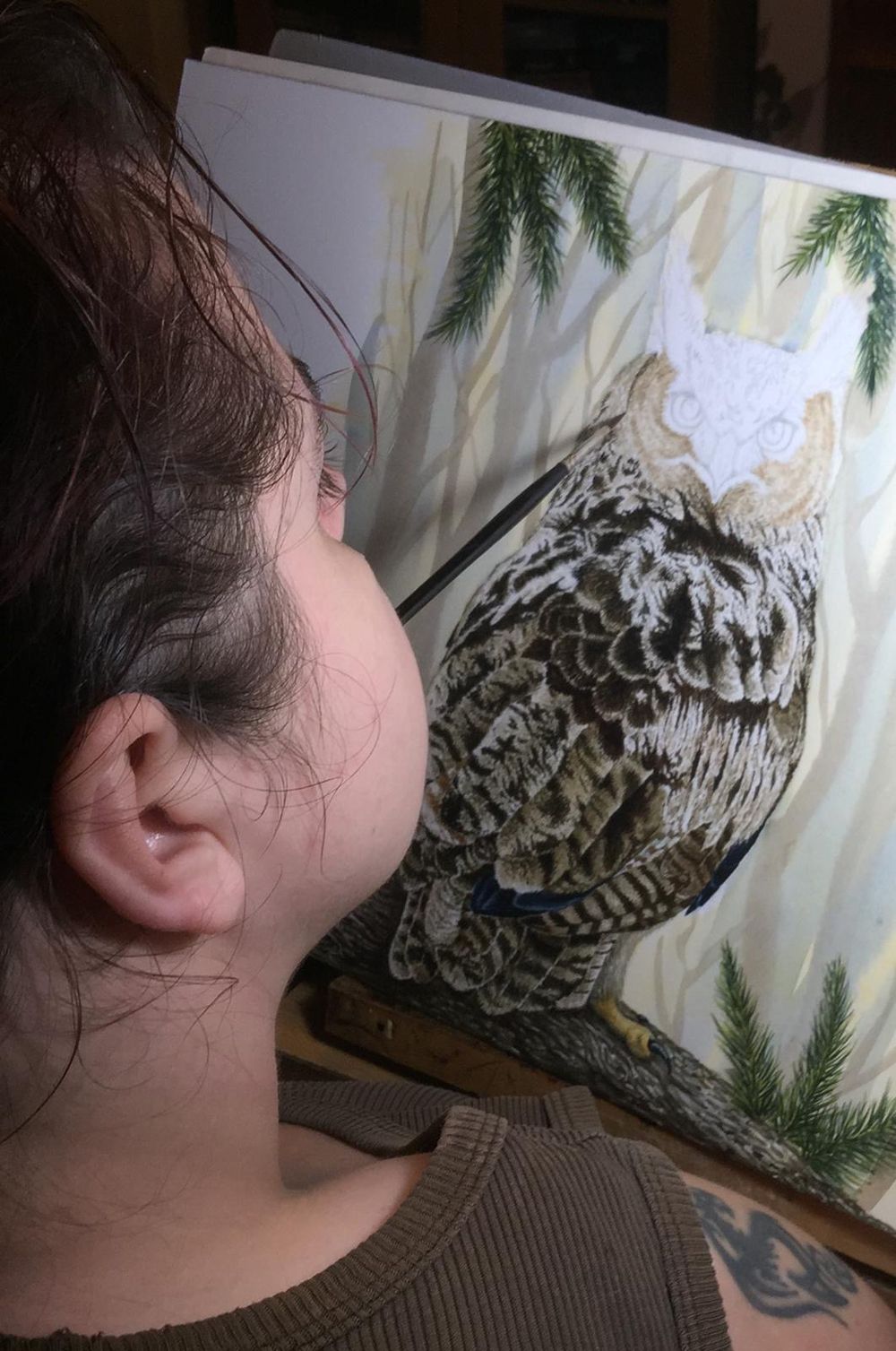 Leanne painting an owl (PA Real Life and MFPA)
Leanne said:
"I also did a live painting on YouTube this year. People were able to ask questions while I was painting, which was surreal, but I really enjoyed it."
Recently, her focus has been on preparing her pictures for the MFPA's Christmas card collection, which this year includes her paintings of robins, donkeys and penguins.
She said:
"The Christmas card collection is so popular, it's our bread and butter. The organization sells millions of them every year."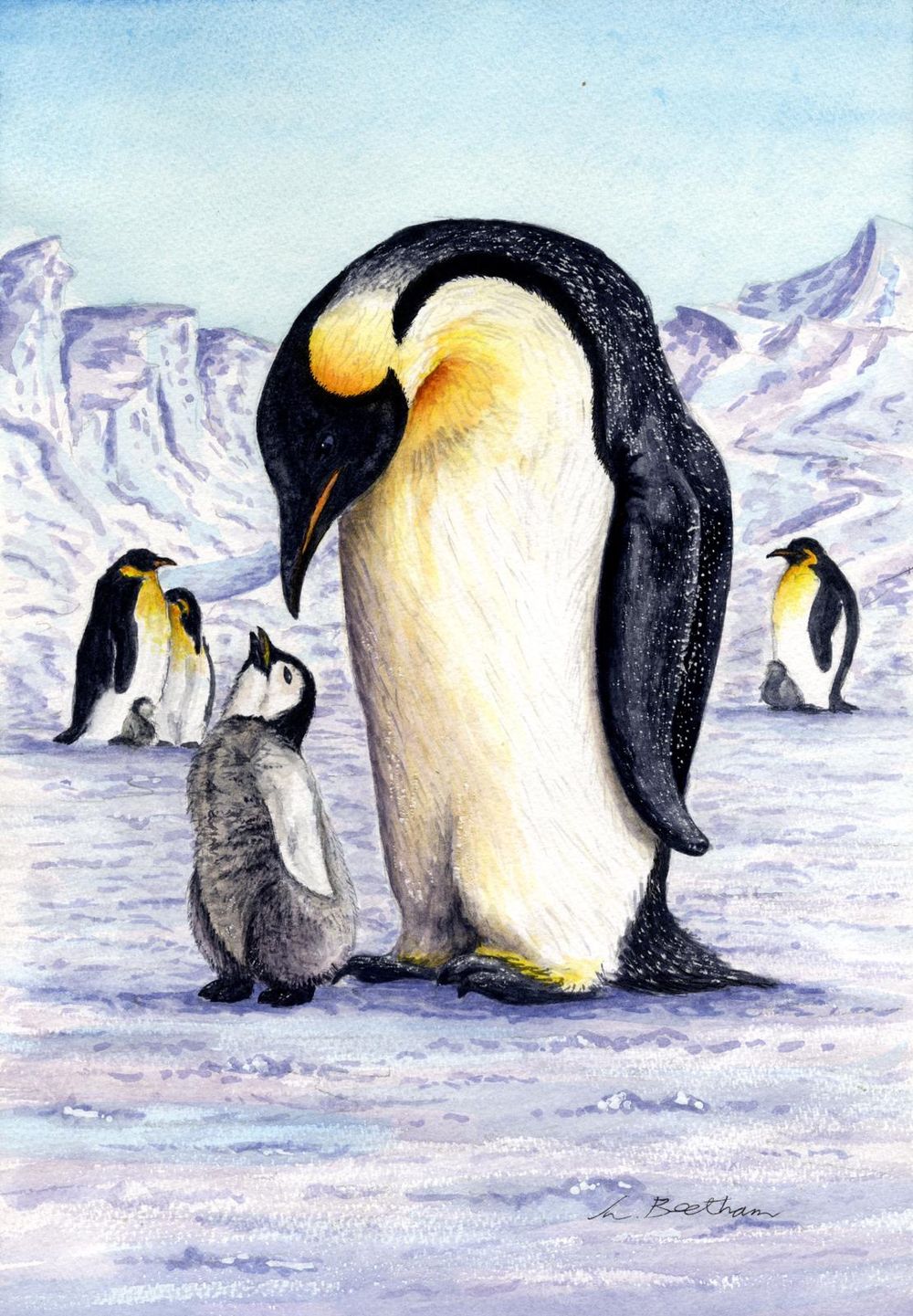 Leanne's Christmas card collection (PA Real Life and MFPA)
She continued:
"We did notice more sales of the spring cards at the start of the pandemic and expect it will be our busiest Christmas, because people are looking at heartfelt ways of reaching family and friends."
"If you haven't spoken to someone for a while and you receive a card your instinct is to call or message to say thank you. It's the human side to it that's more important than ever."
Now Leanne is also studying a diploma in art therapy with the Center of Excellence, and says the biggest inspiration for her work has been artist and conservationist David Shepherd, who died in 2017.
She said:
"He was an amazing wildlife artist and managed to combine it with building a conservation charity to protect wildlife around the world."
"I would love to get to that point where I could make a difference and use my art to educate people."
"MFPA did a tutorial for World Wildlife Day and I painted badgers to raise awareness. I like to be active in that sense and to inspire people to get creative and take action."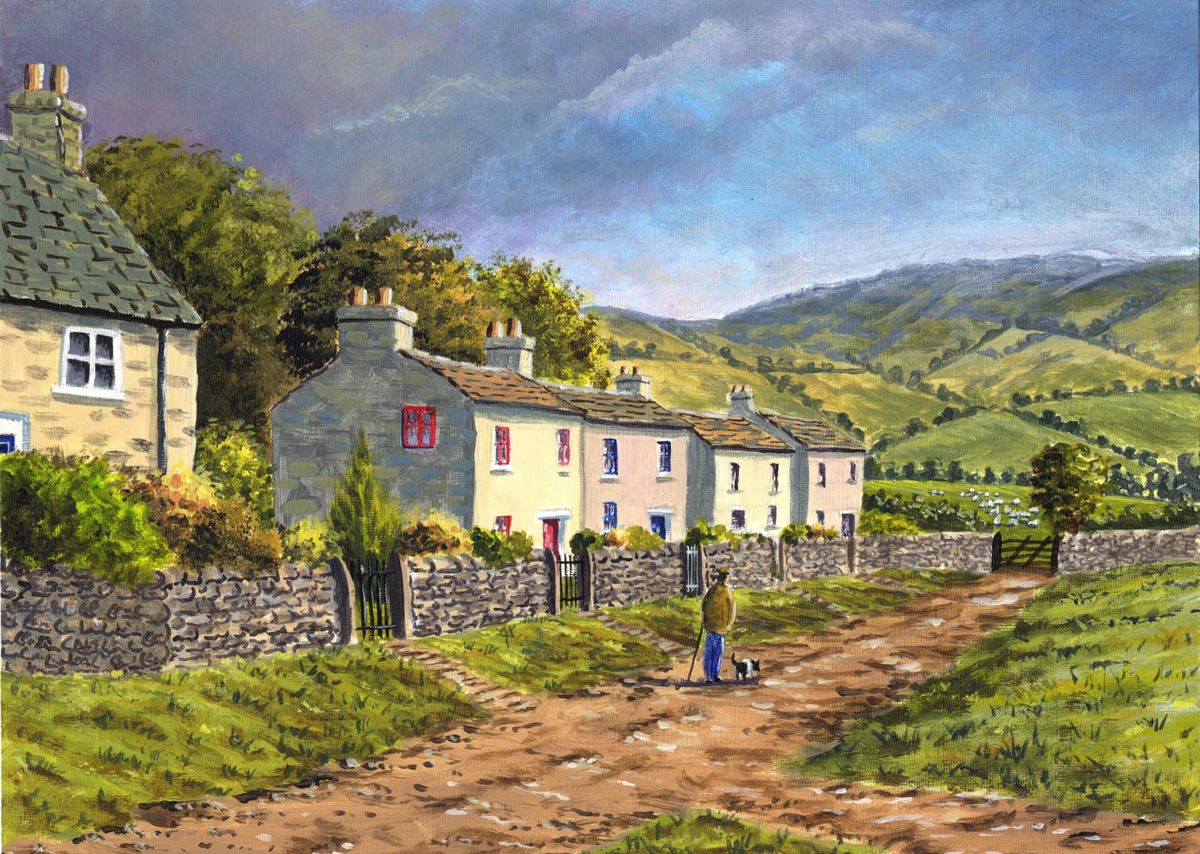 Leanne's painting on a jigsaw (PA Real Life and MFPA)
"My favorite subject is wolves and I really like anything in the crow family," Leanne said.
"Crows are so fascinating and intelligent. They have the intelligence of a five-year-old child and can recognize human faces."
"Wolves are similar, they are a social animal with complex pack structures. It's fascinating."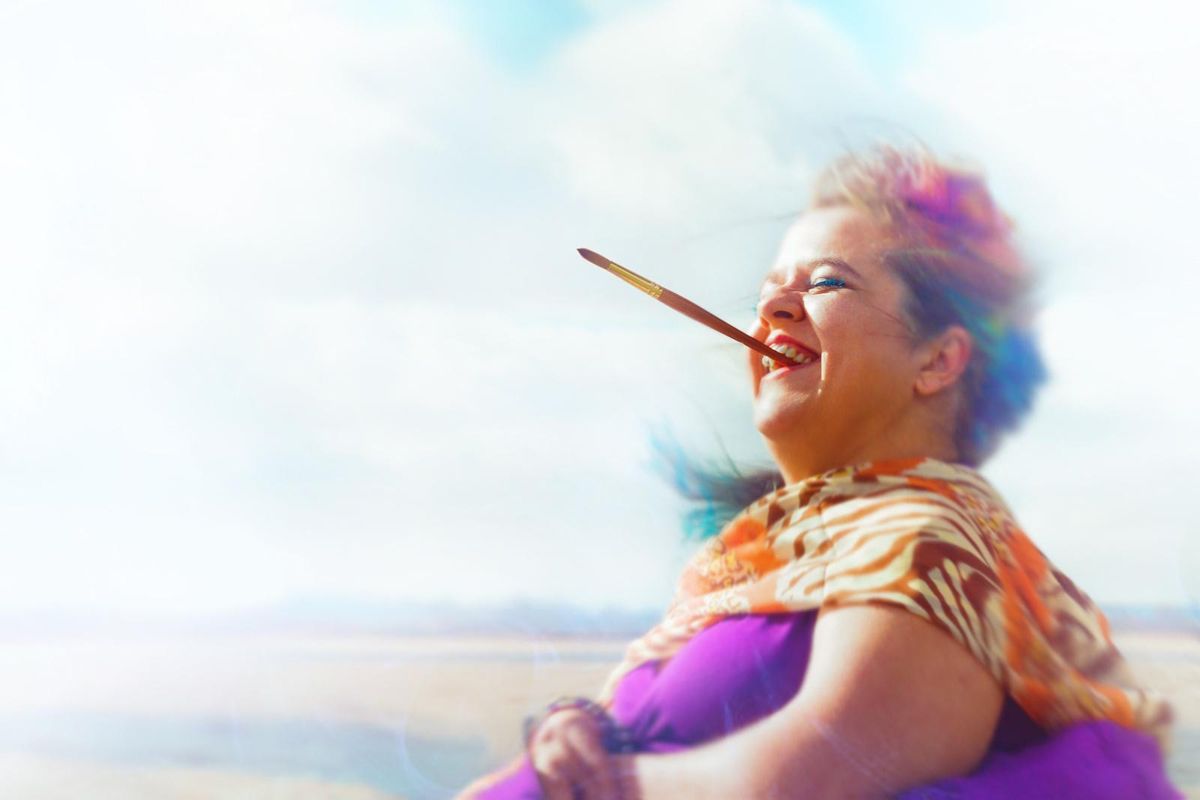 Leanne (PA Real Life and Joe Martin)
She said:
"Artistically, I like anything that is a challenge and unusual. I will try anything once and I'm thinking of focusing on insects next."
Unstoppable, Leanne is also taking on a series of challenges to raise money for a trip to Africa, so that she can paint there.
Due to the adaptations needed because of her disability and the location she wants to visit, the trip is expected to cost £12,000 (~$15,838).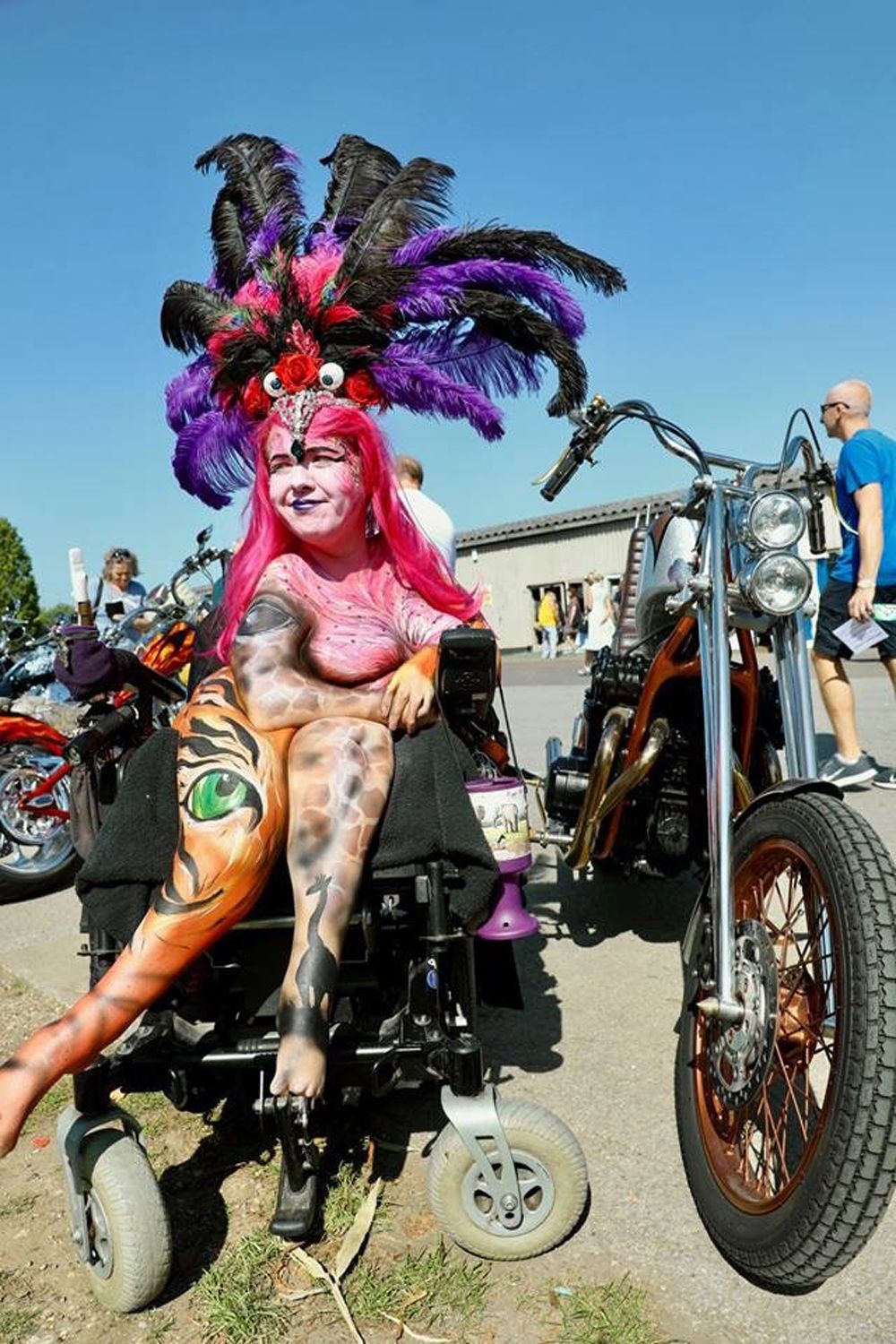 Leanne in bodypaint to raise money for her Africa trip (PA Real Life and Gary Avenell)
She has already raised half through challenges including painting her whole body like a Flamingo show girl, rock climbing and swimming in the sea.
She is also planning a skydive when the restrictions lift.
She added:
"I won't let anything hold me back. I don't like the terminology of 'suffering' that is sometimes associated with disabled people."
"I don't consider myself to suffer, I consider I have a few speed bumps and have to take a few diversions," Leanne continued.
"Travel companies have told me in the past to pick an 'easier' destination because it couldn't be done."
"I thought about how other disabled people might have missed out because of being told something like that."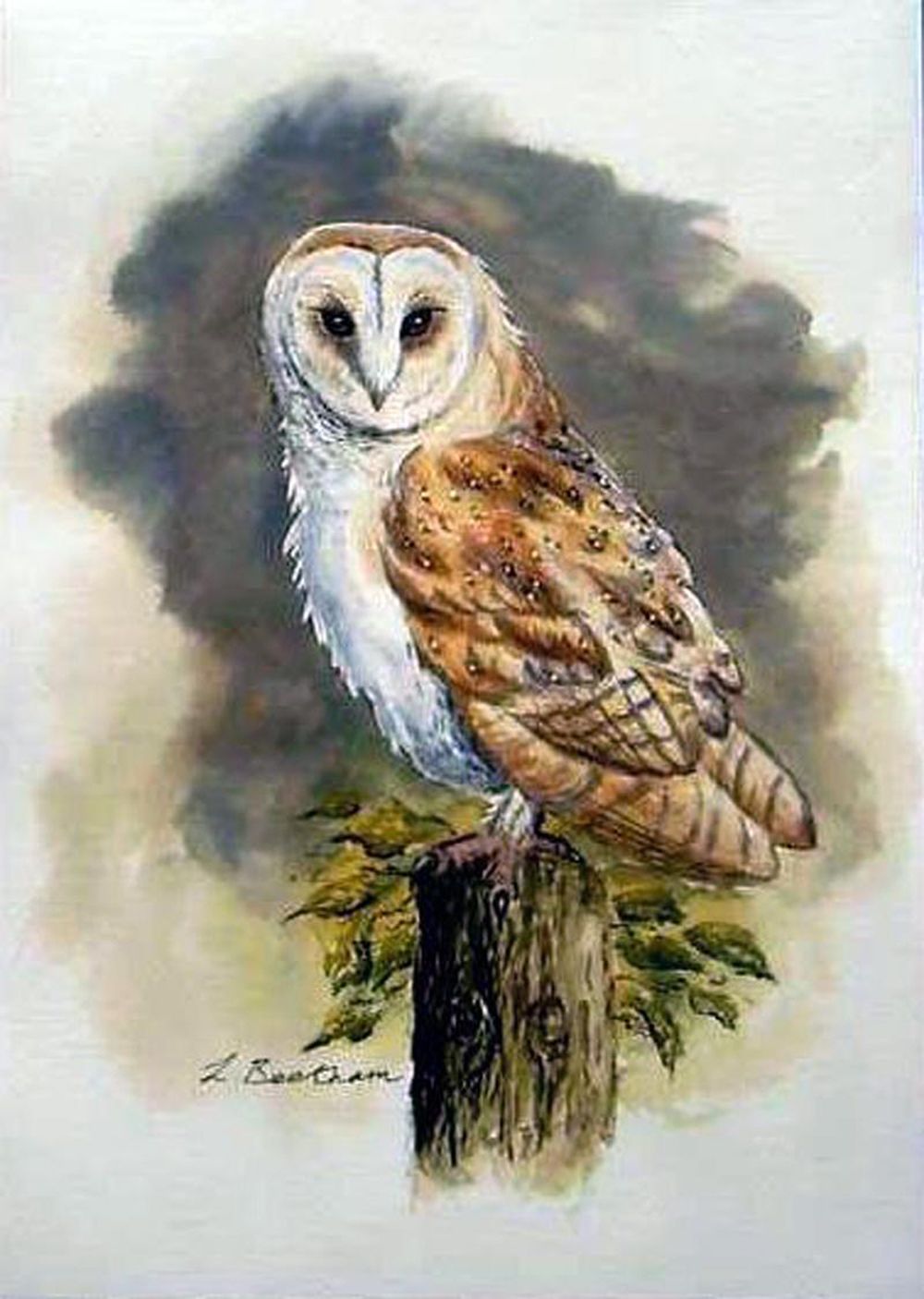 Leanne's Christmas card collection (PA Real Life and MFPA)
She added:
"After that, the project became bigger than just me and wildlife. I want to show others in my position what's possible. Where there's a will there's a way!"
Leanne sells her work through the MFPA website and her own website, LippyArt. For more information visit www.mfpa.uk and lippyart.co.uk.