It's important to note that, sometimes, it's the heartwarming news that goes viral.
In the last two weeks, a father and his three sons have gone from practicing a quiet, personal tradition to living in the viral limelight on Twitter and Instagram.
---
57-year-old father, Brandt Barber, recently shared what would make him a viral and model father figure: his tradition of more than seven years of spending time with his sons.
Barber shared in late August recurring photos for the ritual he had developed with his sons: visiting the same Dairy Queen, sitting in the same booth, ordering the same foods from the menu and frequently seeing the same employees. On many of these visits, Barber took photos of his three sons in their always-the-same positions in the booth.
Feeling nostalgic for their recurring tradition, Barber took to his quiet Instagram account, which only had three other photos and 23 followers prior, to share some of the photos he had taken over the years of his family's time in their DQ booth.
Quite innocently, Barber confided:
"It was just someplace I could put a picture of a memory that meant something to me."
He never expected that such a heartfelt message would lead to thousands of messages and follow requests.
The first photo in Barber's series included all of his sons: his oldest, Brooks, and his nineteen-year-old twins, Luke and Bryce.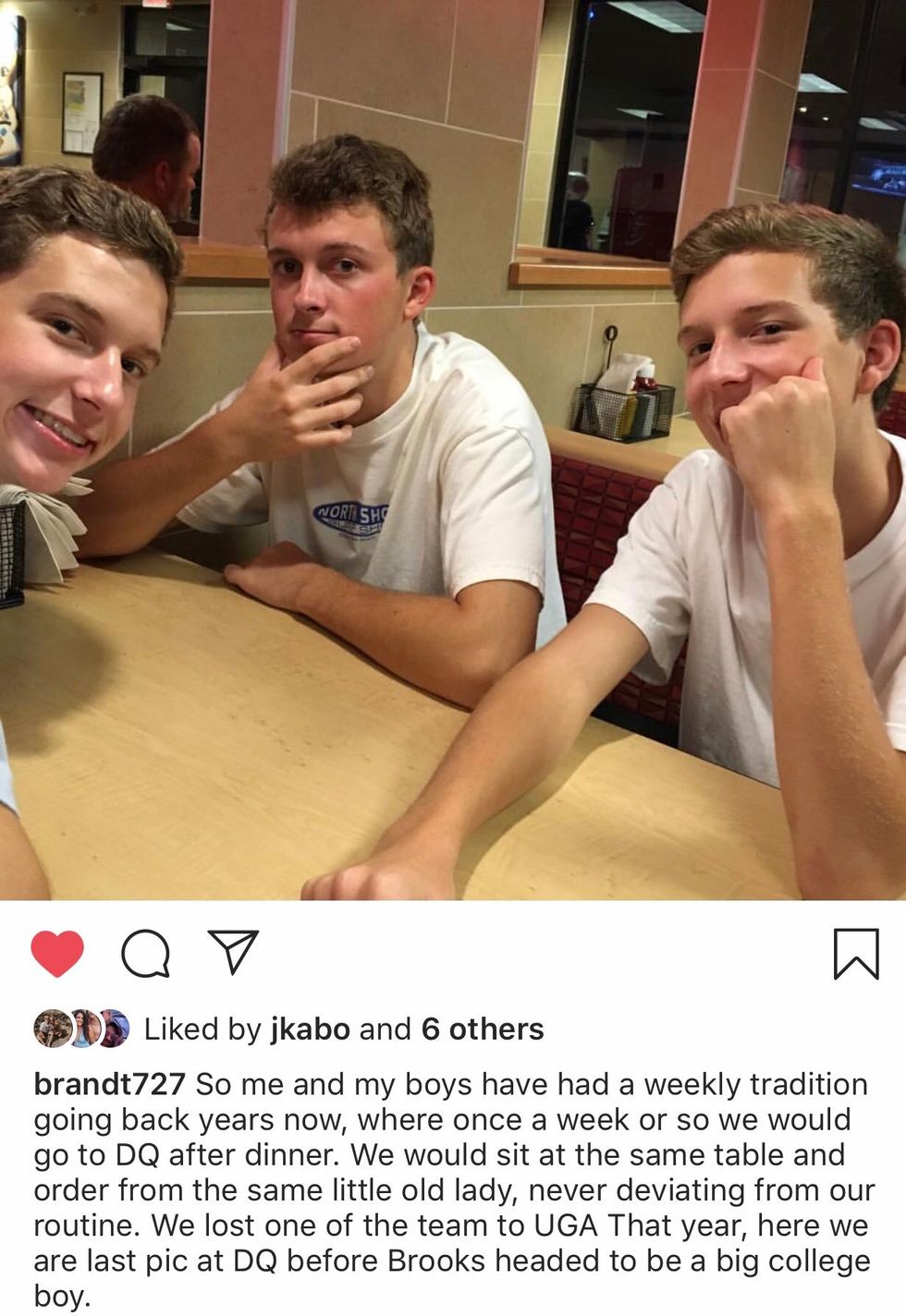 brandt727 / Instagram; BrooksBarber / Twitter (Screenshot)
The second photo excluded Brooks, who had since gone off to college.
Barber captioned this photo:
"And then there were 3. DQ tradition continued but our numbers while strong were dwindling. Me with Bryce and Luke at DQ. Soon they will head off to college what then…….."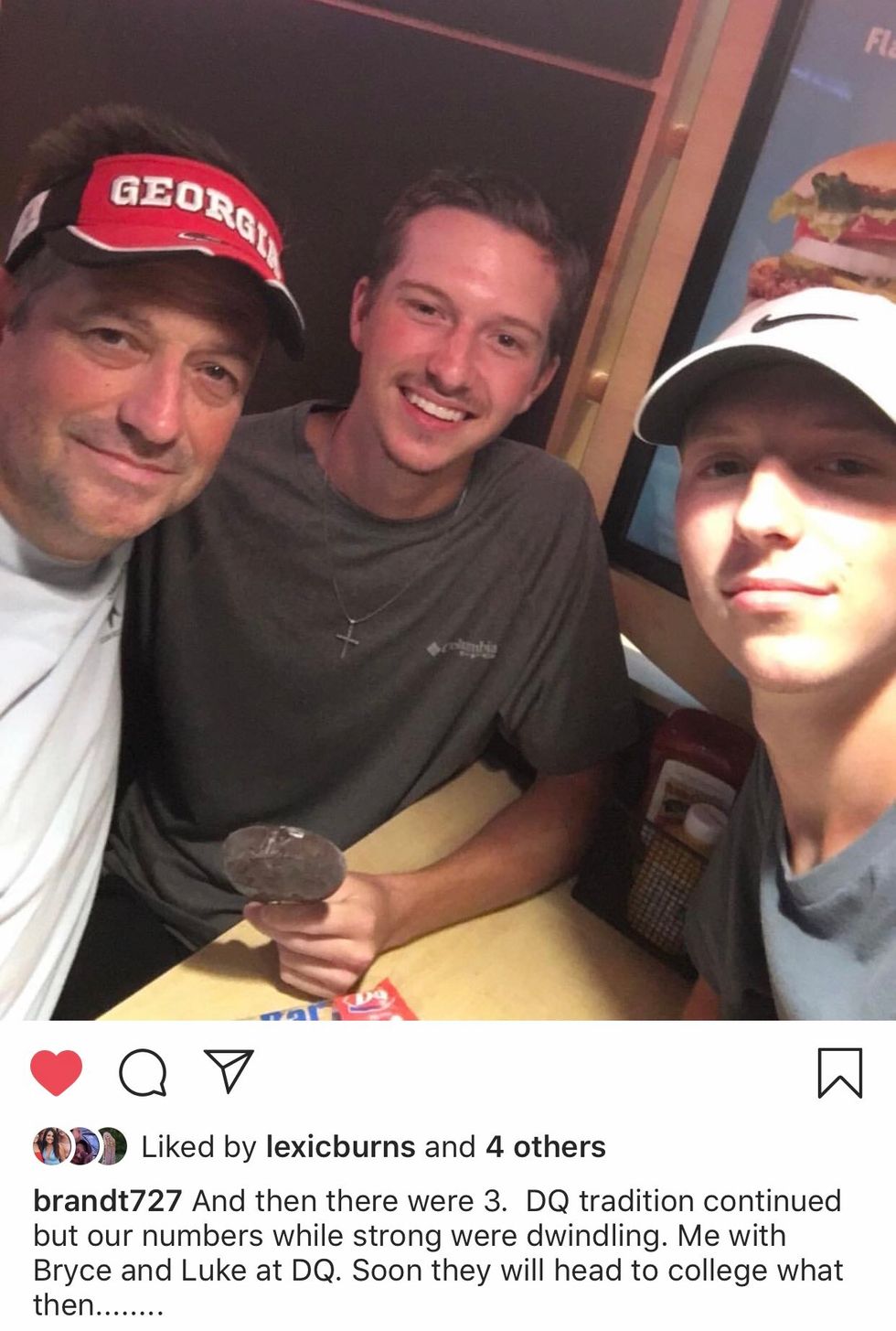 brandt727 / Instagram; BrooksBarber / Twitter (Screenshot)
The third photo in the series is of Barber alone in the booth he had shared with his sons for more than seven years.
"And then there was 1."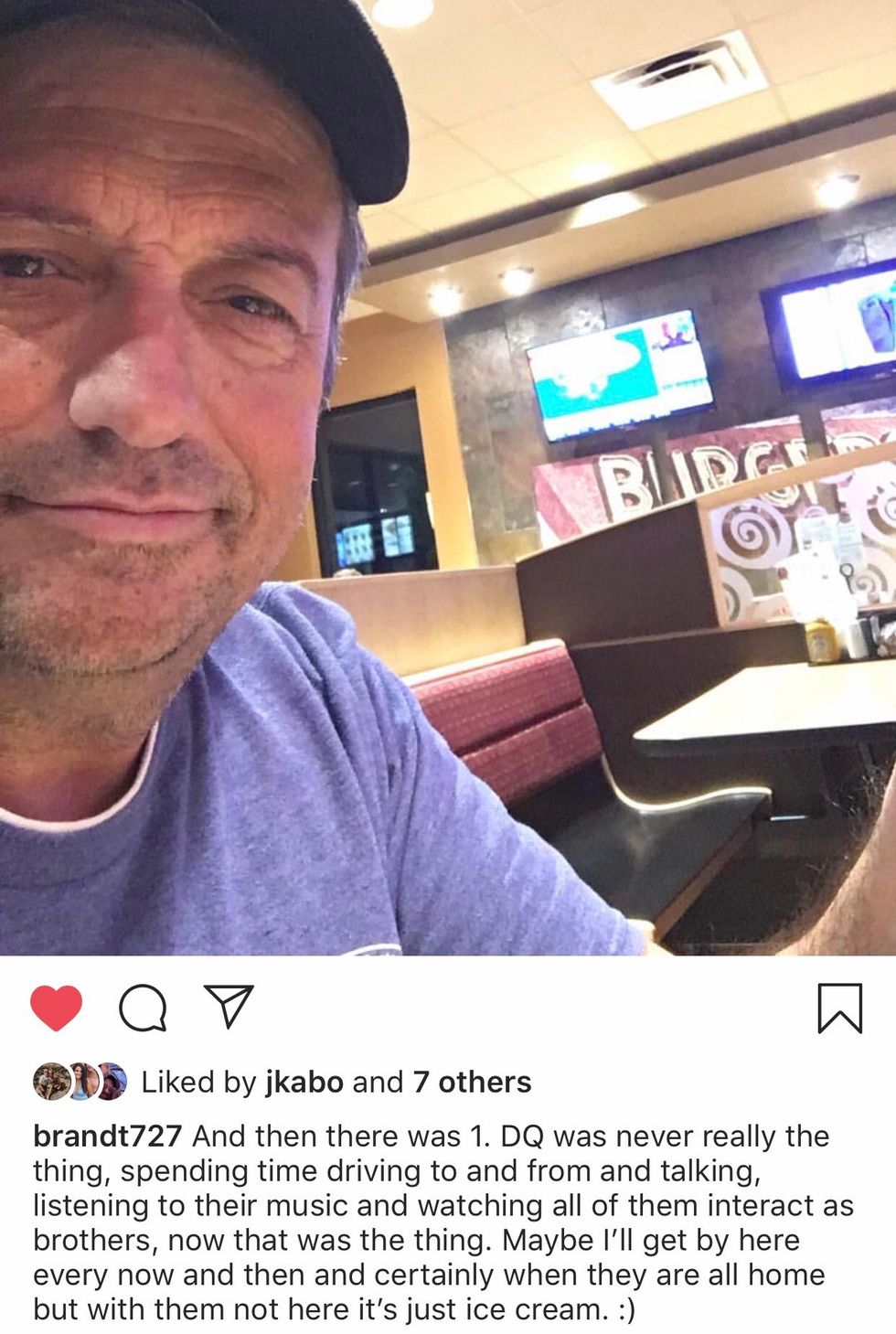 brandt727 / Instagram; BrooksBarber / Twitter (Screenshot)
Barber then shared the true meaning behind the recurring DQ visits:
"DQ was never really the thing, [but] spending time driving to and from and talking, listening to their music and watching all of them interact as brothers, now that was the thing."
"Maybe I'll get by here every now and then and certainly when they are all home but with them not here it's just ice cream."
Brandt Barber shared this series of three images, and confided his sentimental feelings, to his very small circle of followers on Instagram.
But sometimes these tokens are the ones worth sharing.
Upon seeing his father's reflections of their time together, Barber's oldest son, Brooks, took screenshots of Barber's three posts and shared them on Twitter, stating:
"Why did my dad have to go this hard on insta and why am I crying in Nashville [right now]."
Why did my dad have to go this hard on insta and why am I crying in Nashville rn https://t.co/Bv7fCfnE2g

— Börks (@Börks)1567219294.0
The tweet has been shared more than 165,000 times so far, with a wide variety of emotional responses.

Brooks Barber shared that he never expected the tweet to reach so far, when he only meant to share how his father's words had touched him. "It made me love my dad even more," he said of discovering the Instagram posts.
Many have confided how the story touched them emotionally.
@BrooksBarber I just wanted to say thank you for making me cry this early in the morning

— MoJo 🦕 (@MoJo 🦕)1567264237.0
@BrooksBarber There is still some hope in this world.

— Based Punk (@Based Punk)1567295382.0
@BrooksBarber @shoe0nhead Its 5 in the freaking morning and I'm crying from this This is way too much. Bless you all

— Roon Kolos - *Drinks BANG Energy Once* (@Roon Kolos - *Drinks BANG Energy Once*)1567329235.0
Others shared how they wished they had better relationships with their fathers, or a ritual like the Barbers or a father figure at all.
@BrooksBarber WHY AM I CRYING HES NOT EVEN MY DAD

— jas nicole (@jas nicole)1567274864.0
@jasnicolemusic @BrooksBarber Bawling like a baby. But I lost my dad when I was 14, and we never really had a close… https://t.co/s8YKupQXRY

— Angel (@Angel)1567316078.0
@BrooksBarber @ForestsOfPhoebe NOW THIS IS A DAD 😭😭😭

— THIS IS YOUR MOTHER SPEAKING (@THIS IS YOUR MOTHER SPEAKING)1567277554.0
And on a lighter note, many have shared in the opinion that the sons should drop out of college to continue their weekly visits to the DQ booth.

@ConsciousCourty @BrooksBarber @ToriNicksWho Seriously. Stop being selfish and go home.

— Tanner Bandini (@Tanner Bandini)1567272458.0
@BrooksBarber Y'all better drop out and go meet your dad at DQ right now. I ain't even playin.

— Great Scott! 🇺🇸 (@Great Scott! 🇺🇸)1567297016.0
Despite all this positive attention, however, Brandt Barber confided that he was not seeking such viral attention, but only to share a series of moments with his sons.

Since the tweet went viral, Barber has received more than 2,000 follow requests on his private Instagram account. He shared that, at one point, he had Instagram messages coming in every four seconds.
"My phone battery was just dying."
Many of the messages coming in were individuals praising Barber's acts as a father, or confiding their less-than-ideal relationships with their own parents.
Frequently receiving messages like, "I didn't have a dad" or "My father wasn't very nice" spurred Barber on to turn the overwhelming situation into an encouraging one.
Of his exchanges, Barber said:
"I've looked at this as, OK, how can I be responsible in communicating back with some of these folks and be encouraging and uplifting to them."
One of his primary messages has been that of unlearning generational truths—to grow to be the parent someone wishes they had as a child.
"You have a chance with your young son to change how it was, and honestly, I did."
Barber shared:
"Don't let your circumstances define you. You find your own happiness."
Though Barber shows no inclination to become a public influencer, his words can be applied to building a solid family life, or to any other area in a person's life that they wish to acquire happiness and fulfillment. We also can see Barber following his own advice in staying connected with his sons.
In response to the viral nature of his tweet, oldest son, Brooks, responded:
"To give everyone some [peace] of mind, my dad and I have an incredible relationship and yes my little brothers and I will be heading back to DQ with pops soon."
To give everyone some piece of mind, my dad and I have an incredible relationship and yes my little brothers and I… https://t.co/umcvE2UjXm

— Börks (@Börks)1567297991.0
What an example of family.
Hopefully, this latest tweet will ease everyone's minds, who have worried about Barber being an empty-nester… and an empty-boother.
In the meantime, let's get a "Reserved" sign, so that DQ booth is always open for the reunited crew.
If you have a dad you love, let him and the world know with this shirt available here in a variety of colors in men's, women's and kid's sizes.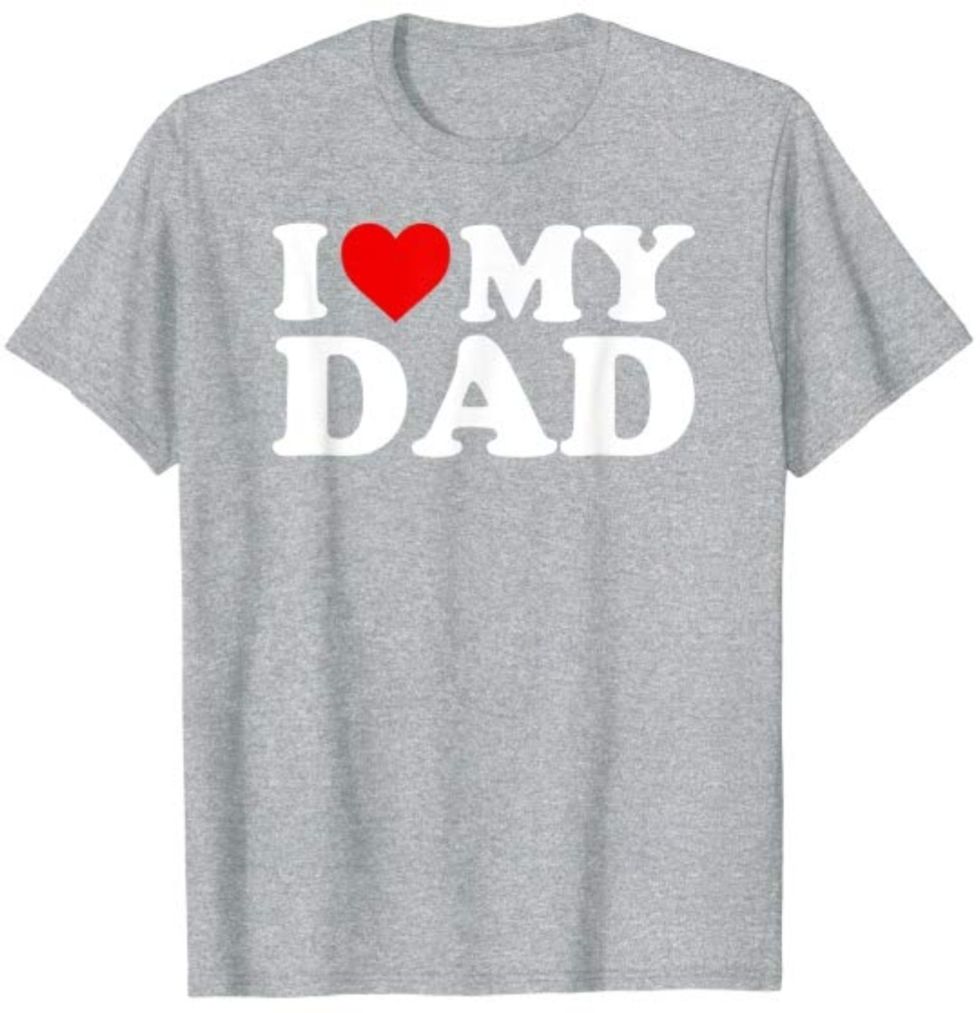 ********
Listen to the first four episodes of George Takei's podcast, 'Oh Myyy Pod!' where we explore the racially charged videos that have taken the internet by storm.
Be sure to subscribe here and never miss an episode.