Most of us have found a lost phone at one time or another, but how many of us have found a phone belonging to a bona fide celebrity? And then gotten to meet that celebrity because of it?
That's exactly what happened to one New York City couple who found actress and SNL alum Molly Shannon's phone in a taxi.
Vincent Zurzolo and his partner Josephine, who found Shannon's phone, posted a video to Instagram of the moment Shannon met up with the couple to thank them, and it's nothing short of perfect.
In his video, Zurzolo recounted the story of how he and Josephine found the phone while on their way home from Comic Con, when it began ringing in the back of the cab.
As Zurzolo put it:
"We get a phone call from somebody who's very nervous that they've lost their phone."
For an element of suspense, Zurzolo added:
"And look whose phone it is."
It was then that none other than Molly Shannon herself appeared on camera, instantly striking the pose and delivering the "Superstar!" catchphrase of one of her most famous SNL characters, Mary Catherine Gallagher.
Shannon then recounted her side of the phone story.
"This has never happened to me because I'm very careful with my phone, but it must've slipped out of my purse and I was panicked."

Shannon went on to say that she was sure she'd never get her phone back, but with the help of her hotel she got in touch with Zurzolo and his partner--and she felt she just had to meet them.
"I said it's very serendipitous that we all meet, so there's some reason for it."
Zurzolo then quipped that he and Josephine are swingers, and Shannon would be spending the night before the three shared a laugh and a hug.
On Instagram, people absolutely loved this celebrity encounter.

@maan.jalal/Instagram

@laurelavalon/Instagram

@jimmypalmiotti/Instagram

@seanchenart/Instagram

@dluxeesq/Instagram

@sarah_natochenny/Instagram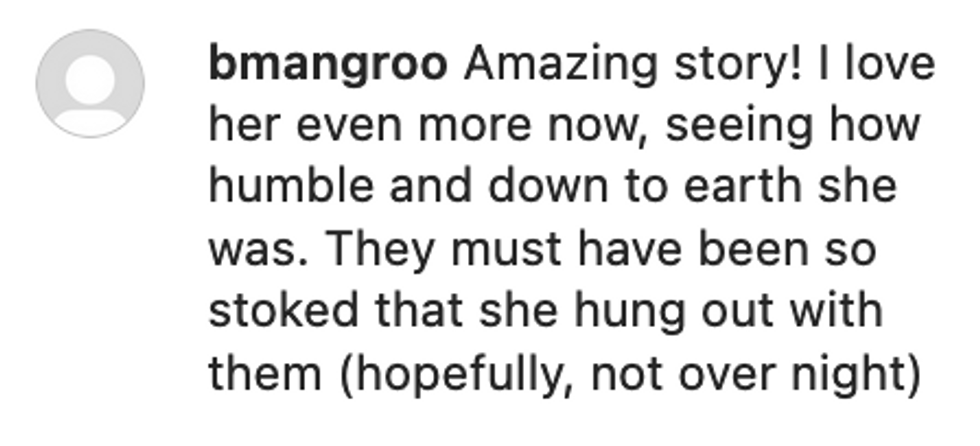 @bmangroo/Instagram

@42_wickgotti_/Instagram

@_slickrick/Instagram

@sam.antha.win/Instagram
The moral of the story is, always pick up a lost phone--you never know who you might get to meet because of it!