PagerDuty CEO Jennifer Tejada apologized for quoting civil rights leader Martin Luther King Jr. in an email announcing PagerDuty was laying off seven percent of the digital operations management company's workforce.
The 1,700 word email announced in addition to laying off workers, the company would trim spending and promote several different executives.
And toward the end—no doubt adding insult to injury—Tejada said the moment reminded her of Martin Luther King Jr.'s quote "the ultimate measure of a [leader] is not where [they] stand in the moments of comfort and convenience, but where [they] stand in times of challenge and controversy."
A portion of the announcement, which quickly went viral on social media, can be seen below.
Tejada later issued an apology in which she said using King's quote was " inappropriate and insensitive":
This has been a difficult week for our company. For those of you who were not able to attend our town hall discussion today, I wanted to share what we discussed."
"The way I communicated layoffs distracted from our number one priority: showing care for the employees we laid off, and demonstrating the grace, respect, and appreciation they and all of you deserve."
There are a number of things I would do differently if I could."
The quote I included from Dr. Martin Luther King, Jr. was inappropriate and insensitive. I should have been more upfront about the layoffs in the email, more thoughtful about my tone, and more concise."
"I am sorry."
The damage was done, however, and critics like software engineer and writer Gergely Orosz called the announcement "the most tone-deaf layoff email [he has] read so far."
Orosz noted the announcement was "long" and "feels like it was written by an AI that took all the phrases people usually say and put it [in] one long email."
You can read Orosz's notes on the email here: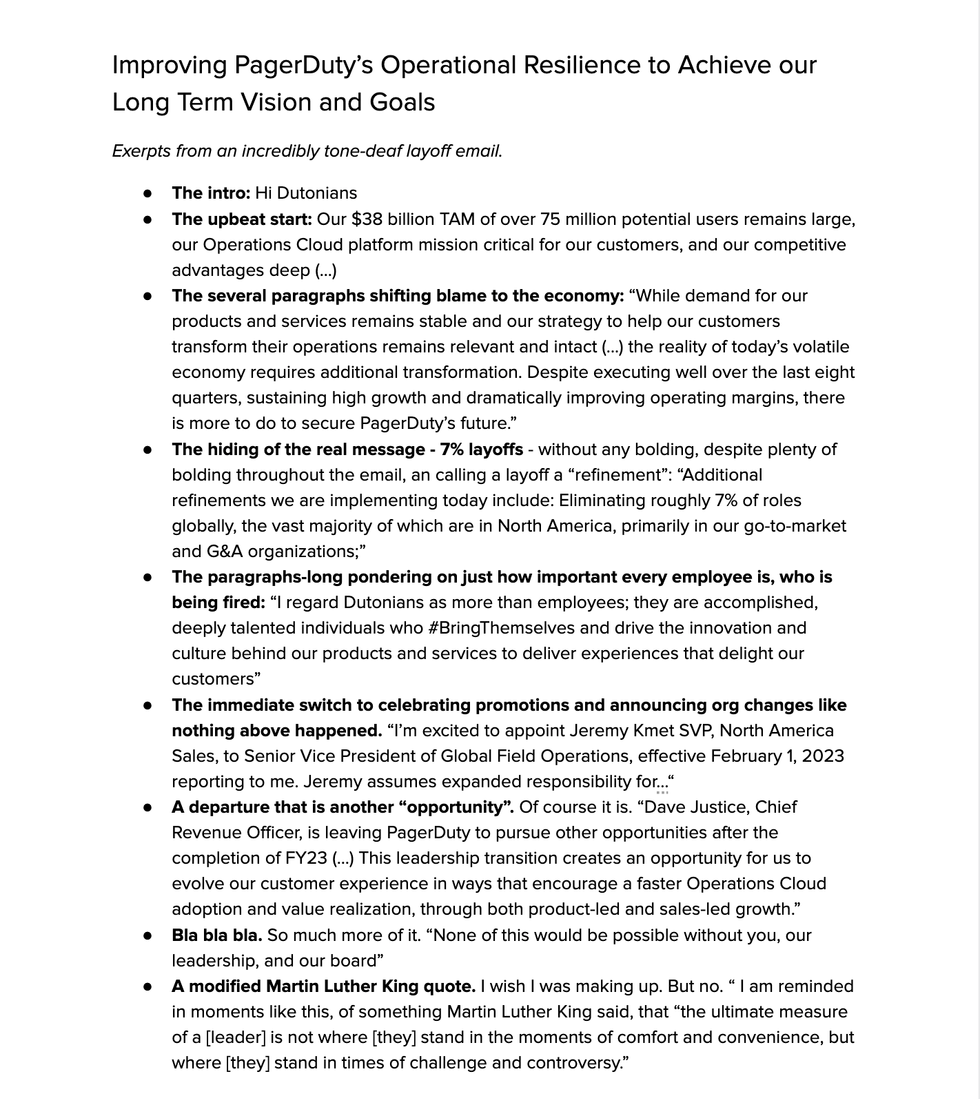 @GergelyOrosz/Twitter
The backlash was swift and many criticized PagerDuty's judgment.

@rycar/Twitter

@DodoNerd/Twitter
PagerDuty is the latest tech company to announce layoffs.

Despite record-breaking profits, many companies—particularly those in the tech sector—have laid off thousands of their employees.
Chief executives blamed these decisions on pandemic over-hiring and a potential recession, although experts believe changes in the way investors evaluate companies played a role.