As the 2020 election season winds down its final week, the "October surprises" are coming fast and furious.
One of the latest is an unearthed video of a GOP lawmaker in California repurposing David Bowie lyrics to verbally attack trans youth. The video is so cringeworthy on so many levels, it's hard to believe it's not a YouTube parody or an SNL sketch.
California state Senator Scott Wilk filmed the video in 2013 to oppose an anti-discrimination bill to protect LGBTQ schoolchildren, and it is as awkward as it is bigoted.
Moving around far too much like some kind of weird bobblehead, Senator Wilk cites the 1974 Bowie hit "Rebel Rebel" to denigrate trans children.

"David Bowie in the 1970s had a great classic rock song 'Rebel Rebel' that included the lyrics: 'You've got your mother in a whirl, she's not sure if you're a boy or a girl.' Well, the State Assembly doesn't think it matters.
"Recently, we passed AB 1266, which will require that students be allowed to participate in school activities and facilities based on their gender 'identity'."
"Say what? That's right. If AB 1266 becomes law, schools will be forced to allow a male student to use a girls' restroom or locker-room if he identifies as a girl."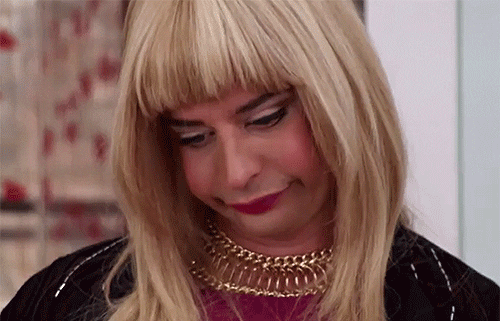 nick kroll omg GIFGiphy
Virulently transphobic, profoundly awkward, deeply unsettling on multiple levels--and that's all before you take into account the fact that David Bowie was openly bisexual and part of what his entire act was about was gender non-conformity.

Unsurprisingly, the unearthing of Wilk's video drew wide criticism, including from his Democratic opponent, Kipp Mueller, who demanded an apology on behalf of the LGBTQ community in a statement issued to local paper Metro Weekly.

"It is profoundly disappointing to see Scott Wilk shamelessly attack one of our most vulnerable communities – transgender and gender non-conforming youth – for his own political fodder. Scott Wilk owes it to the LGBT+ community and to all of those he represents to immediately apologize with sincerity and express his regret."
And folks on Twitter were similarly unimpressed with Wilk, to say the least.
As of this writing, Wilk has made no response to the video of any kind.